Judy Dougall
Request Judy Dougall
Secteurs desservis
Exeter, Dashwood, Zurich, Hensall, Crediton, Huron Park, Centralia, Mount Carmel, Shipka, St. Joseph, Grand Bend, Corbett, Whalen Corners, Kirkton, Woodham, Fullarton, Staffa, Kippen, Brucefield, Varna, Bayfield, Egmondville, Seaforth, Mitchell, Dublin, St. Columban, Vanastra, Clinton, Granton, St. Marys, St. Pauls, Bornholm, Brodhagen, Winthrop, Holmesville, Lucan, Clandeboye, Parkhill, Ailsa Craig, Elginfield, Ilderton, Birr, Denfield, Nairn, Sylvan, Monkton, Sebringville
Commentaires
Mitchell & Taylor
Judy Dougall was amazing and made us feel very comfortable! The ceremony was beautiful and we would definitely recommend! August 2022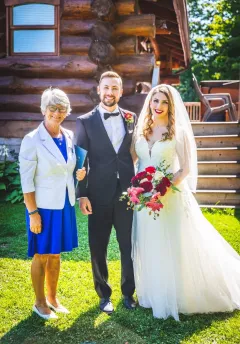 Adam & Taylor
Judy Dougall was awesome . Thank you for making our day perfect . September 2022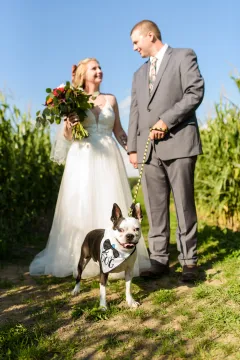 Jeff & Ines
Judy Dougall was very helpful and pleasant prior to and during our ceremony. We would recommend her to all couples! Thanks, you helped us create a lovely day. Jeff & Ines September 2020
Brad & Falynn
Judy Dougall was punctual, accommodating, reassuring but most of all kind. She was straightforward and the ceremony was beautiful. Thank you, Judy! Brad & Falynn August 2020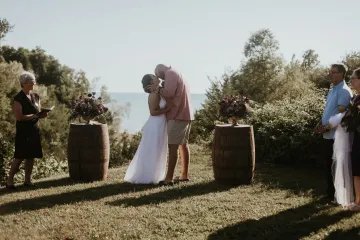 Donald & Alexandra
Judy Dougall did an amazing job and made us feel at ease that day. Thank you again Judy for being a huge part of our day. Donald & Alexandra October 2019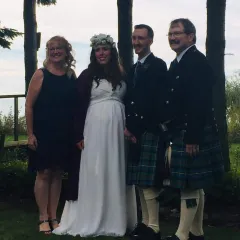 Debbie & Jason
Thank you so much Judy! You did an amazing job! We could not have ask for a better ceremony and day. Kind regards.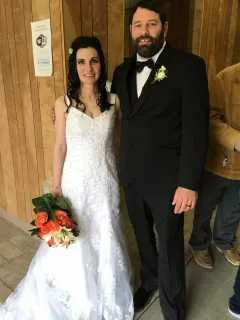 John & Martha
Judy Dougall as very thoughtful and the ceremony was very meaningful. She helped create a very special day for us. John & Martha June 2019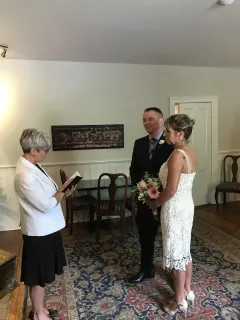 Lisa & David
Judy Dougall was wonderful, very helpful and gave us suggestions for our ceremony. Was a big relief.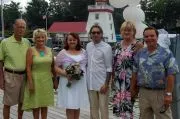 Debbie & Thomas
Judy Dougall was very nice and we loved the way she handled our wedding.Thanks so much for having her as a part of your team. She is kind hearted, caring and made details of wedding wonderful. Great job Judy Dougal, made our day the best could be. Thanks!
Angela & Joel
Judy Dougall did a fantastic job. She was warm, friendly and professional. She added to our day. Thanks.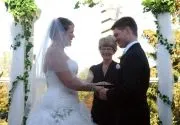 Marnie & Chris
We loved having Judy Dougall officiate our wedding. She is well known in our community, well spoken, and we especially liked that our officiant was a women. We look forward to running into her around town and being reminding of how she helped us with our day. Your company was well priced, well organized, and I enjoyed corresponding with your team (Natasha was very helpful).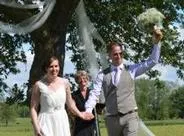 Rhonda and Jared
Mom Well we made it; your daughter got married on the farm with you conducting the wedding. Seeing how much effort the two of you put into making our wedding day as good as I ever imagined it to be, made my heart smile more than the sun shining ever could have. From the beautiful gardens to the last minute rain deflectors, I certainly had the fairy tale wedding I dreamt about and can share with my children. I mean, it was no blizzard but the tail end of a hurrincane is something special too. Thank you so much for everything, including the courage to wear most excellent costumes. I love you two so much and could not be more proud to bring Jared into our family. Love, Rhonda and Jared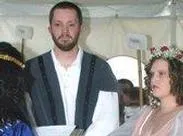 Hi Judy, We all had a wonderful day. Thanks for your part in it. Got really positive feedback from guests about all of it. One of the most natural, relaxed weddings they have been to. You went with whatever was happening so well. I appreciated your flexibility. The head wreathe thing in particular. We've got some great memories. And still feel the buzz from all that good loving, laughter filled energy that surrounded us. Even the butterflies and dragonflies.....and wasps joined in. Sandra
Tricia and Jean Marc
Thank you for helping make our wedding day a special one! We really appreciate your patience and your knowledge about what is needed to make a good ceremony unique and smooth. We have really enjoyed having you as our officiant!