Judy Bechard, B.A. BSc (Kingswood University).
Request Judy Bechard
Secteurs desservis
Bonfield, Astorville, Corbeil, Mattawa, North Bay, Powassan, Callandar, Trout Creek
Commentaires
Richard & Kaitlin
Judy Bechard was amazing from start to finish. The ceremony was perfect , our guests all commented on how well she did. Thank you Judy. September 2021
Brett and Holly Aug 2021
Judy was very helpful and answered all of our questions in a timely manner. Even though all the planning was done virtually, it was very simple and I had no worries leading up to our wedding day. Judy made us feel comfortable and assured us that she would help us through the ceremony if we were emotional and nervous. The wedding ceremony went smoothly and we are so happy with how it all turned out!
Garet & Jess
Judy Bechard as awesome! We're very awkward people and normally uncomfortable in social situations, she made us feel like our wedding was about us and that there wasn't an expectation to act a certain way. We're extremely happy with how it all turned out! Thanks again! Garet & Jess September 2020
Dean & Barbara
Judy Bechard was just wonderful!Thank-you for helping us on our special day. Dean & Barbara August 2019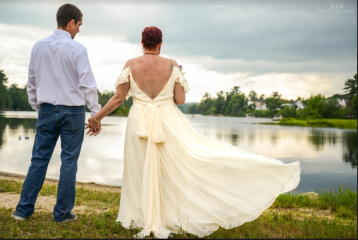 Eric & Missy
Judy Bechardwent above and beyond for us! We were more than happy with everything she did for us. I would highly recommend her to anyone. Thank you Judy! Eric & Missy August 2019
Jacqueline & Josh
Judy Bechard exceeded our expectations. She was absolutely wonderful. Thank you so much for helping make our wedding day perfect, Judy!
Samantha & Spencer
We had the pleasure of having Judy (Bechard) perform our wedding ceremony on September 23. I'm not sure there is a better officiant out there. She was incredible. From our first phone call to our recessional she was so supportive, helpful, comfortable and calming. She turned our scrambled, half thought through ideas into a beautiful ceremony with simple touches we'll never forget. It was important to us to have our two young children involved in our ceremony and she took some time and proposed a sand ceremony. But furthermore instructed us where we could get everything and even suggested how to get a good deal! I cannot say enough about this woman. She was funny, so accommodating and she thought on her feet seamlessly when we made errors. Having not met or known Judy for any real length of time it was above what we would have anticipated and you'd think she'd known us for years. I wouldn't recommend anyone else. She has a heart of gold and you can see so clearly that she loves what she does. Thank you Judy so much for everything you do for us!
Patsy & Michel
Judy Bechard was very friendly and professional. The ceremony was fantastic and went out without a hitch. I asked Judy to add a version of the marriage poem and she was very helpful and guided us through the whole ceremony with cues, that was a huge relief for all involved. A big thank you for all those involved.