Joyce Muir
Request Joyce Muir
Secteurs desservis
Killaloe, Barry's Bay, Golden Lake, Eganville, Deacon, Round Lake, Bonnechere, Brudenell, Wilno, Rockingham, Foymount, Combermere
Commentaires
Lizzy & Daniel
Joyce Muir was amazing. We're so grateful to her. She made our ceremony something really special. Thank you! September 2022
Rasmus & Aleksandra
Joyce Muir did an incredible job! We were all so pleased with having her as our officiant. October 2022
Joanne & Shane
Joyce Muir was amazing and I would recommend her service to anyone. Everything was perfect and just as I wished. July 2022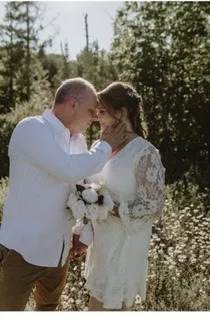 Tony & Colleen
Joyce Muir exceeded our expectations. It turned out to be a lovely simple ceremony exactly what we wanted! Thank you Joyce. Tony & Colleen December 2020
Io & Koren
Joyce Muir was a pleasure to work with! We were very grateful to have her be with us at the cottage for our ceremony. She was professional on the day of and was quick to respond to our questions leading up to it. Thank you so much, Joyce!! Io & Koren September 2020
Jason & Kristan
Joyce Muir was amazing and due to circumstances with covid everything went perfect. She did and exceptional job and would definitely refer other people for her services. Thank you for making our day so special. Jason & Kristan July 2020
Andrzej & Penny
We would like to thank our wonderful officiant, Joyce Muir, in Killaloe, ON, for the excellence and professionalism. She was more than accommodating for us, and she was warm and inviting as we planned the ceremony. Joyce incorporates the couple's wishes into every ceremony. We are so thankful and appreciative of the ease of planning and the knowledge that our wedding would be, and was, perfect!!! Her manner, dress, and interaction were extremely professional. Thank you, Joyce!! Andrzej & Penny Jan 2nd, 2018
Mel & Mitch
It was a great pleasure working with Joyce Muir. We appreciated her sense of humour, relaxed nature and flexibility. Most importantly she is truly committed to what she does and her follow through is second to none. Joyce regularly checked in and was reflective upon questions. You can tell she thoroughly enjoys what she does. We were so appreciative of all her accommodations including having our Newf dog and kitten in the ceremony (she's definitely a dog lover!) A most sincere thank you Joyce!
Melissa & Chris
Joyce Muir did an amazing job and made the ceremony fit us perfectly!
Joan and Butch
Dear Joyce, I would like to say a very big, although very late, " THANK YOU " for officiating at the ceremony of the renewal of our wedding vowels on our 50th wedding anniversary last August. It was a complete surprise and I could not believe it was happening. Butch and our daughter Leigh certainly kept it a very good secret. You helped to make it something really special and the words you used were beautiful. I think I was more emotional then than on the day we got married. I have been a very lucky person to have had such a wonderful marriage and been blessed with two lovely children. Thank you once again and my apologies for such a late contact.
Stefanie & Cade
Joyce Muir was very helpful and made us feel very comfortable. The office staff were very prompt with their email responses. We would refer other people to All Seasons. Our friend recommended your company to us. Very reliable organization. Thank you!