John McCormack
Veuillez noter que John ne peut accepter que les réservations à court terme de moins de deux mois. Je suis né et j'ai grandi à Montréal dans une famille bilingue (français et anglais) ; j'habite maintenant à Napanee. Mes ancêtres sont écossais et aujourd'hui, je suis fier de faire partie du corps de cornemuses et tambours du comté de Prince Edward. Je suis aussi un pilote breveté, un pêcheur et tout simplement un bon gars. Ma femme Inkeri et moi avons quatre enfants, qui sont tous mariés et filent le parfait bonheur. Nous avons trois petits-enfants et deux chiens d'eau portugais. En tant que membre de l'équipe d'All Seasons Weddings, je suis ouvert d'esprit, je ne porte pas de jugement et je suis tout à fait à l'aise de célébrer la cérémonie de mariage non confessionnelle, spirituelle, traditionnelle ou de même sexe que vous aurez choisie pour votre journée bien spéciale.
Request John McCormack
Secteurs desservis
Napanee
Commentaires
Allison & Kevin
John McCormack was great! He met with us ahead of time to help us plan out our ceremony. We had a Celtic theme so he wore his kilt, just like my husband. It tied everything together beautifully! He was prompt on arrival the day of, and the ceremony went off without a hitch! It was perfect! Sept 2022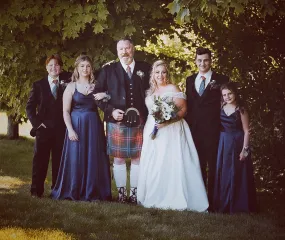 Don & Laurie
John McCormack was very accommodating and very professional. Thank you for everything! Don & Laurie September 2019
Steve and Donna
John, we wanted to thank you for officiating at the wedding yesterday. It was great to be able to have a bi-lingual wedding and honour both English and French Canadian roots. There was a comment that this actually made the ceremony seem more classy. We appreciated your flexibility in working with our family member, Jim, to share the duties. Thanks again for all your work and attention to detail to help make the day a success!!
Kristen & Craig
John was SO wonderfully friendly and was just perfect for our ceremony and our day. He was easy going- easy to communicate with and made our ceremony very special. We asked John to send us a sample ceremony and he was happy to provide, and was happy to go along with our amendments to make it more personal for us. I would highly recommend John to anyone. Thank you again for a lovely ceremony.
Daphnee and Gary
John McCormack delivered a beautiful wedding ceremony for us and our guests in Kingston in August 2017. He was punctual, professional, well dressed, and easy to work with. He sent us examples of wedding ceremonies for us to review and tweak to our liking. He was open to our suggestions in order to give us the wedding ceremony that we were looking for. It was very important to us that we have a bilingual officiant and John is perfectly fluent in English and French. We really appreciate how he incorporate both languages into the ceremony, since our guests came from Quebec and Ontario, and everyone was able to follow along and feel included. We highly recommend John for couples looking for a wedding officiant! Daphnee and Gary
Krystyna & Craig
John McCormack was lovely to work with! He gave us that casual, laid back feeling we were looking for, but at the same time had everything under control and rolled with things as they unfolded. Thank you, John, for helping to make magic at our wedding.
Caitlin & Drew
John McCormack did a wonderful job as our officiant. From the moment we met with him we felt at ease knowing that he would help us to create the exact kind of ceremony we were hoping for. He offered us knowledge, kind words, and flexibility in helping us to create the perfect words for our union. His guidance made us feel confident in organizing our own ceremony, and he did a lovely job at keeping it light hearted and sweet. Can't recommend John enough. Thank you!
Matthew & Kerstin
John McCormack did an amazing job for our wedding. Professional without being stuffy and boring like a lot we have seen before. He made us feel relaxed about our upcoming wedding. He didn't try to push any ideas on us and assisted us wholeheartedly with the way we wanted it. John was always available for any questions or concerns. He was very accommodating in coming to our wedding location and performing our wedding and we had nothing but smiles and laughs during the ceremony which John contributed to also! We highly recommend John to anybody getting married
Paula and Mike
Hello John! Just wanted to drop you a line to sincerely thank you for yesterday. We appreciate how patient and accommodating you were, how easy and relaxed you made us feel, how inclusive the experience was for our bilingual family and friends. You were right in that the day happens so fast and certain moments escape you, thanking you properly was one of them. With that said, thank you ever so much for making our special day extra special. All the best, Paula and Mike