Joe McParland
Request Joe McParland
Secteurs desservis
Windsor, Tecumseh, LaSalle, Amherstburg, Kingsville, Leamington, Essex, Belle River, Lakeshore, Ruthven, Harrow, Colchester, Wheatly, St. Joachim, Stoney Pointe
Commentaires
Matthew & Bethany
Joe McParland was an amazing officiant. We loved how accommodating and helpful he was with the planning of the ceremony. We loved all the personal touches that he was able to include in our ceremony. September 2021
Jessica & Eric
Joe McParland was fantastic to work with. He was very professional and supportive throughout the entire process. We were planning our wedding from out of town and during the pandemic - Joe was flexible as our wedding date changed, and helped us to connect with vendors for our ceremony space. He truly went above and beyond for us. Our event took place at the Capitol Theatre (Joe's recommendation) - and it was spectacular. During the ceremony Joe kept a great balance of humour and sincerity and was well-spoken, easy to hear - without a microphone (just as he said he would be lol). We cannot thank Joe enough, he truly made our day special! June 2022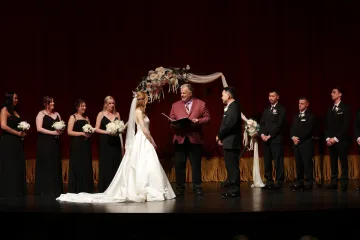 Ben & Leah
We have already had numerous guests from our wedding inquire about Joe, and about All Seasons. We cannot rave enough about Joe! He was absolutely amazing and brought light, fun and laughter to our ceremony - exactly what we wanted! He took the time to get to know us, our story together, and our personalities, and brought so much of that to our ceremony, you would swear he had known us for years. September 2022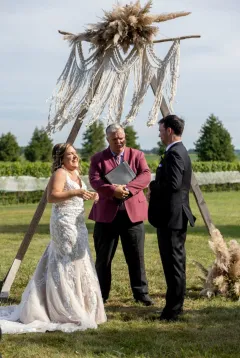 Sara & Kyle
Joe McParland was fantastic! We would recommend him to anyone looking for an officiant. Joe met with us beforehand to get to know us and so we could feel comfortable with him. Our small ceremony was perfect and we were able to include our dog as well! Oct 2021
Holly & Paul
Joe McParland went above and beyond our expectations. We will definitely refer Joe to our family and friends. Holly & Paul August 2021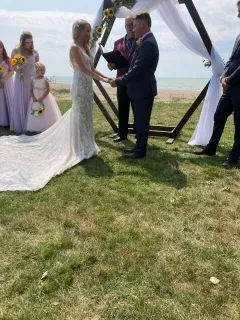 Sam & Amanda
Joe McParland went above and beyond and exceeded our expectations. Joe made the entire experience enjoyable and fun. Sam & Amanda December 2020
Allison & Danielle
Joe McParland went above all our expectations to make our ceremony beautiful!100% will be referring anyone I know looking to get married to hire Joe. Allison & Danielle October 2020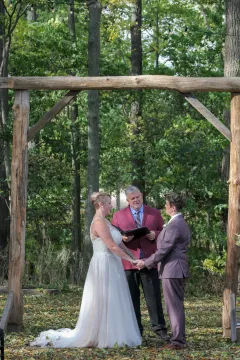 Matthew & Alexandra
Joe McParland was fantastic! He exceeded our expectations in so many ways. He made suggestions that definitely added to our ceremony, making it extra special, he is easy to connect with, and he has a clear louder voice which was perfect for our outdoor wedding with those background outside noises. So incredibly happy that we were able to have Joe marry us! Matthew & Alexandra September 2020
Brandon & Sarah
JOE McParland IS INCREDIBLE! He made our wedding so memorable and just a moment of pure joy. He brought laughter and kindness during our vows. It is his approach and demeanour that made the day light and comfortable. Any nervousness that I had immediately left because his presence is so welcoming. There are not enough words to describe Joe. He should be apart of everyone's wedding. Especially as a guest! He is simply amazing. Brandon & Sarah Oct 2020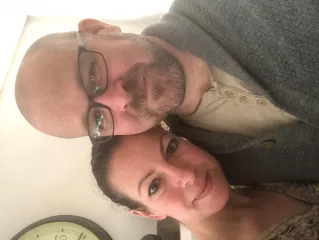 Aaron & Victoria
Joe McParland exceeded our expectations. With COVID19, our wedding was not how we originally envisioned it being. That being said, Joe was extremely supportive throughout the whole process and truly helped make our revised COVID wedding an amazing one. We received numerous complements on the ceremony and we would highly recommend him to anyone looking to get married. Aaron & Victoria July 2020
Danielle & Cody
My husband and I got married in October 2019 and Joe McParland officiated our wedding. Joe had the whole crowd laughing and he has such amazing, bright energy! His natural charisma made the ceremony flow so well. I highly recommend Joe to anyone! Danielle & Cody October 2019
Michael & Chantal
Joe (McParland) was fantastic! He worked with us on a simple but unique ceremony and he pulled it off with ease. Made everyone feel comfortable with his friendly, easy going manner. Everyone loved him! Thanks for being you Joe! Michael & Chantal. July 2019
Steven & Andrea
Joe McParland did an excellent job officiating our wedding. We cannot thank you enough for sharing our special day with us. Steven & Andrea June 2019
Lorraine & Shaun
Joe McParland was awesome to work with! He's very personable and kind, we just loved working with him. He has everything organized and gives you templates and has a website available that tells you every step you need to take. There are no surprises. During the event, he was funny and well-spoken and easy for everyone to hear. I highly recommend choosing him. [September, 2018]
Erin & Jeremy
Joe McParland did an amazing job! He made our ceremony personal and perfect! Meetings prior to the wedding were easy and he was a huge help!!
Kristy & Kevin
I am so happy we went with Joe McParland from All Seasons!! He took the time to get to know us so that the ceremony was individualized. He was even helpful when we decided to write our own vows. I highly recommend him!!! It turned out perfect!! Thanks Joe!!
Jodie & Andrew
We are glad we chose Joe McParland to be our officiant. He was helpful during our planning meeting and very friendly with us and our wedding guests.
Caren & Doug
Joe (McParland) was so great when it came to our wedding day. Everything went smoothly and he did such a great job. He kept it light which we loved but it was all very sweet and special. Thank you Joe for making our day amazing. :) Caren & Doug
Wanda & Gary
We were married in July by Joe McParland. We couldn't have been happier. The ceremony was perfect! i would definitely recommend Joe to anyone looking.
Derek & Yvette
Joe McParland was great. Very professional and he did a wonderful job. Many great comments from the attendees at my wedding. Very pleased!
Jennifer & Marc
Joe officiated our wedding ceremony at the Canadian Club Heritage Centre. He was engaging, enthusiastic and personal. I highly recommend him to anyone who wants the perfect combination of humour, love and sincerity. During our planning, Joe was very accommodating and helpful. It is obvious that he has the expertise that comes with experience. Thank you so much Joe for being such an important part of our day!
Lee Anne & Shawn
Our ceremony could not have been more perfect. My guests absolutely love the way Joe McParland preformed our ceremony. It couldn't have been better he was just amazing. He even waited an extra 10 mins to start just to wait for my grandma to come. I will never forget that and I couldn't be more happier. I have already recommended your service to 5 of my friends who are getting married. My wedding day was perfect and magical I couldn't have been happier. All of my guests thought Joe was just wonderful. Thank you so much for making my wedding ceremony dream come to life.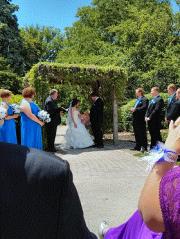 Skye & Brian
Joe McParland went above and beyond to make us feel comfortable during our initial meeting and so that everything didn't come as a surprise on the day of the wedding! The office answered every question we had. If any of my friends ever get married, I'll pass along any information regarding officiants. Thanks!
Denis & Sara
Joe McParland was great, we got tons of compliments regarding him.
Vanessa & Andrew
Joe McParland exceeded our expectations. He was incredibly friendly and helpful. We had written most of our ceremony ourselves, but when we met Joe he had some great additions. On our actual weddind day Joe made us feel really comfortable before the ceremony and he did a fantastic job during the service. All of our friends and family had really great things to say about him.
Ron & Greg
Joe McParland went above and beyond our expectations. He is a very caring and warm person and that comes thru in his ceremony. He involved those who came to witness our wedding, and also added humour which was perfect. He was fantastic.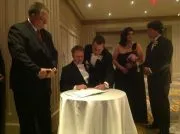 Paige & Kyle
Thank you so much for officiating what we feel was the best wedding ceremony ever!!!!!!! People are still talking about your impeccable timing with the boat honking down on the Detroit River to the paw prints with George and Lewis (their Golden Retrievers) on the marriage license. Kyle and I are beyond happy with how everything turned out. Our guests raved about the traditional, yet light hearted ceremony (just what we wanted!). In fact Karen from Canadian Club Heritage Centre said it was the best wedding yet! We will definitely recommend you to everyone we know who is getting married.