Jody Haucke
Request Jody Haucke
Secteurs desservis
Almonte, Barrhaven, Blackburn Hamlet, Carp, Dunrobin, Kanata, Kars, Kemptville, Kenmore, Manotick, Munster, Osgoode, Ottawa, Ottawa, Ottawa Central, Ottawa South, Ottawa West, Stittsville
Commentaires
Angela & Kristopher
Jody Haucke was above and beyond incredible! Professional, hilarious, able to improvise as needed, and so well prepared - we couldn't have asked for a better person to be with us on our big day. He had our guests roaring with laughter, and us as well. When two of our wedding party got stage fright and couldn't read their speeches, Jody stepped up and said a few words to fill the slot. He was personable with our guests to the point that when our family talks about our wedding, they refer to Jody by name! We may just have to renew our vows so we have an excuse to work with Jody again! Sept 2022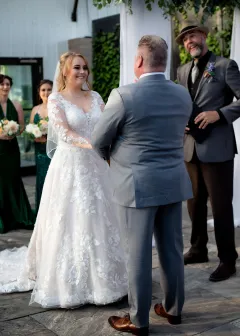 Adam & Valerie
Jody Haucke went above and beyond our expectations and was very welcoming and helpful to walk us through the process! He was very patient with kids to make the day special and did an amazing job! We loved having his as our officiant! January 2023
Alex & Stéphanie
Jody Haucke was amazing! Thank you so much Jody. We couldn't have picked a better officiant for our wedding. November 2022
Nabeel & Margaret
Jody Haucke was an awesome officiant! We "clicked" with him right away. He did an excellent job performing our ceremony. Greatly appreciated his humour and personality - made the ceremony all the more special. He even wore purple and teal that matched our colours! Would highly recommend him in the future to other couples. Thanks Jody! September 2022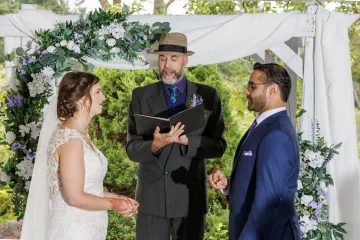 Douglas & Dominique
Jody Haucke was great and played it perfectly when he arrived pretending he was one of our guests. This was a surprise wedding. Would recommend without hesitation. August 2022
Melvin & Katherine-Ann
Jody Haucke did a fantastic job as our officiant. He made it so fun and lively and had everyone enjoying themselves. What I loved the most was how upbeat he was throughout it and having a fun time with it as well, a smile was always present on his face which in turn made myself, my husband and all our guests smile as well. The theme of our wedding was Alice in wonderland with a bit of steampunk so when Jody arrived in a top hat, a tail coat and a red tie that was the icing on the cake, I knew I chose the right person to be our officiant. Thank you so much for making our day truly one to remember! August 2022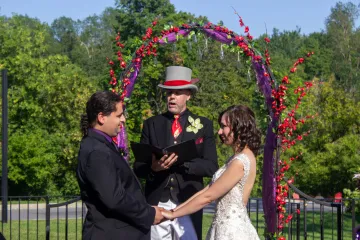 John & Michelle
We were very happy with the service and received a lot of compliments from guests with respect to Jody's delivery of it. He was also very flexible, as we provided him with a completely customized ceremony and a few spur of the moment twists were thrown his way. His skills as an actor are likely an asset to this line of work, as his delivery was quite natural and at ease. July 2022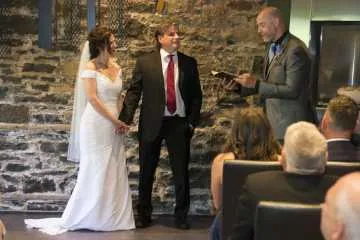 Earl & Lauren
Jody Haucke was so friendly and approachable! So glad we were referred to him! July 2022
Jaclyn & Rick
Jody was amazing. Even with some of our mishap. July 2022
Sara & Eric
Jody Haucke was fantastic!!! The perfect balance of humour and business. Completely willing to do exactly what we wanted to make our day special and had great advice. July 2022
Charles & Rae
Jody Haucke was fantastic and jovial! Best Wedding. Less than 20 minutes then on to cakes with friends! June 2022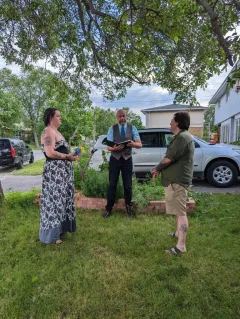 Sonia & Mark
Jody [Haucke] was awesome! He was prompt, friendly, put us at ease with the process AND made the whole event stress-free. July 2022
Chad & Emily
Jody Haucke was absolutely incredible! We had so many guests mention to us how great of a ceremony it turned out to be, and that was because of him! He made the ceremony more fun and less stressful . He was professional with checking in on us before the ceremony and took some time to chat beforehand which made it even more comforting . June 2022
Sherri & Chris
Good day, My husband and I had the pleasure of being wed by Jody Haucke. We cannot begin to praise him enough - he was personable, so friendly and engaging throughout the day and time leading up to the wedding. His friendly demeanour ensured guests were included, at ease and that Chris and I were provided with the quaint and intimate atmosphere we had in mind for our wedding day. Jody truly is a genuine gem of a soul!! My husband and I have thanked him, but we felt it was important to ensure he was recognized for his outstanding service. Please pass on our utmost appreciation for all he has done. We would highly recommend Jody and All Seasons Weddings to any couple looking to wed or renew their vows. Kindest regards, ~ July 2022
Jonathon & Jessy
Jody Haucke was amazing! We had our ceremony at home and it was just like he was part of the family. Very friendly and out-going. Debbie at All Seasons Weddings was also amazing. We changed our wedding plans I don't even know how many times because of Covid. She was very understanding and helped guide us through it every time. Feb 2022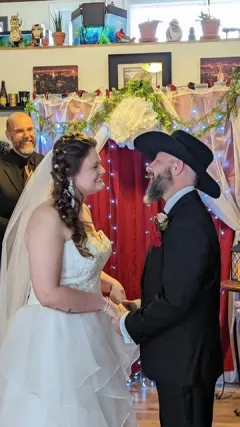 Stephanie & Mark
Jody [Haucke] went above and beyond when it came to officiating our wedding. Not only did he effectively and professionally pull off the basics, but he added extra touches where he could in order to personalize our experience. He made sure to make references to many of our favourite geeky things. I was nervous during the ceremony, but Jody made both me and my husband laugh, which helped us to relax and enjoy the experience. That being said, we were so nervous and excited that I don't think we remember much of what actually happened in the moment (good thing we filmed the ceremony), so it was tremendously helpful to know that Jody was taking care of the important stuff while we were caught up in all the emotions of the day. And as a bonus, Jody dressed to match our wedding! Our colours were blue, orange, and grey, and he showed up in a grey suit, orange tie, and blue mask. He fits right in with the wedding party. Since my husband and I had to downsize our wedding due to the pandemic, it meant so much to us that we didn't have to compromise or cut back when it came to the officiant. Jody really made our day special. (attached photo is of Jody and my husband) November 2020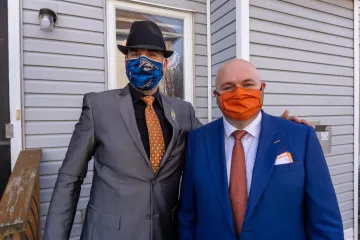 Sydney & Lenard
Jody Haucke was amazing! We've already recommended him to one couple and will happily do so again! Dec 2021
Cody & Tiara
Jody Haucke was absolutely incredible! Everyone raved about his services! Thank you for being so flexible with all of the COVID craziness. You brought so much relief and assurance throughout this hectic time. October 2021
Danny & Carlee
Jody Haucke did an amazing job with our ceremony. Thank you Jody for everything. October 2021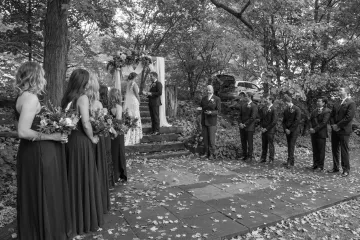 Samantha & Simon
Jody Haucke was very flexible, friendly and super easy going. We had to change our officiant last minute, and Jody was able to step-in and provide a professional and stress free experience for us. He even wore a kilt to match the groom! He was very accommodating with regards to restrictions and social distancing. We would definitely recommend Jody to anyone who is looking for an engaged, professional, and fun officiant. Thanks Jody! July 2021
Francisca & Peter
Jody, you were perfect. You surpassed all expectations by coming in costume and conducting a Star Trek-inspired ceremony that we loved. Thank you for making our special day that much better! (Photography by Jen Derbach Photography)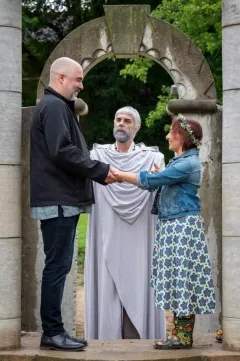 Daniela & Omar
Jody Haucke exceeded our expectation. Thank you Jody. Daniela & Omar November 2020
Kai & Jessica
Jody Haucke was great! He was clear and concise. He added some pop culture jokes that we enjoyed. Kai & Jessica October 2020
Geoff & Lorna
Jody Haucke was a perfect fit to our day. Very warm presence, kept us on track and and has a lovely voice for our outdoor wedding! He brought a calm and welcoming presence. Cannot thank you enough Jody! September 2020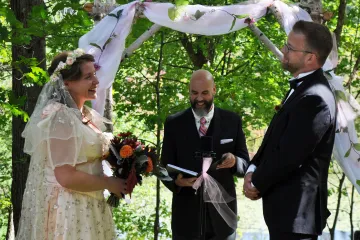 Gavin & Katelyn
Jody Haucke was absolutely fantastic! His voice carried extremely well throughout the backyard and we didn't even need a microphone. His ceremony was exactly what we pictured - short, sweet, and personal. Even though we'd never met before I felt like I've known Jody for years. He was the perfect officiant. In the midst of the ceremony I didn't even realize he was stepping aside whenever we said our vows, had our first kiss, so it's just myself and my husband in those pictures. What a beautiful touch! Gavin & Katelyn August 2020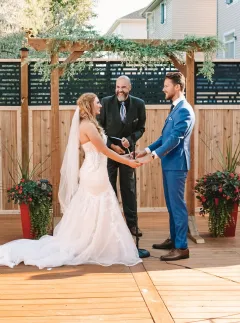 Victor & Bianca
Jody Haucke was efficient, considerate and approachable. He is a great orator and presented himself professionally. He accommodated our theme and dressed accordingly. It was a pleasure having him officiate our wedding! Victor & Bianca August 2020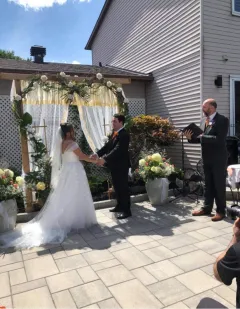 Matthew & Gabrielle
Jody Haucke Jody was wonderful to have as an officiant. He was prompt and even called and asked if we wanted to delay the service due to rain. We received helpful emails from him and he was prompt to reply.Jody was referred to me by a friend when she heard my other ceremony had to be canceled because of covid-19, I would definitely refer all seasons weddings to other friends who are looking for their wedding ceremony. Matthew & Gabrielle May 2020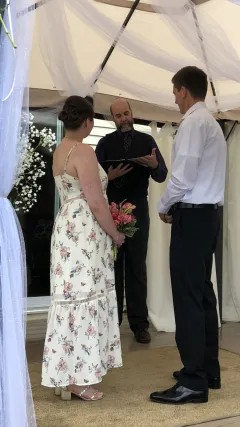 Steven & Patrick
Jody Haucke was amazing! He knew what he was doing. He was cool and friendly was a perfect fit for my ceremony. I highly recommended him for any type of ceremony LGBT or not, he is a great fit. Steven & Patrick Oct 2019
Simon & Alex
Jody Haucke is the most wonderful and professional officiant ever! Our pre-wedding meeting laid out everything very clearly, the ceremony itself went smooth as butter and was exactly the right combination of serious and fun. All the guests complimented him during the reception and actually one engaged guest grabbed his card so she could book him herself! Overall just the best person we could have chosen, Jody is a delight. Simon & Alex September 2019
Adam & Sarah
Jody Haucke was an excellent officiant! Our meetings with him were very helpful and informative. He was very relaxed and easygoing. We appreciated the flexibility that he gave us to write our own ceremony. His delivery of the ceremony on the day was creative and engaging. In response to our request, he dressed up as Elrond for our wedding. Our guests loved his costume. Thanks, Jody! Adam & Sarah July 2019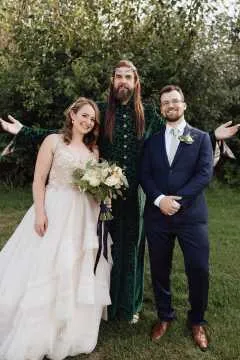 David & Celina
Jody Haucke was absolutely fantastic! We would recommend Jody to anyone! Thank you for everything . David & Celina August 2019
Phil & Erin
I had met Jody Haucke while filming a wedding a few years ago, and thought of him when it was my turn to get married. He was just as good as I remembered, if not better! He has such a great attitude, and kind, calm demeanor. Not only was the ceremony he performed lovely, but in the time leading up to the wedding he really helped us prepare and customize the ceremony and helped us get through the legal stuff. I would highly recommend Jody to future couples! Phil & Erin August 2019
Tyler & Taylor
Jody Haucke was a joy to work with! He was friendly, approachable and helped make our day wonderful! :)Thank you Jody everything was great. Tyler & Taylor June 2019
Andrea & Walter
Jody Haucke was the officiant for our Valentine's Day wedding and he did a wonderful job. He is very easygoing, professional, and personable, and he put us right at ease. We would highly recommend him. Andrea & Walter Feb 2019
Nick & Claire
Jody Haucke was fantastic! Our first impression of Jody was his profile and video on the All Seasons website. We thought he was very personable and fun. When we first met Jody, he met all of our expectations. He was able to answer all of questions and seemed genuinely interested in our story. On our wedding day, he exceeded all of our expectations and our friends and family loved him! He coordinated his attire to our wedding colours perfectly.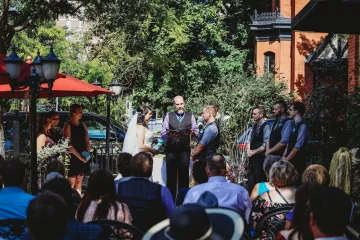 Jed & Mike
Exceeded expectations. We wanted something private, and intimate, and from the moment we met Jody he knew exactly what to do. At the altar we were an emotional mess, and Jody just rolled with it, and kept us on course. He is naturally warm and friendly, and has a talent for keeping the ceremony moving forward, even when we can't seem to.
Mathieu & Kimberly
Jody was lovely and very knowledgeable. We enjoyed having him perform our ceremony! Mathieu & Kimberly, June 2018
Wendy & Condy
Jody (Haucke) was great. He has an air of humour that was perfect for us. (Ottawa Wedding Chapel) is a fantastic and beautiful chapel, with wonderful people who made our special day run smoothly. Wendy & Condy, April 8, 2018

Natasha & Geoff
I'd like to commend Jody (Haucke) on his spectacular service at our wedding. He brought such a unique character that captured the assembly, and really helped us feel at ease. He was very professional in breaking down the series of events, and so friendly and approachable he really felt like he belonged. Thank you so so so much Jody for being a part of the best day of our lives.
Trina & Christopher
Jody Haucke was amazing! He let us tailor our ceremony the way we wanted it. He was professional and very easy going. We couldn't think of a better officiant for our ceremony :) I would 100% recommend All Seasons to anyone. The process is one of the easiest parts of wedding planning!
Jessica & Nathan
Jody Haucke went above and beyond to meet our needs. Being a special themed wedding he dressed up and was in character. He was absolutely amazing!!!!! I also hope to recommend Jody to those who look to do more unique themes.
Danica & Brian
Jody Haucke was amazing! Exactly what we wanted! He made our day perfect!!
Alyson & Daniel
Jody Haucke was very organized and kind. He was very easy to get in touch with and responded to our emails quickly. We would HIGHLY recommend Jody, he was excellent and funny! We received many compliments from our guests for his service.
Wade & Taylor
Hi Jody, In the weeks since we have received many compliments on how well the ceremony flowed and was done. That is definitely a huge credit to you. You helped make our day perfect by performing the marriage exactly how we wanted it to be. [Photo by Elenora Luberto from JEMMAN Photography.]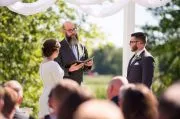 Ben & Brianne
Jody Haucke was very helpful and was always there to answer any questions we had about the process. We would absolutely recommend him to anyone else.
Sara & Lucie
Jody Haucke was absolutely fantastic, helped us choose the perfect ceremony, and went above and beyond - writing down names of everyone important the day of, coordinating his outfit to our colour scheme, etc. Everyone I have corresponded with so far have been the most prompt and respectful with replying of all the vendors I dealt with. Super friendly!! This service was so helpful to my partner and I. We felt so comfortable being able to see all the officiants' experience or openness to performing same sex ceremonies. An incredible resource for the LGBT+ community.
Marie-Eve and Robert
This past Sunday we had our ceremony at the Canadian Aviation and Space Museum with the fantastic Jody Haucke as our officiant . Jody was quite simply a dream to have at our wedding. His professionalism, organization, and his eye for aesthetic and placement of our bridal party and our guests helped maximize the uniqueness of our venue. We are truly grateful to have had his unparalleled knowledge at our disposal. Our ceremony was flawless. Jody's articulation and passion in our ceremony was endearing and entertaining. Every line he spoke was delivered with so much care and feeling that our family and friends are still talking about how breathtaking he was as our officiant. We can never thank him enough for everything he has done, because we know that the magic of our wedding would have been a little less without him.
Olivia & Marcus
From start to finish we thoroughly enjoyed using All Seasons Weddings. We absolutely loved our officiant Jody (Haucke) who made the planning and ceremony an absolute breeze. We would highly recommend this company and this officiant for anyone who wants to enjoy getting married! Olivia & Marcus 09/08/2016