Joanne Johnston
Request Joanne Johnston
Secteurs desservis
Grimsby, Beamsville, Smithville, Vineland, Jordan, Saint Anns, Wellendport, Pelham, Fenwick, St.Catharines, Western Hill, Thorold, Virgil, Merriton, Grassie, Binbrook, Dundas, Dunnville, Stoney Creek, Winona, Hamilton, Burlington
Commentaires
Nena & Jason
Joanne [Johnston] was an absolute delight to have join us on our special day!! She is such a sweet women who you can just tell enjoys what she does. We would recommend Joanne 100%!!! July 2022
Joseph & Janina
Joanne Johnston was absolutely amazing. I can't say enough good things about her, her husband and everything she's done for us. August 2022
Evan & Nahren
Joanne Johnston was absolutely lovely! We are so happy to have had Joanne officiate our marriage. I wish we had a full wedding for her to enjoy, she is a delight and I can't compliment and praise her enough! August 2021
Alex & Kristina
Joanne Johnston was excellent, great communication throughout and really went above and beyond to make sure we had the best wedding possible, even during COVID. Would highly recommend!! Alex & Kristina May 2021
Jose & Stacey
My entire family loved Joanne Johnston, she is so sweet and sincere. She did a great job. Her presentation was beautiful. Thank you so much for her services. Jose & Stacey February 2021
Keith & Erin
Joanne Johnston was amazing, heartfelt, sincere, and gave us the most beautiful ceremony! We are so grateful! Keith & Erin September 2020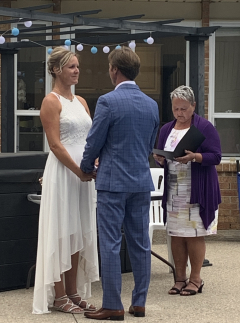 Laura & Alexandre
Joanne Johnston was an excellent officiant. We loved her personality and energy and she made our ceremony perfect. Any email correspondence with the office staff was quick and helpful. I would recommend All Seasons Weddings. September, 2018
Chris & Bob
Joanne Johnston is so personable and she accommodated every request in the ceremony to make it perfect.
Wade & Witold
Joanne Johnston exceeded our expectations!
Shirley & James
We had many emails back and forth with our officiant, Joanne Johnston. She also met with us personally to discuss the type of ceremony we would like. She allowed us to have a sand unity ceremony too, which was beautiful and we also wrote our own vows which made her teary and this was very endearing. You could tell that she connected with us and that made our ceremony that much more special. Joanne is very upbeat and positive and has a wonderful outlook on life and marriage. She speaks very highly of her own marriage of 40+ years and that is inspiring. Absolutely! It was a real pleasure to have. Joanne marry us in a ceremony that was very personal and intimate and memorable! Thank you Joanne for all your support and good wishes for James and I.
Casey & Timothy
Joanne immediately made me feel comfortable in our surroundings. She wrote the most beautiful ceremony. The whole day was perfect and Joanne was a big part of that. I can't thank her enough! The whole booking process was so easy! Everyone was so helpful along the way. If anyone is looking for an officiant we will definitely refer them your way.
Harpreet & Harjinder
Joanne Johnston was great! All my guests loved her. She was very courteous and professional! Thanks Joanne !