Joan Weir
Request Joan Weir
Secteurs desservis
Haliburton, Dorset, Halls Lake, Buttermilk Falls, West Guilford, Kennesis Lake area, Baysville
Commentaires
Justin & Kristen
Joan Weir was prompt and ready for our ceremony this past September at Port Cunnington Lodge. After initially chatting on the phone about our ceremony, she made sure that it was exactly what we wanted for our special day. She did a wonderful job and we are truly grateful that she was able to officiate our wedding on such short notice, thank you! September 2022
Emily & Benjamin
Joan Weir was an absolute delight and we are so glad to have had her do our ceremony! No complaints and we are really happy with how everything went! September 2022
Kate & Jesse
Joan Weir was exceptional. She went above and beyond expectations for my wedding. She created a service that matched my partner and I perfectly. She was a delight to work with. July 2022
Shawna & Bryan
Joan Weir was incredible! She was caring, friendly and made us feel so special on our wedding day. Our ceremony with her was beyond beautiful! July 2022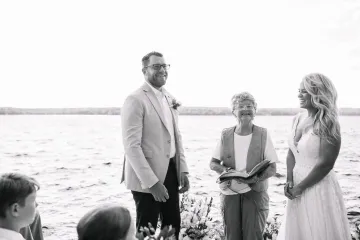 Jennifer & Kyle
Joan Weir exceeded our expectations! She provided so many great resources for us to check out while planning our ceremony, and offered very good suggestions whenever we asked. She was super supportive and made our experience wonderful from beginning to end. June 2022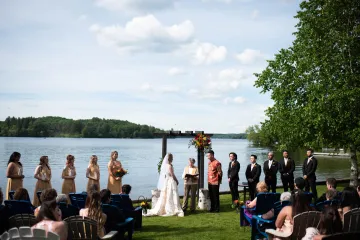 Luna & Cayce
Joan Weir was kind, generous and attentive to detail. We loved how interested she was in our spiritual practices, and she was very open to including the things that were most meaningful to us rather than having a cookie cutter wedding. It was a great experience, and Joan is a great officiant. ? Luna & Cayce August 2021
Tory & Lexi
Joan Weir went way above and beyond our expectations! In a time pinch she agreed to officiate our wedding a week away. She quickly got in touch and met with us to discuss our ceremony. She understood who we are from the get-go and was able to make meaningful changes and contributions to our ceremony to the point where we became even more excited for our event! She reached out with weather details in the days before the ceremony, came up with a contingency plan, and arrived early and prepared. She performed a beautiful ceremony .She made us feel cared for and truly was invested in not only performing the ceremony but getting to know us as a couple. We had such an incredible time working with her and would refer her to any of our friends. Thank you, Joan :) Tory & Lexi December 2020
Adam & Nancy
Joan Weir went beyond and exceeded our expectations! Thank you Joan for a beautiful ceremony. Adam & Nancy October 2020
Ryan & Laura
Joan Weir was great. We had hoped that a friend would do the ceremony but there was a point where this was unsure. Joan stepped in and made sure that my wife and I were comfortable. She made it clear that she would be glad to help should our friend be unable. Excellent service Joan thank you! Ryan & Laura May 2019
Lisa & Randy
Joan Weir was an absolute pleasure and we had many compliments from our guests. The ceremony was perfect in every way.
Sara & Martin
Joan Weir was wonderful and helped us with a very personalized ceremony. Perfect in every way
Cara & Danny
Joan Weir was fantastic! The service was exactly what we wanted and she was helpful and informative.
Jason & Stephanie
Joan Weir went above and beyond and WELL EXCEEDED our expectations. She was so thorough with all her advice, guidance, and planning, and we felt like our wedding was a top priority for her. The material she offered us for planning our ceremony was so vast and we ended up being beyond happy with the final result. Absolutely. Our wedding with Joan could not have been more perfect. A MILLION THANK YOUS to the beautiful Joan Weir for sharing our day with us and making it truly unforgettable.
Lindsay & Rob
Many thanks to Joan Weir for supporting us and helping us to craft the ceremony that we wanted. Joan was full of loving kindness and we would definitely recommend her to anyone!
Nicole & Luke
Joan Weir exceeded all our expectations as a wedding officiant. From our first time meeting, to the wedding day itself, Joan was pleasant, caring and supportive in helping us create the best ceremony possible. Joan is authentic, spiritual and is able to create an atmosphere that brings warmth and love to the entire wedding.
Abbie and George
George and I had our wonderful wedding last Wednesday and I wanted to email to tell you how amazing Joan was! Our families cannot stop saying how perfect she was and how her words were so meaningful. We loved her blessing of the Peruvian bells! She just made our big day that much better and stress free. Thank you very much for everything. We will highly recommend All seasons weddings and Joan Weir!
Kim and Ryan
Joan Weir exceeded our expectations. From our initial meeting with her, she proved to be wonderful, willing to work with us, and flexible in her approach to our ceremony. We maintained contact with her from that day forward. Once it was time to prepare for the ceremony, she took time to tailor the ceremony and the vows to be exactly what we wanted. She was willing to go that extra mile to make things perfect. Joan is a very kind-hearted person who genuinely performed her duty as our officiant. Our guests had nothing but great things to say about her service and how touched they were by her kind words. We would highly recommend Joan! Our experience with her was excellent! We couldn't have met a better fit for our ceremony!
Lauren & Chris
Joan Weir was excellent! She was helpful, honest and friendly. I could not say enough kind things about her. Our guests enjoyed her service thoroughly and many people complimented me on her service!! I would recommend her to anyone ?