Joan Bruce-Nibogie
Request Joan Bruce-Nibogie
Secteurs desservis
Ottawa, Orleans, Kanata, Barrhaven, Metcalfe, Edwards, Greely, Vernon, North Gower, Russell, Embrun, Winchester, Kemptville, Morewood, Morrisburg, Prescott, Gatineau-Hull, Chelsea, Wakefield, Low, Mont Saint-Marie, Gracefield, Kenmore
Commentaires
Claire & Arturo
We can't speak more highly of Joan Bruce-Nibogie. She was so pleasant and easy to work with leading up to the wedding. Our ceremony was thoughtful and personalized and our friends and family have told us how much they loved her words and her presence! We are so happy that Joan was a part of our day. August 2022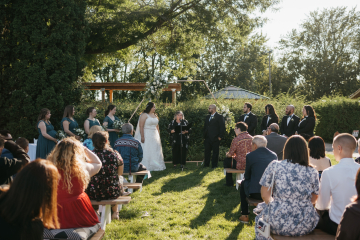 Nancy & Cynthia
Joan Bruce-Nibogie was lovely, warm, friendly and supportive. She read well, with feeling, during the ceremony as well. And she had a wonderfully moving script for the ceremony. We loved Joan as our officiant. Sept 2022
Christopher & Victoria
Joan Bruce-Nibogie has been a family friend of my sister and has officiated other weddings for our family. Joan is professional and a delight to have been included in Victoria and Chris' wedding ceremony. A beautiful job done by Joan. (Mary Stone)
Aimee & Sean
Joan Bruce-Nibogie is INCREDIBLE! Our ceremony was so beautiful that there wasn't a dry eye from anybody! She got to know our story, about our children, our families and helped us incorporate it all into our ceremony which made it so special. She was easy to communicate with, everything was done in a timely manner and she listened to what we wanted. She made our day so special and it truly meant a lot to us to have her there! Thank you Joan! Aug 2022
Davis & Megan
Joan Bruce-Nibogie is a rare and special breed. And old soul who knows how to bring a wedding gathering together and make everyone feel at home. She made our day very special. Thank you! July 2022
Darren & Kelly
Joan Bruce Nibogie went above and beyond for our little ceremony. We can't thank Joan enough for the beautiful ceremony she helped us put together. It was a special day with our grandparents in our backyard and her words truly felt like home. June 2022
Brad & Amber
Joan Bruce Nibogie met all of our expectations. We would recommend her to others. September 2021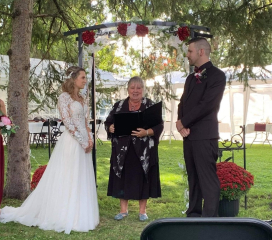 Samara & Joshua
We are very grateful to have chosen All Seasons Weddings to take care of our ceremony. Also, we were very lucky to get Joan Bruce-Nibogie to officiate our wedding at the Ottawa Wedding Chapel. It couldn't be more perfect!! Joan is approachable, kind, professional and such a good soul! She helped made our day special and unforgettable. Samara & Joshua, May 2021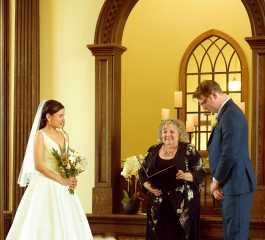 Ryan & Rebecca
Joan Bruce-Nibogie is amazing and we are so grateful for her kindness and flexibility. You can tell that she loves what she does and we were honored to have her marry us. Ryan & Rebecca March 2020
Allan & Corrine
Joan Bruce-Nibogie is absolutely amazing and we feel very lucky to have had her officiate our wedding. She went so above and beyond to make our wedding special for us, and we will cherish the beautiful ceremony she wrote for us forever. Allan & Corrine September 2020
Richard & Laura
I cannot say enough about Joan Bruce-Nibogie. From the beginning she was a delight to work with - she was warm and responsive and I felt she truly cared about us and ensuring we got the ceremony we waned. She helped us to craft a ceremony that was personal and unique to us. On the wedding day, she delivered a warm and moving ceremony - all our guests kept commenting on how beautiful it was. She left us with a keepsake copy of the ceremony script for us to look back on for years to come. I highly recommend Joan to anyone looking for an officiant! Thank you for everything Joan! Richard & Laura Sept 2019
Deb & Tom
Joan Bruce-Nibogie was lovely to work with in developing our ceremony, and on the day of our wedding. She was genuinely engaged and joyful. We laughed, we cried... all three of us! Joan was open to doing an Irish handfasting ceremony, and incorporating readings and music that was meaningful to us. We cannot recommend her more highly. Deb & Tom July 2019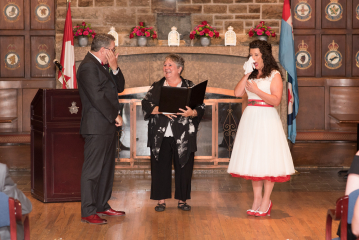 Nick & Emma
Joan Bruce-Nibogiewas fantastic! The ceremony was beautiful and she is guided us through how to make it our own.She helped us with any marriage license questions we had between provinces. She met with us and answered so many of our questions. I would recommend Joan to anyone in a heart beat she is so warm and kind and delivered an amazing ceremony that had all our guests feeling so touched and part of our day. Thank you Joan! Nick & Emma September 2019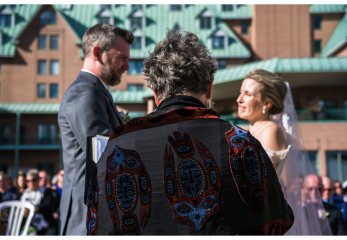 Jennifer & Janice
Joan Bruce-Nibogie was the perfect choice for our wedding. She helped us choose the perfect readings and understood the type of ceremony we wanted. She obviously enjoys performing ceremonies. It was a pleasure meeting her and having her perform our ceremony. Many of our guests also commented to us on what a perfect choice she was. We would definitely recommend Joan. Jennifer & Janice August 2019
Thomas & Amy
Joan Bruce-Nibogie was an absolute delight! She could not have made the ceremony anymore special. We had so many compliments about how smooth everything went. People wanted to book her on the spot for their own kids weddings! Thank you Joan! Thomas & Amy August 2019
Paul & Christine
Joan Bruce-Nibogie was so nice with all of our cuts for the ceremony; we wanted short and sweet and that is exactly what we got! She is great for accommodating wording, timing, rehearsal (or no rehearsal), the list goes on. Thank you for all the time you put in to make it perfect! Paul & Christine June 2019
Laura & Jason
Le Belvedere, Sept 4th, 2016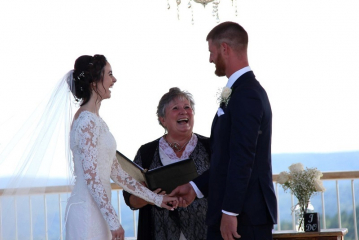 Katie & Eric
Joan (Bruce-Nibogie), we can't thank you enough. The ceremony was so beautiful. We got so many compliments on how lovely you were and how perfect the ceremony was. Thank you so very much for marrying us. We are just so moved and touched. You did a superb job. We hope you have a lovely fall out at your cottage. Maybe we'll run into you in the Chelsea Pub sometime! Thank you thank you thank you! September 9th, 2018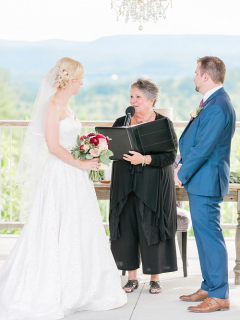 Kellie & Mark
I can't really put into words how much Joan Bruce-Nibogie means to us - she made our special day and ceremony one that we will always cherish. From the first moment we met Joan, we knew she was the right fit. We felt like we had known her for years even though we had just met her. She made every effort to get to know us as a couple so that she could put together a beautiful ceremony that was unique to our love story. We are so lucky to have found Joan through All Seasons. Thanks both to Joan and All Seasons for exceeding our expectations in every way.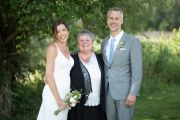 Darren & Joseph
Good evening Joan, Darren and I are passing time waiting for our flight off to our honeymoon and I wanted to take some time to write and thank you for performing such a wonderful ceremony. In the days since the wedding we've had so many people tell us how much they enjoyed our wedding and one common theme that everyone mentions is how wonderful Joan was! One went so far as to say how nice it was that we found someone who knew us so personally to perform our ceremony only to be surprised to hear we had met only a few short weeks ago. Thank you, Joan, for your part in what will be remembered as one of the best days of our lives, for reminding us to breathe, and for a ceremony that brought us so much closer together. It will not be forgotten. We wish you the very best.
Heather and Sean
Dear Joan (Bruce-Nibogie), From the moment we met you, we knew you would bring a special spirit to our wedding! Thank you for coming to meet with us in advance and all you attention to detail in planning the ceremony on Bate Island. Thank You!! Our family members (including us) all felt you brought warmth and thoughtfulness to the day. We appreciated every moment and everything you did for us. Thanks and good luck!! Heather and Sean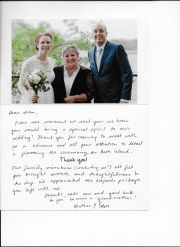 Phillipa and Ryan
Dear Joan (Bruce-Nibogie) Thank you so much for marrying us. It couldn't have gone any better and been so perfectly 'us". I knew you would be the perfect person to perform the ceremony and you were more genuine and it was more beautiful,thanks to you, than we anticipated. I can't believe you cried too! You are so amazing Joan. We can't thank you enough. We could not have picked a better officiant. I am so happy I met you. Thank you from the bottom, top and sides of our hearts! Love Phillipa and Ryan
Lauren & Seth
Joan Bruce-Nibogie was absolutely phenomenal. She made us feel very comfortable, as if we'd known her for years. Even our guests were asking if she was a friend or family member. Joan's character, charisma and cadence came through with every word she spoke and we will cherish the ceremony she created for us for the rest of our lives. Thank you for providing such a great service! xo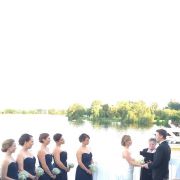 Neil and Kam
Hi Joan, Just wanted to send a note to say thank you so much for your part in making our wedding day such a wonderful time. You made us both feel very at ease and we had a great time. Thank you one again you really are a Star!! Neil and Kam xx Sept 10th, 2015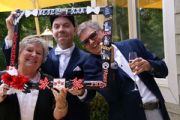 Lauren & Seth
Hi Joan (Bruce-Nibogie), We just wanted to say a sincere and heartfelt thank you for your words two Saturdays ago. The ceremony was beautiful and we were able to really take it all in (even the heat!). Our guests were very moved by what you, and we, said and we heard nothing but great comments about your character and sentiment. Some even thought you'd been a long-standing friend or family member; it definitely felt that way (which is amazing for only having met you the night before). We will cherish the package you've made for us, and the day, forever. Thank you, thank you, thank you! You are wonderful!
Kristine & Steve
Joan was our officiant for our wedding on October 2, 2015. We couldn't have been more pleased! In fact we had guests tell me even days afterwards how personal and heartfelt it was and that it did not feel at all like the "ordinary" ceremony - which was exactly what we wanted! When we were planning for our ceremony, Joan provided some suggestions with additions that we could make to our ceremony. One of the suggestions was the passing of the rings for our guests to hold our rings in their hands and bless them with their well wishes for our future. We loved the idea as did our guests! People posted pictures afterwards on social media with our rings in their hands and such and it showed how much a part they really were of our wedding ceremony. We loved that they were more than just guests in attendance but that they really participated in making our day so special. We can't thank Joan enough for the words and messages she said and we honestly felt like a member of our family was marrying us! She is positively lovely! Kristine & Steve Oct 2nd, 2015
Alex & Brittany
Joan Bruce-Nibogie was excellent. Above what I expected. Excellent service from the staff to the officiant. I expected high level of service and was pleasant that the service and officiant surpassed my expectations. Thank you for the great service and surpassing my expectations. It was a great day and the guest enjoyed themselves.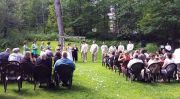 Catherine & Dustin
We were incredibly fortunate to have Joan Bruce-Nibogie officiate at our wedding. Joan is lovely, warm, and very well organized. She made us feel relaxed and happily excited about our ceremony from the very first moment we met her. She's someone you feel like you've known and trusted forever. Thank you Joan, for all your attention before and after our wedding, and for making our special day all the more special to us.
Shannon & Jason
Joan Bruce-Nibogie exceeded our expectations. She managed to customize the ceremony to reflect us perfectly. The office staff were very responsive. We cannot thank Joan enough. She made our day even more than we could have hoped. We will never forget it.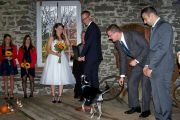 Christine & James
We were very blessed to find Joan Bruce-Nibogie. From our first conversation on the telephone, to our few face-to-face meetings, she was fantastic. She went beyond our expectations in preparation of our wedding day as well as on the day of. We would like to express our sincere gratitude for your friendly and professional service, as well as Joan's. There are no words to express our experience with Joan. Our Angels were definitely looking our for us when sending her our way!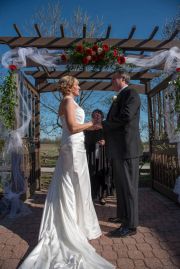 Jennifer & Nicholas
Joan Bruce-Nibogie was amazing. She is a lovely person, was very flexible with our plans, and made us both feel very comfortable throughout. All our family and friends who were present thought she did a great job as well. I had to make several changes back and forth with regards to start time and venue and at no time was I made to feel like it was an inconvenience. Patient, understanding and friendly. Lots of people at the ceremony kept asking how I found Joan because she was soo great, so I explained your service to many already. Your service and help was great! Joan was wonderful! Overall we were very happy with how it all turned out!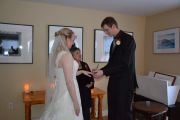 Emily & Steve
We feel so lucky that we found Joan Bruce-Nibogie to lead our ceremony! Her warmth, kindness, and intimacy was deeply appreciated: I can't count the number of people who commented on how moving the ceremony was. Many of our guests seemed to think that Joan had known us for ages, which is, in itself, a testament to the real joy Joan takes in her work. Having her at the front of the room with us put us both at ease and it really felt that she shared our excitement and happiness. Prior to the wedding, Joan was easy to contact and prompt at returning messages. Her ceremony script was relaxed and beautiful and she was happy to accommodate any changes we made to personalize the ceremony. We're so glad we had the chance to work with her and would recommend her without hesitation!
Sharlene & Marty
Joan Bruce-Nibogie made our wedding that much more special. She took the time to get to know us and she helped create a ceremony that was poignant, kind, funny, and simply beautiful. She is a gifted communicator. Marty and I feel privileged to have had her be part of our wedding. I wish there were words to describe how she reached out and touched the hearts of our friends and family. They are still talking about her and how impressed, how grateful and how happy were are that she delivered our ceremony. From the moment I made contact with All Seasons Weddings I was impressed. The fact that your company treated me with such kindness from the first connection took one worry completely away. I will for sure tell friends and family about the exceptional service I received. Again, thank you!
Maissa & JC
When we started looking for an officiant for our 1940's Hollywood themed wedding, someone suggested that we contact Joan Bruce - Nibogie Long before the wedding she was able to provide us with a wealth of information. She was always excited but was able to keep me calm on the podium.She asked that Maissa and I send her our vows beforehand so she could print them out for us in case we needed some assistance or forgotten some words. She also printed them out on parchment paper for us to keep as souvenirs of the ceremony.Joan arrived at the venue and made herself part of the family.Joan left no doubt in our minds that she was the perfect person to marry us.
Mark & Stephanie
Joan Bruce-Nibogie was amazing! So friendly and seems to really love being an officiant. Her personality was a perfect fit for us. We couldn't have selected a better officiant. Having Joan as our officiant felt like an old friend was marrying us. We would recommend in a heartbeat. Once we spoke with joan we knew that our choice of officiant was one decision that would not cause us any stress. We were all around impressed with All Seasons Weddings.
Shelley & Tony
From the instant we began working with Joan Bruce-Nibogie, she took the time to get to know Tony and I. Everything from the ceremony to our readings was carefully chosen in order to reflect the two of us. Joan did an excellent job at creating the perfect ceremony for the two of us! Also anytime I had any questions, your staff was always there to answer our questions. Thank you!
Trick and Andie
Joan Bruce-Nibogie was amazing and my husband and I highly recommend her! We decided on a non-traditional wedding (for sure!) with funny vows and antics that would get all our friends and family laughing! Along with some "lighthearted" vows, about putting up with my back-seat driving, etc, Joan's acting background surely played a part in the FANTASTIC job she did, but it was more her enthusiasm and excitement that really made it great fun for us! We had a fabulous time, we were thrilled with her, and truly believe no one else could have done better! Thanks again Joan!
Keith & Kimberly
We chose Joan Bruce-Nibogie because of the kind and pleasant smile in her photograph, she did not disapoint. With every interaction with Joan she left us feeling relaxed, confident in our decision to choose her and closer in the relationship we were developing with her. When she arrived the day of the ceremony we greeted her as we did all our family and friends with a big hug and a warm welcome. The ceremony was done professionally and personally. We could not have been happier in our decision to have Joan as our wedding officiant and I would highly recommend her. Thank you Joan.