Jill Levine
Request Jill Levine
Secteurs desservis
Mississauga, King City, Stouffville, Thornhill, Newmarket, Aurora, Richmond Hill, Brampton, Vaughan, Markham, Oshawa
Commentaires
Angela & Mark
It was an absolute pleasure to work with Jill! She took the time to meet with us, to learn more about us as a couple and our relationship. Our ceremony was very personal and intimate and many guests commented on how beautiful the ceremony was. Jill was outstanding! She is very personable, very professional and did a standup job at officiating the wedding. We were honored to have Jill officiate over our wedding and highly recommend Jill and All Seasons Weddings! February 2023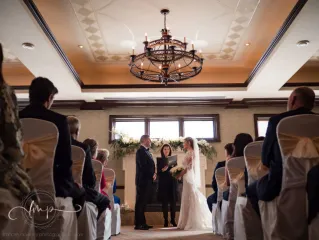 Irina & Sergey
Jill was super professional, we loved everything about her! Everything was so easy and we were very pleased and happy! Thank you so much for a smooth process!! :) October 2022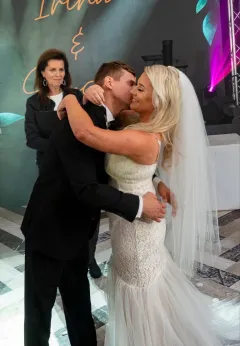 Lindsay & Aaron
Jill was fantastic! She arrived early which was communicated to us, she was extremely friendly and even waited some extra time for my mother to arrive. My now husband and I are very unique people and decided to do our legal ceremony in costumes to go with the Halloween theme, which happens to be my favourite day of the year. She thought it was fabulous and never made me feel anything less. She was efficient and very professional. Our very tiny marriage was exactly what we wanted. I will definitely be recommending all seasons weddings in the future. Thank you so much Jill!! October 2022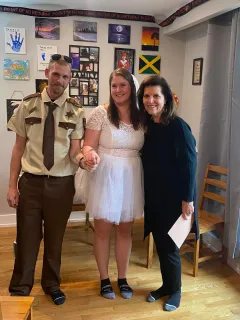 Dor & Simone
The ceremony was absolutely beautiful and Jill hit all the key points of our vows. We were very happy with our service and the kindness of Jill, we couldn't have asked for a better person to lead our wedding ceremony! September 2022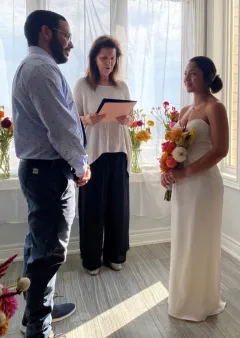 Penny & Hubert
Jill Lavine was absolutely amazing! We could not have asked for a better officiant. August 2022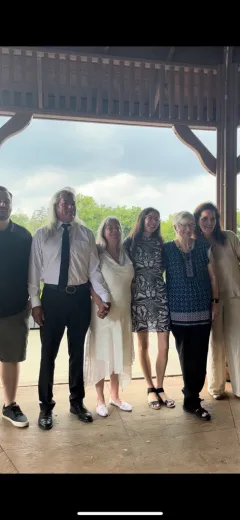 Shahrzad & Kousha
We had the pleasure of having Jill Levine as our officiant and we couldn't be happier. She put together the cutest ceremony and incorporated everything my husband and I had told her individually into one beautiful story. She is so sweet and kind and an amazing officiant. She really made our day! Her attention to detail is phenomenal and she got every part of our story correct (our story is 13 years long, just for context). All the guests were in tears during the ceremony! We couldn't have asked for more, it was better than we could have imagined! Thanks again to Jill, for a beautiful ceremony, and a great start to our wedding and marriage as a whole! August 2022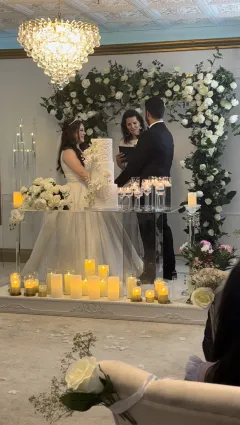 Scott & Jonah
Just wanted to drop a note to say how pleased we were with Jill Levine who did just a phenomenal job at our wedding on August 20th. She had everything in order for us to help make our day go by that much smoother. An absolutely lovely addition to our special day and a pro through and through!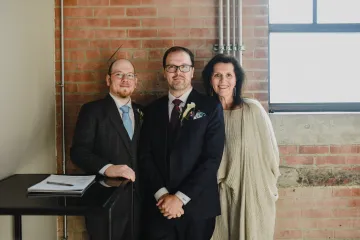 Tim & Kali
Jill Levine was our officiant and she was a pleasure to work with! Our ceremony went exactly as we hoped it would. June 2022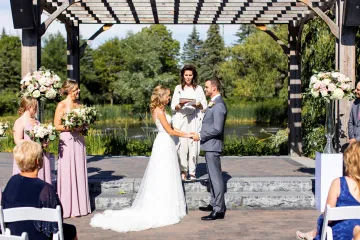 Liliana & Dan
Jill was a wonderful officiant. She was calm but also excited, loving, and very engaged during the ceremony. She made us and our guests at ease and really helped us create the perfect ceremony. Jill helped us through the entire process and made our ceremony so personal and sentimental. We would strongly recommend Jill to anyone! March 2022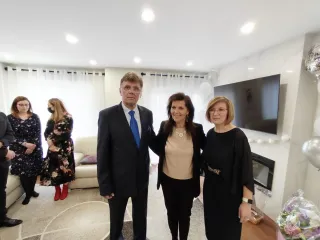 Edite & Trevor
Jill Levine was quite lovely. Very personable and professional at the same time. Refreshing. Feb 2022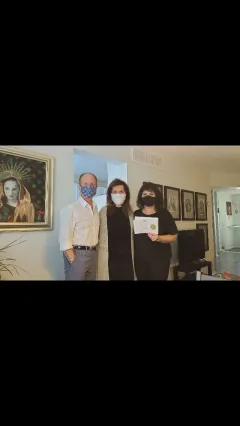 Kenny & Stephanie
We had the pleasure of having Jill Levine serve as our officiant. She was very pleasant and provided us with the services we requested. We just wanted a simple signing as we are getting married in Aruba next week and was she was perfect for us. I would highly recommend Jill to anyone who needs a wedding officiant. March 2022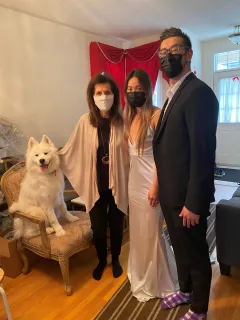 Alissa & Tony
On Sunday, February 13, 2022 Tony and I (Alissa) were married in our own home by wedding officiant, Jill Levine. We wanted to send a note about Jill and how happy we were to have her as our officiant. Jill was so pleasant, thorough and took the time to explain the process and next steps. The ceremony was simple and sweet - just as we wanted! We both want to thank you and Jill for everything throughout this process. Tony and I are excited to begin our next chapter together as husband and wife. Sincerely, Alissa & Tony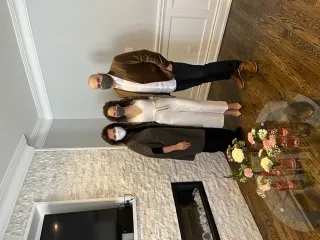 Doreen & Mark
As the mother of the bride we were so delighted that Jill Levine officiated at my daughters wedding. Prior to the wedding and up until the wedding night she was extremely reachable, worked with us in such a positive way during Covid crazy times and always made the bride and groom feel comfortable. She communicated with them in a very calm and relaxing manner. On the day of the wedding she arrived on time and was so patient waiting for some guests that were late before starting the ceremony. The best was the way Jill officiated the wedding. She spoke about the bride and groom on a personal level. We were so touched by her words and thanks to her she eased the entire Covid fear and just made the best that our daughters wedding could be. Jill from the bottom of our hearts thank you so much for being there with us. Many of our guests were deeply touched by your ceremony. Jan 2022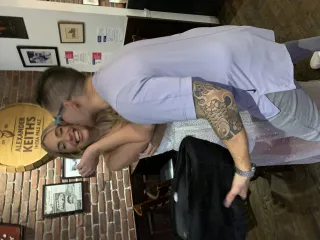 Max & Danna
Jill Levine was truly the best part of our special day. She researched and worked hard to incorporate our requests and was incredibly responsive throughout the planning. We would recommend her to ANYONE! September 2021
Jack and Shelby Aug 2021
Thank you Jill for making our day so perfect. Using All Seasons Weddings was easy and fast. Jill helped us through the entire process and made our ceremony so personal and sentimental. We are so happy!
Annie & Peter
With COVID-19, we opted to have an at-home ceremony, and were matched with Jill as our officiant. She was very kind and helped explain everything to us and ensured we understood the paperwork that we were signing as well as the next steps after the wedding. We had a wonderful experience. Thank you Jill! Annie & Peter, August 2021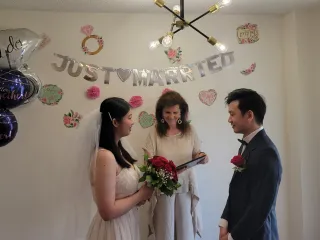 Ravi and Dody
I would like to express my thanks to your organization for making arrangements for our wedding recently. We were very happy with our officiant Ms. Jill Levine. Jill was pleasant and performed the ceremony to our satisfaction. She was polite and friendly. Our wedding date had to be changed due to improper documentation on our part but she returned a second time promptly as arranged. Ravi and Dody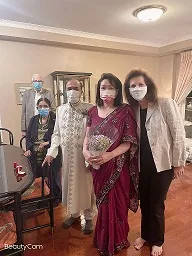 Travis & Rufaro
Jill Levine was amazing! She was on time, professional and so caring. Though it was a simple signing she managed to make it wonderful. Thank you so much Jill, all the best." Travis & Rufaro April 2021
Yiwen and Sheng
I want want to say thank you. Winnie and I were very pleased and happy to have Jill officiate for our marriage. Yiwen and Sheng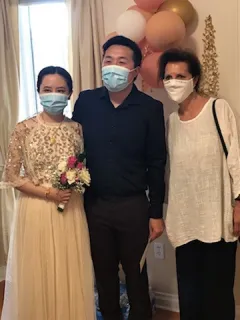 Helen and Kerry
"We were absolutely delighted with Jill at All Seasons. Our wedding was amazing! We made all of the arrangements online - - it was easy, fast and everything was exactly as promised. Our officiant, Jill Levine, gave us a lovely ceremony! We are now most definitely happily married!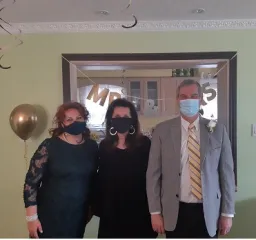 Anthony & Natalie
Jill Levine was fantastic! She is pleasant and friendly. Thank you! Anthony & Natalie August 2020
Mina & Paul
We'd like to thank you for the beautiful service on Saturday officiated by Ms Jill. Jill was very punctual, approachable and welcoming. She took care of our personalized vows last-minute and very responsive. We were really pleased to have her as our officiant. Once again, thank you and take care! Mina & Paul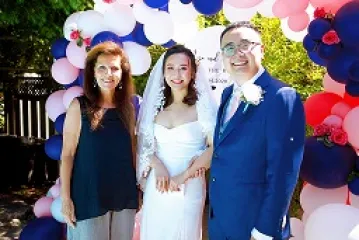 Jason & Tatjana
Jill Levine was punctual, clear, and helpful.Thank you Jill for making our day perfect. Jason & Tatjana August 2019
Adrian and Carly
Thanks so much Jill, The day went perfectly and it was exactly what we wanted. I have attached a photo for you I remember you saying they like to have photos to show.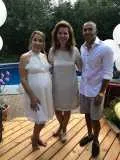 Vickey and Eleni
Hello Jill: Thank you so much for making our ceremony so beautiful. You were wonderful and although we hadn't met I could sence from our phone call that you would be the perfect fit for our wedding. Have a great summer!!