Jill Levine
Request Jill Levine
Secteurs desservis
Mississauga, King City, Stouffville, Thornhill, Newmarket, Aurora, Richmond Hill, Brampton, Vaughan, Markham, Oshawa
Commentaires
Travis & Rufaro
Jill Levine was amazing! She was on time, professional and so caring. Though it was a simple signing she managed to make it wonderful. Thank you so much Jill, all the best." Travis & Rufaro April 2021
Yiwen and Sheng
I want want to say thank you. Winnie and I were very pleased and happy to have Jill officiate for our marriage. Yiwen and Sheng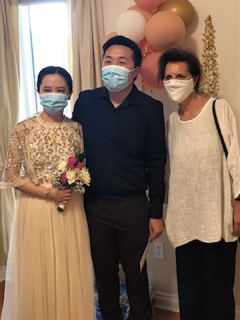 Helen and Kerry
"We were absolutely delighted with Jill at All Seasons. Our wedding was amazing! We made all of the arrangements online - - it was easy, fast and everything was exactly as promised. Our officiant, Jill Levine, gave us a lovely ceremony! We are now most definitely happily married!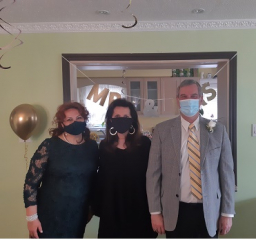 Anthony & Natalie
Jill Levine was fantastic! She is pleasant and friendly. Thank you! Anthony & Natalie August 2020
Mina & Paul
We'd like to thank you for the beautiful service on Saturday officiated by Ms Jill. Jill was very punctual, approachable and welcoming. She took care of our personalized vows last-minute and very responsive. We were really pleased to have her as our officiant. Once again, thank you and take care! Mina & Paul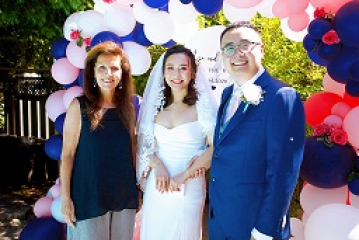 Jason & Tatjana
Jill Levine was punctual, clear, and helpful.Thank you Jill for making our day perfect. Jason & Tatjana August 2019
Adrian and Carly
Thanks so much Jill, The day went perfectly and it was exactly what we wanted. I have attached a photo for you I remember you saying they like to have photos to show.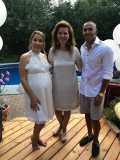 Vickey and Eleni
Hello Jill: Thank you so much for making our ceremony so beautiful. You were wonderful and although we hadn't met I could sence from our phone call that you would be the perfect fit for our wedding. Have a great summer!!