Jennifer Hamel, BSc, BEd
Request Jennifer Hamel
Secteurs desservis
Baltimore, Brighton, Cobourg, Colborne, Grafton, Oshawa, Quinte West, Port Hope
Commentaires
Kenny & Alicia
Jennifer Harper was a great help to use clueless love birds. She even had a tissues on hand when I inevitably started crying! Thank you Jennifer! Kenny & Alicia September 2020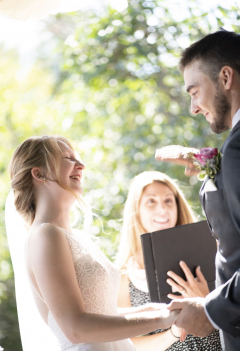 Philip & Teresa
Jennifer Harper was awesome ! She is very professional, looked professional, was on time and kind. We have recommended her to other couples getting married :D Philip & Teresa September 2020
Michael & Ashley
Jennifer Harper met all of our expectations. Thank you for making our day possible. Michael & Ashley May 2020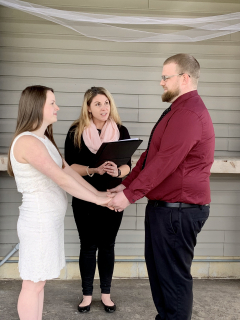 Zachary & Kaytlin
Jennifer Harper was great to work with, she helped us out so much. Thank you! Zachary & Kaytlin September 2019
Doug and Kathy
Jennifer did an amazing job. We wanted a simple, quick ceremony and she delivered with not much notice. She helped us through the paperwork and made it effortless and stress free! We would highly recommend Jennifer Harper! Doug and Kathy. July 2019
Marie & Mike
Jennifer Harper was very professional, helpful and so lovely. We had many of our guests say how personal she made our ceremony feel. All Seasons' service was very good and easy to use. And of course we were absolutely thrilled with Jennifer.
Darlene & Jim
Jennifer was wonderful; she exceeded our expectations. Made us feel like it was the most important wedding ceremony she'd ever performed. Very pleased with her!
Kerry & Christopher
Jennifer Harper was absolutely amazing! She was so easy to communicate with prior to the wedding and extremely organized and helpful. She made the ceremony really enjoyable and was very professional! Booking with All Seasons was a very straightforward process with no stress at all. Would highly recommend!
Meghan and Roland
Jennifer (Harper) was amazing and an absolute pleasure to deal with! She was very accomodating and professional. She was also very informative and articulate in our correspondence. She made us feel very relaxed and calm throughout our rehearsal and our ceremony. We would definitely recommend Jennifer. This is the person you would want to marry you!! :) She is a very sweet person and a pleasure to be around. Thank you! Meghan and Roland
Roberta & Barry
Jennifer (Harper) is awesome!! She did such an amazing job. It wasn't just about the paperwork when I met her either. We just clicked and laughed together like she was an old friend. We couldn't have asked for a better day. Thanks again Jennifer! Roberta & Barry 03/03/17
Mara & Stephen
Jennifer Harper went beyond our expectations. She was there every step of the way, she showed up to make sure things went smoothly. Jennifer is one of the most friendly people I have ever met in my life. She always had a smile on her face and was kind and gentle with questions and reminders for deadlines.