Jennifer Bellinger, BEd, MA
Request Jennifer Bellinger
Secteurs desservis
Niagara Falls, St. Catharines, Welland, Wainfleet, Fonthill, Fenwick, Vineland, Jordan, Grimsby, Niagara On the Lake, Fort Erie, Smithville, Dunville, Crystal Beach, Stevensville, Caistor, Port Colbourne
Commentaires
Shaun & Megan
Jennifer Bellinger literally saved our wedding . She was absolutely lovely and we could not have asked for a better outcome. We will honestly be forever grateful for Jennifer and all-season wedding . : All seasons wedding saved our wedding 100%. My husband and I were literally scammed and found out 2 weeks before our wedding. It was an absolute nightmare . Allseasons wedding was incredible and made it still possible for our day to happen on the date we chose. Forever grateful to all of them. Our officiant was fantastic and the ladies in the office were so kind and lovely. I would refer this company to everyone. In fact I already have ! This company in my opinion is the best way to go ! Thank You so much again for everything you did . September 2022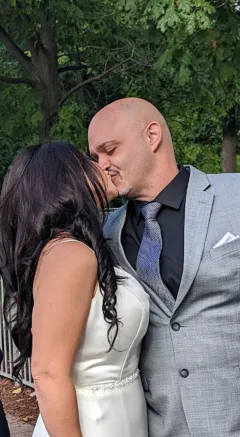 Bailey & Shawn
Jen [Bellinger] was absolutely amazing to work with. She helped to explain the paperwork in a way we could understand. She made the process very stress-free and was flexible to give us the perfect ceremony. Jen was also very kind and professional throughout the entire process. Thank you! July 2022
Guillermo & Gloria
Jennifer Bellinger is so friendly and nice! She help helped a lot with any questions we had. We would recommend her 100% she provided the best service! Guillermo & Gloria December 2020
Anthony & Sheri
Jennifer Bellinger did an amazing job as our officiant! We would definitely recommend her and your organization in the future. Thank you! Anthony & Sheri August 2020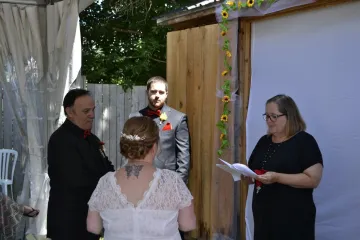 Eric & Kelly
Jennifer Bellinger made everything very easy and stress free! Jennifer was fantastic!!! She made our day very special!! Thank you for a perfect day. Eric & Kelly September 2019
Celine & Reed
Very friendly and helpful! Jennifer Bellinger wanted to make sure we had everything the way we would like it.
Sandra & Collins
Jen Bellinger was awesome. Super helpful in helping us decide what we wanted for our ceremony!
Bronte and Paul
Hi Jennifer (Bellinger), Just wanted to say a huge thank you for being the officiant at our wedding. We always knew we wanted to do something a little different. Thank you for being so accommodating and allowing our day to be even more special! It was so wonderful to have met you. Thank you again for everything!!! Bronte and Paul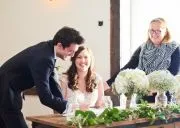 Kirsten and Shawn
Hi Jennifer, I hope all is well! Kirsten and I just wanted to formally thank-you for being the officiant at our wedding. It was a perfect day and the service that you provided was beautiful and really added to overall occasion. We really appreciate your professionalism and accommodation throughout the booking process and everything ran very smoothly the day of. Both Kirsten and I also wanted to apologize for not saying goodbye and seeing you off in a better fashion. It was a very busy day and at that point we were being pulled in a million different directions... we hope you understand. Thanks again for everything; enjoy the rest of the summer! Kirsten/Shawn
Erika & James
Jennifer Bellinger was a great addition to our wedding. She was on time for the rehearsal and wedding, and went out of her way to execute our vision for the day. We greatly appreciated her. All email exchanges building up to our wedding were timely and detail oriented, to ensure we had all the information we needed. I was referred to All Season Weddings by a friend and would definitely refer others to this company. Great service, great communication and overall a great experience with All Season Weddings. Thank you!
Janice & Rolf
Jennifer Bellinger was amazing. She was helpful, friendly and it was a pleasure to have her do our ceremony.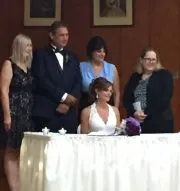 Maureen & Troy
Jennifer Bellinger was absolutely wonderful!! Very flexible and accommodating!
Carolyn & Todd
Jennifer Bellinger was amazing !!! Thank you so much for making our day so special and involving the kids ;)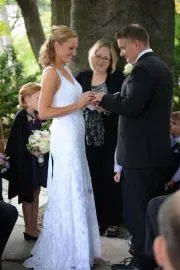 Lindsey & Ryan
Jennifer Ballinger was very nice and always fast to respond to any questions we had. It was so nice to have an intimate home setting for such a special day
Jessica & Justin
Jennifer Bellinger far exceeded our expectations, she was organized, kind and really made the process easy. The office staff was exceptional! I was running late for my pre-meeting and they were able to help me track down Jennifer to let her know.