Rev. Jay Brennan, BA, MDiv
Request Jay Brennan
Secteurs desservis
Toronto, Scarborough, Markham
Commentaires
Nicole & John
Jay Brennan was super easy to work with. He was present, professional and added a little bit of humour which we loved. Thanks, Jay! July 2022
Jerry & Irene
Jay Brennan was very quick and efficient. We would definitely consider referring others to Jay and All Seasons. Jerry & Irene July 2021
Jiaxin & Li
Mr. Jay Brennan is very a very nice and professional officiant, we are glad to share our most important moment of our life with him. He performed our wedding ceremony wonderfully. Jiaxin and Li November 2020
Edward & Lesley
Jay Brennan did a great job. He was very friendly and efficient and made the service short and sweet but meaningful. Edward & Lesley January 2020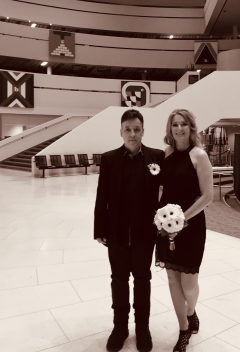 Leslie & Cristian
Dear Jay (Brennan) , Our wedding celebration was beautiful, we loved having you take part of it, it made our day much more special. Thank you so much for everything! We send you a big hug and also all the best! ? Leslie and Cristian December 2019
Martha & Adam
Jay Brennan It was a pleasure having you! We heard many compliments about the ceremony from our family and friends. Thank you for performing a beautiful ceremony - your presence was truly uplifting and we do feel very blessed. You made things go very smoothly during our initial meeting and planning, as well as during the ceremony, which allowed Adam and I to enjoy our special moment. Thank you for making us feel comfortable and at ease! Martha & Adam August 2019
Caitlin & Michael
Jay Brennan was the perfect wedding officiant for us. He is warm, easygoing, sincere, and helpful in making suggestions. Together we created a ceremony that perfectly fit who we are, and it came off beautifully. We can't recommend him more highly!
Dede and Dan
Hi Jay, Just a quick note from both Dan and I to thank you again for delivering such a beautiful wedding ceremony. Everyone kept commenting on how beautiful it was and how great of a job you did (my parents included! They were blown away by you and your delivery). Your help and guidance along the way made our ceremony everything we could have imagined! My mom was thrilled that Dan escorted her down the aisle. Thanks again, all the best to you, Love, Dede and Dan
Christine and Peter
A quick note to thank you so much for performing our wedding ceremony. We received so many comments about how wonderful it was and how it felt personal, relaxed, warm and special. We really appreciate how great a job you did!
Anna & Jeevan
Dear Jay. We're so grateful you were available on a long weekend to be a part of our special day. We truly appreciated your patience and your calming influence. We loved how you paced our ceremony so that we could stay focused and in the moment. Your voice and smile complimented the intimate, dignified and joyous mood we were hoping for and had during our celebration. Thank you for helping to make our wedding day so memorable! Anna and Jeevan
Sana & Reza
Thank you so much for your patience and calm manner. I was so relaxed and Reza and I are so pleased to have you in our special night!
Angela & Nino
Thanks Jay (Brennan)! Thank you so much for hosting our ceremony! You were the best! Making us laugh at our ceremony, we will definitely recommend you to our family and friends.
Naomi and Richard
Thank you so much for taking the time out of your long weekend to marry us. We appreciated it. It was a blast! I will definitely pass the word along if any of my friends need a minister.
Kelsie and Chris
Hello Jay, Chris and I just wanted to thank you for the wedding ceremony, it was so beautiful. We've received many compliments about your service. In fact, our most favourite moments of the wedding took place during the ceremony, thank you! Kelsie and Chris
Gary and Amy
Dear Jay, You were amazing, very thoughtful and helpful. Thanks again for being a part of our special day.
Ping and Christopher
"It really was a pleasure to have you marry us! We loved how easy going and fun you were. Thank you so much again - and here's to many more adventures to come."