Janice Meighan, BA (York); MA (UofT)
Request Janice Meighan
Secteurs desservis
Downtown Toronto, Agincourt, Scarborough, East York, York, North York, Willowdale, West Hill, Richmond Hill, Kleinburg, Mississagua, Etobicoke, Aurora, Stouffville, Markham, Vaughan, Toronto Islands, Pickering, Ajax, Whitby, Oshawa, Newmarket, King City, Maple, Woodbridge.
Commentaires
Mark & Jenelle
Janice Meighan was absolutely wonderful. She was so helpful and patient in helping us craft our wedding ceremony and explaining everything to us. The ceremony itself was exactly what we wanted and we received so many compliments on how lovely and warm Janice was. We couldn't be happier! May 2022
Jenelle & Mark
Janice was an absolute joy to work with! She was incredibly helpful in planning our ceremony, answering our questions, and crafting the perfect ceremony for us. She was very flexible despite having to change our date twice due to COVID. At the ceremony, she was so warm and lovely in her delivery and we received so many positive comments from our guests!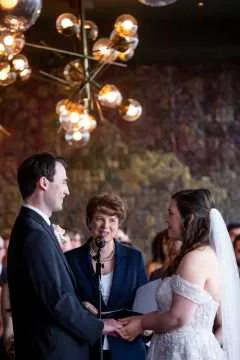 Elaine & Joanne
It was a real pleasure having you officiate our wedding. Your warmth and sincerity were apparent to everyone there and your call for the rings was dramatic enough to set the stage for Eddy's big entrance as "ring dog." You were very easy to work with and you gave us options that we probably wouldn't have thought of, and your help with the tricky parts was very much appreciated. We can't thank you enough. Your participation was a big part of what made the day so special and we recommend you highly. Sincerely, Elaine and Joanne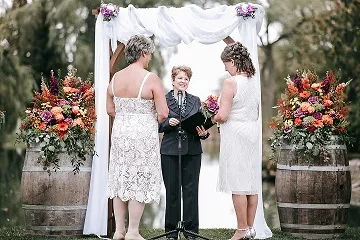 Michael, Dustin & Arielle
Thank you Janice for officiating our daughter's baptism. You made our vision a reality by incorporating what was important to us and offering suggestions that made it perfect. You surpassed all of our expectations and made our baby girl's special day exactly what we wanted – simple yet beautiful. September 2021.
Cindy & T
Dear Janice, Thank you once again for officiating our wedding! Thank you for being so genuine and warm, loved the way you've delivered every single word. I am so grateful and relieved that everything went just as planned. May 2021.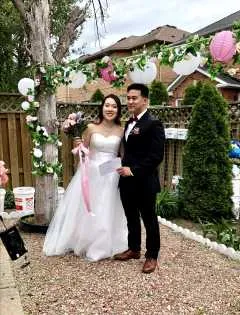 Stuart & Fiona
Janice Meighan was outstanding and amazing. She really tailored the ceremony to our desires and I am so glad we had her there on our special day. Couldn't have done it without her. July 2021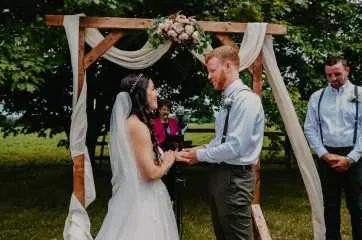 Ron and Zaria
Thank you so much for officiating our special day! We're so glad taht you were available on such short notice. You really helped to bring everything together. It was with great relief that were still able to get married on our chosen date. thank you again for being there for us. Lots of love Ron and Zaria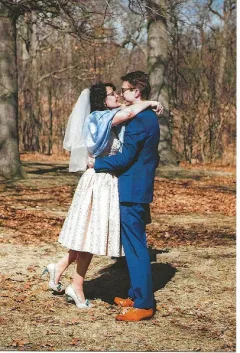 Kate & Mark
"We've been lucky enough to have Janice Meighan officiate both our daughters' baptisms and we couldn't recommend her more! She is such a warm, kind, articulate and professional woman, and always lovely with the babies! She was open and flexible to all the little ceremony details we wanted to incorporate, going above and beyond to make the day special. We were very happy with how everything went on the day and received many compliments from guests about how lovely the ceremony was under her guidance." Kate & Mark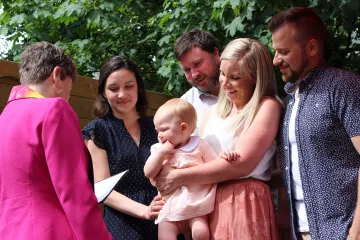 Glen & Marilyn
A big thank you to Janice Meighan for officiating our wedding. Janice was punctual, professional and always kept a genuine and warm smile on her face! Janice was very accommodating to how we wanted our ceremony to go and she was very understanding to the fact that we have 2 young children that needed our attention during the ceremony! Thanks for your patience! We strongly recommend that everyone requests Janice as their officiant. She will not disappoint you. We are forever grateful for choosing Janice!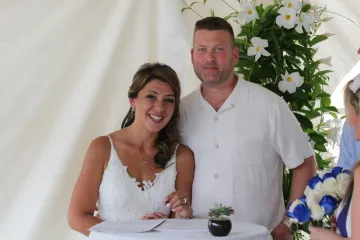 Robin & Richard
We are so thrilled we chose Janice Meighan to be our wedding officiant. She was wonderful to work with through every step of the process, from planning the text, leading the rehearsal, and doing such an amazing job of officiating on the day. Our ceremony was truly our favourite part of the day, and Janice so effortlessly matched the mood of our venue and guests to make the ceremony really feel true to us. She was completely open to all of our customization requests, and helped give us direction where we needed it. Thank you Janice for making our wedding the most special day of our lives!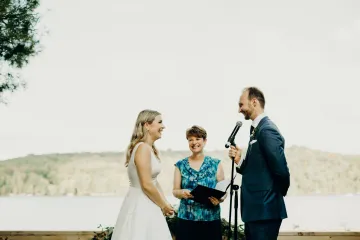 Keith & Predrag
Janice you were great. Your ability to pull this together so quickly was greatly appreciated. We had so many compliments on the ceremony and PJ's mom was especially touched with it and felt included even thought you did not speak her language. Bravo.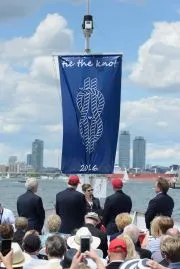 Sherry & Kevin
That was the most beautiful ceremony that I have ever been to and I was glad to say that it was mine.
Heather & Thomas
Janice Meighan was amazing. She was professional and very personable at the same time. Janice made our day very personal and relaxed.
Arti & Sachan
Hi Janice, We just wanted to say thank you so much for officiating our ceremony on the 19 July. You were wonderful and made us both feel very comfortable during the vows. We were both nervous as anything, as you may have guessed, but you made us feel calm and brought a warm loving atmosphere.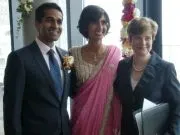 Tiffany and Julie
Hi Janice, Thank you so much for preforming Julie's and my wedding ceremony a few weeks ago. It was absolutely magical! You did a wonderful job and we had many people comment on how much they enjoyed you. All the best, Tiffany
Kasi & Shane
Hi Janice- We just wanted to thank you for performing such a lovely ceremony and for all your help throughout the process. From the beginning you were a wise sounding board, providing us with so much guidance. During the ceremony you made us feel relaxed and at ease. So again, huge thank you for helping us during such an important time in our times. We will never forget Saturday! All the best,
Jessica & Ian
Janice you were amazing, and made everything easy and you were very accommodating to our requests. Everything was stress free! Thanks!
Alex & Amanda
Janice Meighan was an absolute pleasure to work with for our wedding ceremony. She was incredibly professional in both the pre-meetings and at the ceremony. She brought forward a number of great options to help us craft the ceremony to what worked great for us. It was a fantastic working with Janice, and we'd highly recommend her.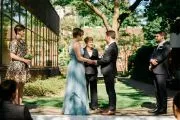 Garlice and Andrew
Hi Janice, How are you?! I hope this email finds you well. I can't believe it's almost been 2 months since you married us- where did the time go! We came back from our honeymoon a month ago and we're just starting to feel like we're back to our regular routine again. I didn't get a chance to officially THANK YOU for all your services for our wedding. You were truly wonderful and I not only I gave you great feedback on the survey, but I will definitely recommend you to anyone who plans to get married in the future. Thanks again. Take care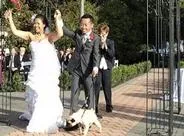 Trish and Alex
Janice, thank you so much for performing our wedding ceremony. You were such a pleasure to work with and we really appreciated all of your guidance in preparing our vows. Many of our friends and family told us that they were very moved during our ceremony. We know that they, like us, were touched by your sincerity, humour and grace. We are so glad that you agreed to marry us! All the best,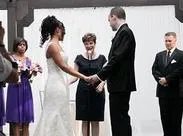 Megan and Doug
Janice Thanks for your officiating at our wedding. You are very professional and calm. During some of the ceremony it felt like it was just you, me, and Doug, which is quite a feat considering there are 100 (well technically 200) eyes on us!" Most sincerely, Megan & Doug
Diane
Janice, we wanted to thank you for performing such a thoughtful and touching ceremony. Your customized input into the wording really helped us to create something unique to us which made it ever so special. You did a great job on the the day making us feel comfortable and everyone loved the simplicity yet meaningful ceremony. Most of all you were always there for us helping when needed with great ideas and tons of support. Thank you for making our marriage ceremony the best!
Michelle, Jay, Ava and Grace
Dear Janice, We want to thank you for Baptising Grace. We loved the ceremony and all of the personal touches you included made it very special for our family. You are great at what you do and we were lucky to have you in our home for this very special day. Thank you! Michelle, Jay, Ava, & Grace.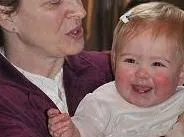 Erin and Rob
Janice performed a very articulate, compassionate and genuine ceremony to a room full of our friends and family. As we wanted aspects of both our family traditions to be part of the ceremony, she guided us on how to customize our vows to make them unique to our traditions and to each other. She was very flexible in meeting with us beforehand to better understand our values and what we were looking for in a perfect ceremony. I would highly recommend her.