Rev Heather Star Williams, ral Care (Atlantic School of Theology)Diploma in Pasto
Request Heather Star Williams
Secteurs desservis
Halifax, Chester, Hubbards, Queensland, Black Point, Boutillier's Point, Ingramport, Tantallon, Glen Haven , Glen Margaret, West Dover, Terence Bay, Prospect, Peggy's Cove, Preston, Lake Echo, Minesville, Porter's Lake, Musquodobit, Enfield, Wellington, Fall River, Enfield, Elmsdale, Mount Uniacke, Beaverbank, Sackville
Commentaires
Richard & Carol
Heather Star Williams was very sweet, and considerate of each guest, especially the little people. We really enjoyed Heather and appreciated the attention to personalizing the vows for us. Richard & Carol February 2021
Mary & Wanda
Heather Star Williams was amazing. She gave us exactly what we wanted and then some. So grateful for her for officiating our wedding. :) Mary & Wanda February 2020
Jack & Margaret
Heather Star Williams did an amazing job very personal and accommodating. Thank you for making our day just as we wanted. Jack & Margaret September 2019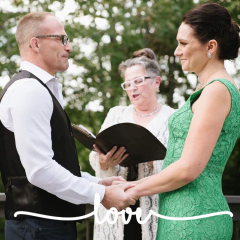 Bob & Tanys
Rev Heather was fantastic, as expected. She read the situation and changed up her speech to allow us to find shade sooner. All of our guests raved about how amazing she was. Thank you so much!
Jennifer & Benjamin
Heather Star Williams was truly wonderful. She was professional, yet also managed to make our ceremony incredibly personal and heartfelt. It many ways, it felt like she was a good friend telling our love story! The All Seasons reservations office was great to work with! They eased all of my concerns and were incredibly accommodating and flexible about the ceremony date and time. This was a very last-minute ceremony and they were very reassuring and prompt with responding to all of my questions. I would definitely refer others to All Seasons Weddings!
Emily & Greg
Heather Star Williams was such an incredibly warm and lovely person. Both of us connected with her instantly and she made our ceremony very personalized and comfortable for my husband who is a person who stutters. She took all of our wishes for elements of a non traditional, feminist, romantic ceremony and created something truly amazing! Our friends and family said it was the nicest ceremony they had ever been a part of. Thank you Rev Heather Star!
Erin & Matthew
Heather Star Williams was incredible! As soon as we met her for our pre-wedding discussion, we clicked right away. She was helpful, accommodating, and made our ceremony smooth and meaningful. We loved her! Staff were great! Responded quickly to any inquiries and were very accommodating as well. Will definitely refer to others! We can't say enough about Heather... truly she was wonderful. She incorporated my husband's kids into the ceremony and made us all very relaxed. Thank you!!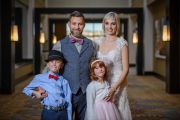 Lacey & Flynn
Rev Heather was flexible, knowledgeable and full of joy for what we were striving to create with our ceremony. We hired two officiants - one Heather, was a Christian minister, and one a Hindu priest. Between the four of us, we braided together elements from many different traditions into Heather's ceremony. She was fully on board and completely committed to this very special ceremony. We ended up with the most magical ceremony. Heather is well spoken, quick on her feet, kindhearted and adaptable. We recommend Heather to anyone who wants a sincere, joyous and creative officiant. Lacey & Flynn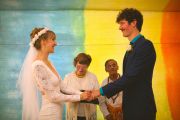 Alana & Brian
Heather Star Williams made our day wonderful. She guided us through the day with ease and grace.
Lynn & Jeff
Heather Star Williams was absolutely fantastic! Couldn't ask for a better officiant. So genuine and professional. Highly recommend.
Anthony & Jonathan
Heather Star Williams was loving, caring, sincere and made it the day of our lives! Truly was a gift to have found Heather. I will never forget the day and have her in both our hearts! Thank you is not enough!
Gorica & Brent
Heather Star Williams exceeded our expectations! She was absolutely wonderful and many of our guests pointed this out to us after the ceremony. We would recommend Heather in a heartbeat for any couple getting married no matter what style of wedding they plan on having. Everyone was very friendly. Thank you so much for everything!
Stephen and Shane
Rev Heather Star Williams was so professional as well as kind from the minute we met her. Heather is intelligent, well spoken, sensitive to your needs, organized, and always on time. She brings excitement to the ceremony as opposed to a boring regular old speach. We had a wedding with about 150 people, everyone loved her-many saying they hadn't seen better! I wouls strongly suggest you book Heather now as I'm sure she fills up fast due to word of mouth. All the best Heather!!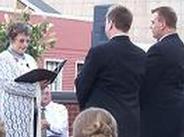 Rose and Darren
Hi Heather (Star Williams),you did a wonderful job making us feel comfortable and relaxed about the ceremony. You surpassed our expectations in every way. Darren and I were especially touched by the fact that you took my family members outside to get photos taken when they didn't understand what was happening at the time. Darren and I wish you and your family all the best."The Happy Couple"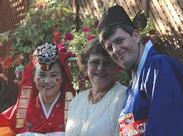 Megan and Karla
" Rev Heather Star Williams was instrumental in making our wedding day everything we wanted it to be. She has a sense immediately of what we wanted and was able to incorporate all of our requests into her regular ceremony, as well as provided some additional suggestions to make our day that much more special. As we were scheduling everything from a distance she was very easy to communicate with. We weren't surprised at all when everything went exactly as planned. Thanks Heather!"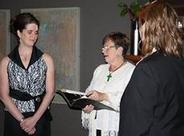 Yael and Brendan
From the moment we met Heather Star Williams we knew she was right for us. Heather not only played an instrumental part in our wedding, but also during the entire planning process. Our wedding was by no means traditional yet Heather was able to beautifully fuse two different religions and make it very memorable. Heather served as our Officiant that day, but she also felt like family to us. Thank you so much Heather, for providing us with a beautiful and memorable wedding. You exceeded our expectations!" ~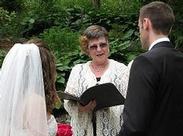 Kirstin and Jeffery
We had an absolutely wonderful wedding and Heather Star Williams had a big part in making our wedding ceremony a joyous and beautiful experience for both of us. She really took the time to get to know us as a couple and made a point of incorporating who we are into our ceremony. Heather is a naturally caring and supportive person and we are so thankful she was a part of our wedding day. This testimonial is completely and fully truthful. Thank you so much Heather! Sincerely, Kirstin and Jeffery