Heather Black
Request Heather Black
Secteurs desservis
Georgetown, Halton Hills, Norval, Huttonville, Acton, Limehouse, Terra Cotta, Ballinafad, Erin, Milton, Brampton, Bramalea, Mississauga, Streetsville, Oakville, Caledon, Caledon East, Bolton, Kleinburg, Alton, Belfountain, Cheltenham, Forks of the Credit, Inglewood, Hockley Valley, Mono Mills, Orangeville, Rockwood, Fergus, Guelph, Hillsburgh, Vaughan, Woodbridge
Commentaires
Steven & Peter
Heather Black did a fantastic job as an officiant. She was knowledgeable, friendly and helpful. October 2022
Gennie & Merrill
Our wedding day was beautiful. Heather Black was wonderful, more than we could have asked for. Thank you so much for completing our day. Everything she said during the ceremony made Merrill & myself very emotional. We were so happy to have Heather as our officiant. The weather was lovely and everything was perfect. ❤️ September 2022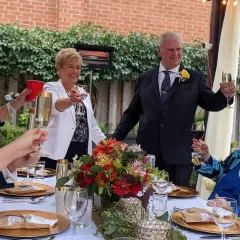 David & Jillian
Heather Black was great to work with. She exceeded all expectations. Heather was open and honest; very organized in the planning and easy to communicate any changes with leading up to the ceremony. She showed up on time, we did not need to stress about anything. Heather was warm, a strong communicator, directing us on what to do during the ceremony. She had a strong balance of being professional but at the same time light and made us feel relaxed during the more emotional moments. We would highly recommend Heather. August 2022
Stephanie & David
Great personal service! We had Heather [Black] marry us. She did a great job incorporating our three boys into our ceremony. I cannot say enough about how great everything was! February 2022
Chris & Tiffany
Heather Black was beyond amazing! She was so easy to work with and brought so much warmth to our wedding! Deciding to have her as our officiant was easily one of the best decisions we made regarding our wedding. I would highly recommend her to anyone! Chris & Tiffany August 2020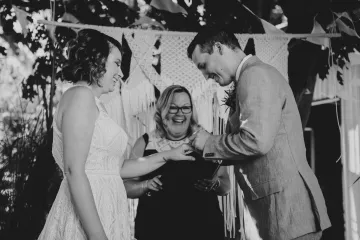 Stephen & Susan
Heather Black was a great fit for our wedding and was very friendly and professional on all levels. Thank you very much! Stephen & Susan October 2020
Geoff & Tara
Heather Black was absolutely perfect! Friendly, sweet and tailored our ceremony exactly how we wanted it! Thanks for helping make our day so special, Heather! xo Geoff & Tara August 2019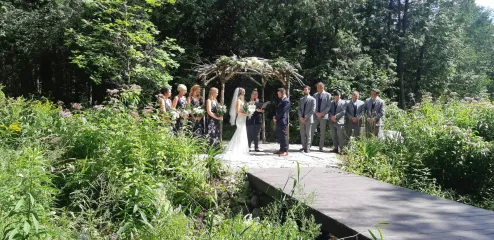 Jatin & Viktoria
I am so thankful to Heather Black to be there on such short notice and on a long weekend as well. She was so helpful, kind, patient and flexible... My wedding was kind of last minute so we did not get to meet and talk about the details, but Heather was available over the phone at all times and she even arranged things for me at the last moment. She went above and beyond her responsibilities. I would strongly recommend to invite her to your special day as she will put in 100% making it the best day of your life ? Jatin & Viktoria Sept 2018
Laura & Tristan
Heather Black did a fantastic job at meeting our expectations. August 3rd, 2018
Joshua & Joana
Heather Black successfully accomplished all of our expectations. August 25th, 2018
Clinton & Sarah
Heather was a Gem! She took time during our meeting to talk us through it all. We emailed the ceremony back and forth until we were both pleased with the results. On the day she was so warm and helpful it was like she was a part of our family! I couldn't have been happier with the results! Thank you Heather, you made our day special! [July 2018]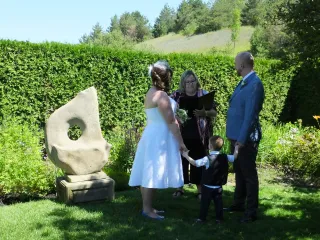 Hannah & Jordy
Heather Black is a joy and a delight. She was so warm and friendly, I immediately felt comfortable with her and was so grateful to have her as the one officiating my marrying the love of my life! Thanks Heather you are a natural and wonderful human being.
Sheena & Mike
Heather Black is just amazing, such a wonderfully warm person, & so easy to talk to! We absolutely love her!
Christina & Gary
Heather Black did an amazing job, her bubbly personality instantly puts you at ease. the ceremony ran perfectly and exactly how we wanted it. Thank you again for helping to make our day special and very memorable!
Sue and Scott
Heather (Black) officiated our wedding in Belfountain. Her bubbly personality and enthusiasm to wed us, made it feel like Heather was an invited guest, rather than an officiant we only formally met the week before. Heather was very approachable via email prior to the wedding and very professional, yet as I said...VERY bubbly and genuinely happy for us. We would HIGHLY recommend Heather to anyone wanting a special person to officiate on their special day. Sue and Scott Feb 27/16
Patricia & Michel
Heather Black was absolutely fantastic! By the time we were done she felt like part of the family. She is vibrant and funny and just perfect for this role.
Wayne & Ashley
Heather Black was a pleasure to work with. She was able to accommodate all of our needs and made sure we had a wonderful ceremony. Our wedding day was amazing thanks to Heather!!!!
Jennifer & David
I would recommend All Seasons and Heather Black as she did an excellent job, exceeding our expectations. Heather was always willing to provide us with suggestions and adjusted the ceremony as we desired. She was prepared, prompt, flexible and friendly with the wedding party and guests