Heather Baer, B.Ed (Toronto)
Request Heather Baer
Secteurs desservis
Stoney Creek, Grimsby, Beamsville, Ancaster, Dundas, Hamilton, Freelton, Waterdown, Haldimand, Cambridge, Brantford, Burlington
Commentaires
Andrew & Sarah
Heather Baer was absolutely amazing. The time she took to ensure the ceremony and vows we had for our special day was taken with great care and we really appreciated it. She also kept things light during the ceremony itself and helped produced many laughs! Would absolutely recommend Heather to anybody for their special day! October 2022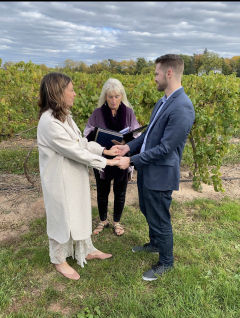 Tamara & Dennis
Heather Baer was wonderful to work with! The whole process was easy and simple from the start to finish! So glad that she was part of our special day and handled everything so smoothly. I would definitely recommend her! September 2022
Patrick & Laura
Heather Baer was kind and friendly. Exactly what we wanted for a surprise wedding. August 2022
Alicia & Ryan
Heather Baer, what can we say? She is vibrant, full of life, has so many great words of wisdom, funny and friendly. We couldn't have found a better officiant. Thank you so much! July 2022
Matthew & Shantel
Heather Baer from the first phone call was professional, kind and very experienced. Picking an the right officiant was extremely important to us because of the small and intimate setting and we wanted our officiant to look and feel like they were family and Heather exceeded our expectations... Thank you again Heather Big hugs. October 2021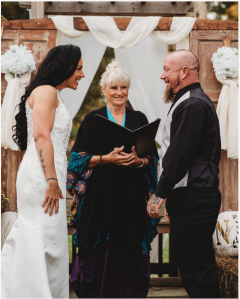 James & Kim
Heather Baer truly was incredible. We are so grateful for the beautiful ceremony Heather performed. She made our day magical. October 2021
Tom & Brigitte
Heather Baer was fantastic! She was very flexible in the requests we've made and was a pleasure to work with. She made our day even more special and couldn't recommend her enough. Tom & Brigitte March 2021
Bryan & Kelly
Heather Baer was kind, personable and helpful in getting ready for the wedding. She offered helpful suggestions to make the day perfect and ours. Thank you for everything. Bryan & Kelly October 2020
Lisa & Dave
Heather was warm, professional and reliable.
Debbie & Brian
Heather Baer did a great job for us. She made us feel very comfortable from the moment we met her.She was very professional and caring , it it showed that she enjoys doing her job. We would encourage anyone to use Heather for their wedding ceremony.
Katey & Greg
It was a beautiful ceremony. Heather Baer did a wonderful job and we are so happy to have had her as our officiant. Every question that I had was answered. The process was easy because it was laid out very clearly via email. I would absolutely refer All Seasons to friends and family and I can't say enough about Heather. She was excellent.
Shawna & Mike
Heather Baer was amazing all of our guests commented on what a great job she did. I will definitely be recommending her to my friends.