Gregg Strobino, BA; MA.
Request Gregg Strobino
Secteurs desservis
Ajax, Aurora, Brampton, Etobicoke, Markham, Mississauga, North York, Oakville, Pickering, Richmond Hill, Scarborough, Toronto, Toronto Downtown, Vaughan
Commentaires
Ari & Emily
Gregg Strobino was wonderful to work with, he was attentive and gave us great feedback prior to our ceremony so we were able to incorporate the elements we wanted to seamlessly. December 2022
Ashley & Alain
As soon as my husband and I met Gregg Strobino, we knew he was the perfect officiant for us. He is super friendly, professional, and filled with advice. Gregg was very helpful with answering all our questions and guided us through the entire process. Even after the ceremony was over our friends and family complimented Gregg's manner and delivery. Thank you, Gregg, for making our big day special! Sept 2022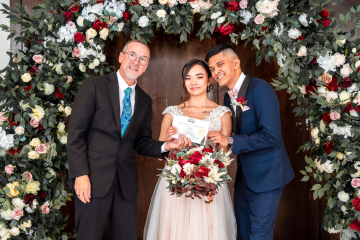 Mark & Wendy
Gregg was AMAZING! We selected him from the All Seasons Weddings website that was local to Toronto. He was easy to connect with up to and including the ceremony. We had 2 zoom calls (due to COVID) Gregg paid great attention to detail in helping us plan the ceremony. On the day of the wedding, he was on time (early) and dressed great. The ceremony was perfect. It was flawless. We said our own vows which he offered to help with. We highly recommend Gregg Strobino for your wedding day officiant! Feb 2022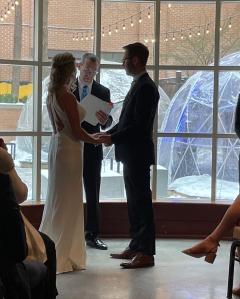 Seonggu & Min-Jeong
Very helpful, Very friendly, Very approachable, Dont hesitate to go with Gregg Strobino. May 2021
Tracey McAteer Events
Gregg Strobino was so wonderful to work with! This was a last minute booking and he was extremely flexible and quick to make changes if needed. On the wedding day, the ceremony was beautiful. Gregg arrived ahead of schedule, he was very well spoken... even the Mother of the Bride said that he was excellent. As a planner in the industry, I must say that Gregg was exceptional! Thank you Gregg!! September 2020 Tracey McAteer Events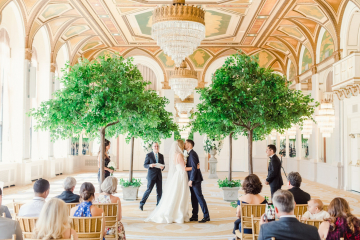 Michael & Casey
Gregg Strobino was terrific! He was very communicative and quick to respond to any questions or concerns that came up.Gregg was super helpful in the sense that we had really no idea what to expect or what was expected of us and he pretty much eased our minds and walked us through everything! Even offering his own ideas and suggestions!He was absolutely excellent to work with and would recommend him over and over! Michael & Casey September 2019
Stacy & Junier
Gregg Strobino was outstanding! His cool, calm, collective approach allowed us to also keep our somewhat frayed nerves together. He has a quiet and professional confidence that really made things go smoothly.