Elizabeth Peeters
Request Elizabeth Peeters
Secteurs desservis
Lindsay, Omemee, Lakefield, Peterborough, Ennismore, Bridgenorth, Bethany, Cavan, Blackstock, Nestleton, Yelverton, Janetville, Fenelon Falls, Bobcaygeon, Wilberforce, Buckhorn, Millbrook
Commentaires
Kevin & Sarah
Elizabeth Peeters performed a lovely ceremony at Millbrook cathedral for us. She helped us along as needed. No complaints 10/10 rating. Oct 2021
Mikel & Jesse
Elizabeth Peeters was amazing, she went above and beyond our expectations. She included our daughters which made the day that much better! Elizabeth made us feel comfortable and made light of situations. She was very personable and I would highly recommend her! Beautiful service that I'm so happy she was included in our day! Mikel & Jesse August 2020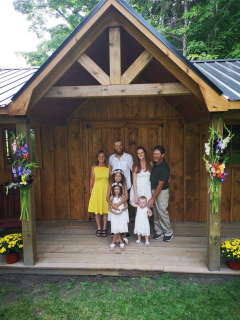 Raha & Shahab
Elizabeth Peeters exceeded our expectations. She was warm and pleasant, and very informative. She was extremely accommodating and helpful. My whole family loved her and we are so grateful that we chose her for our special day. I will definitely be referring Elizabeth to other friends who will be getting married in the future. Thank you, Elizabeth!!! You are the best :-)
Jennifer & Jeff
Elizabeth Peeters was exactly what we were looking for. Someone, who could keep our ceremony religious but also laid back. We enjoyed meeting her.
Brittany & Matthew
Elizabeth Peeters was amazing! She was very helpful and did an excellent job! I would highly recommend her!
Heather & Jamie
Elizabeth Peeters was warm and friendly and certainly made our special day a success! I would recommend her to anyone looking for a simple but very meaningful wedding. She was awesome! Thanks again!
Dirk and Mary Ellen
Hi Elizabeth. We we wanted to thank you so very much for helping to make our wedding day the happiest day of our lives! Best wishes and a very happy New Year to you and your family! Dirk and Mary Ellen
Lindsay & Matt
Elizabeth Peeters really set us at ease. She told us about everything we needed to do. She was great!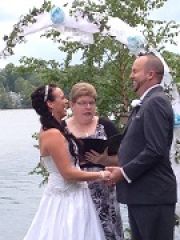 Cheryl and Helene
I just wanted to say what a wonderful wedding Elizabeth Peeteŕs performed. She was always quick to respond to any of our questions. She was always full of good ideas because of her many years of experience . She put us at ease the day of our wedding with her promptness and professionalism. Everyone at the wedding spoke to us about what a great job she had done. We were so pleased. I would recommend her to anyone.
Justin and Vida
Hi Elizabeth, We just wanted to thank you for a great job yesterday and for being part of our special day. The ceremony was so meaningful for us, and you helped it go off perfectly. Your patience, flexibility, and care throughout the process was very much appreciated. It was really wonderful to create the ceremony the way we wanted, and the experience for us was very profound and one we'll remember always. Many of our guests remarked about how beautiful it was as well. Thanks again. All the best.
Heather and Angela
Hi Elizabeth Angela and i just wanted to thank you so much for being part of our wedding day. Our vows, the speed of which you had us repeat them and everything was great! You cued us graciously for the signing and handing off of our bouquets. Thank you for being incredibly profession and courteous and gracious with us!! Heather and Angela