Donna Clark
Request Donna Clark
Secteurs desservis
Ayton, Chatsworth, Chepstow, Chesley, Dundalk, Durham, Flesherton, Formosa, Hanover, Harriston, Holstein, Markdale, Maxwell, Meaford, Mildmay, Mount Forest, Owen Sound, Paisley, Walkerton.
Commentaires
Tyler & Ashley
Donna Clark was great! Added just the right touch of humour and made us feel comfortable and relaxed. We received so many compliments from our guests. Tyler & Ashley July 2019.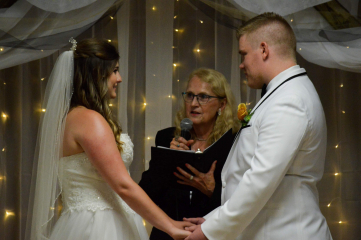 Brent & Karen
Donna Clark preformed a great service. Her added humor kept a nice flow at our wedding.
Carla & Mat
Donna Clark was very nice and very patient. We were more than happy with her service.
Christina & Fraser
Donna Clark was great and very personable. We received many comments from guests on how lovely her ceremony was. Highly recommended by us.
Tanya & Josh
Donna Clark did an amazing job. I liked the way she did it.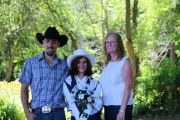 Janet & Phillip
Donna Clark was very helpfull, dressed for the occasion, humorous when appropriate, we would recommend her to anyone. We did the different colour water and loved that idea, suggested by Donna. It was a very casual, memorable day. Weather was great and we are pleased with the whole experience.