Donna Clark
Request Donna Clark
Secteurs desservis
Ayton, Chatsworth, Chepstow, Chesley, Dundalk, Durham, Flesherton, Formosa, Hanover, Harriston, Holstein, Markdale, Maxwell, Meaford, Mildmay, Mount Forest, Owen Sound, Paisley, Walkerton.
Commentaires
Glenn & Kandice
Donna Clark exceeded our expectations! We couldn't have chosen a better officiant for our ceremony! Donna was very communicative, personable and made us feel very comfortable, even though we were so nervous! We appreciated her light humor as well. Thank you Donna! June 2022
Robert & Amber
Donna Clark was amazing and did a awesome job. Helped us with some of our vows and made the vows sweet. June 2022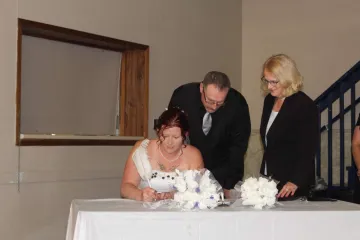 Amber & Robert
Donna Clark was amazing! She was well-spoken and even had some people laughing. She made the vows the way I liked them and even added some things which were amazing. I would definitely recommend her for your wedding. June 2022
Scott & Karley
Donna Clark was absolutely amazing to work with. My husband and I had next to no experience with weddings and she helped us a lot. Not only that, but she was so kind and funny and easy going. It was a pleasure and we're very very happy! Highly recommend Donna Clark! September 2021
Jennie & Peter
All Seasons made the arrangements so easy for a backyard wedding with 2 witnesses and a little doggie flower girl. To say that Donna Clark was incredible and amazing is not enough. Thank you Donna for making our day so very special and forever one of the happiest memories ever! Jennie and Peter August 2021
Nicholas & Angel
Donna Clark was so sweet, she made sure everything went perfectly with our ceremony , even with it being a covid wedding. I couldn't have asked for a better officiant. Thank you Donna! Nicholas & Angel August 2020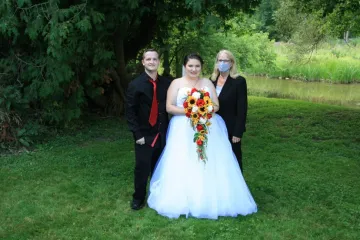 Adam & Danielle
Donna Clark was amazing ! : We had the perfect Covid 19 wedding, personal and private in our own backyard with our 2 kids and 2 witnesses. Couldn't have been any better. Donna made us feel at ease and kept things short and sweet the way we had always hoped it would be. Not many people can say they got to get married during a world wide pandemic but Donna made that possible for us! Adam & Danielle June 2020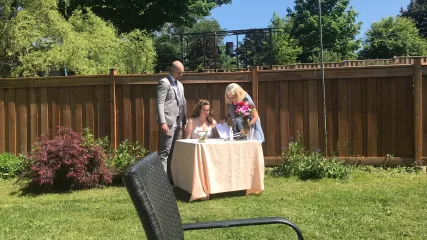 Tyler & Ashley
Donna Clark was great! Added just the right touch of humour and made us feel comfortable and relaxed. We received so many compliments from our guests. Tyler & Ashley July 2019.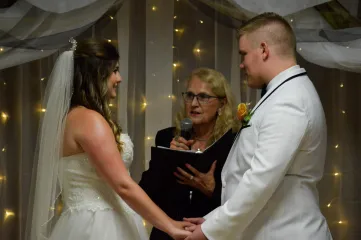 Brent & Karen
Donna Clark preformed a great service. Her added humor kept a nice flow at our wedding.
Carla & Mat
Donna Clark was very nice and very patient. We were more than happy with her service.
Christina & Fraser
Donna Clark was great and very personable. We received many comments from guests on how lovely her ceremony was. Highly recommended by us.
Tanya & Josh
Donna Clark did an amazing job. I liked the way she did it.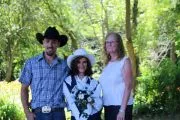 Janet & Phillip
Donna Clark was very helpfull, dressed for the occasion, humorous when appropriate, we would recommend her to anyone. We did the different colour water and loved that idea, suggested by Donna. It was a very casual, memorable day. Weather was great and we are pleased with the whole experience.