Diane Matichak, B.A.
Passionnée par les mariages, Diane peut non seulement coordonner votre mariage, elle peut aussi le célébrer. Dotée d'une personnalité pétillante, entreprenante et ouverte, Diane cherche à célébrer des cérémonies multiculturelles, de même sexe, à thème, historique ainsi que tous autres types de cérémonies aussi uniques soient-elles, en anglais comme en français, ou bilingue. Marié depuis 14 ans mais partageant leur vie depuis 20 ans, Diane et son mari partage leur demeure avec chevaux, chiens et chats. Détentrice d'un BAC en littérature Anglaise, elle adore lire, écrire et est passionnée par les cours de danse du ventre! Elle est aussi un membre volontaire du conseil d'administration pour la fondation de l'hôpital locale. Elle s'emploiera à créer votre mariage de rêve ainsi que des souvenirs mémorables!
Request Diane Matichak
Secteurs desservis
Alexandria, Alfred, Chute-à-Blondeau, Curran, Dalkeith, Dunvegan, Fournier, Greenfield, Hawkesbury, L'Orignal, Lefaivre, Maxville, Plantagenet, St-Anne-de-Prescott, St-Bernadin, St-Elmo, St-Eugene, St-Isidore,Vankleek Hill, Brownsburg, Carillon, Fasset, Grenville, Grenville-sur-la-rouge, Harrington, Hudson, Lachute, Pointe-Fortune, Rigaud, Riviere Rouge, St-Clet, St-Lazare, Ste-Marthe, St-Philippe, Montreal, Montebello, Vaudreuil, West Island
Commentaires
Marilyn & François
I would like to thank Diane for doing a great job. She was very accommodating and listen to your needs. Diane you are superb and you are highly recommended⭐⭐⭐⭐⭐.Again thank you for being part of our wedding.😊😊 October 2021
Marilyn & François
Diane Matichak was nice and listen to what we wanted. She incorporated all of my tradition in the ceremony, it turned out wonderfully . We are highly recommended her. October 2021
Jeremie & Stephanie
Diane Matichak did an amazing job. She performed a beautiful bilingual ceremony for us and helped make our day special. She helped us before the wedding to add little personal touches that made the whole ceremony more fun and very us. Great experience working with her. September 2021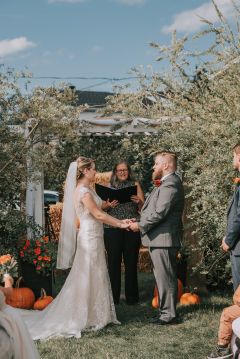 Adam & Vincent
We loved our ceremony and Diane made us feel calm and relaxed. We definitely recommend her. Adam & Vincent August 2021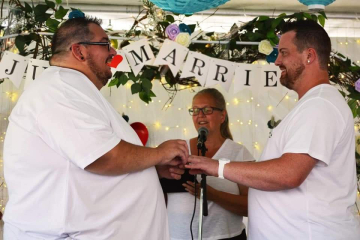 Michel & Melanie
Diane Matichak made our wedding day very special! She is professional, bilingual, and very easy to work with. We highly recommend her! Michel & Melanie October 2020
Marc & Lorena
Diane Matichak She was a very nice lady! We really liked the way she conducted our ceremony! Marc & Lorena May 2020
William & Lianne
Diane Matichak was so great she really handled everything that we needed ! As well as she met with us online as needed . It met and exceeded our expectations! Thank you so much Diane she made our day so so special! She knew how important this was for us and delivered it with Warmth and Love . Thank you ! William & Lianne February 2020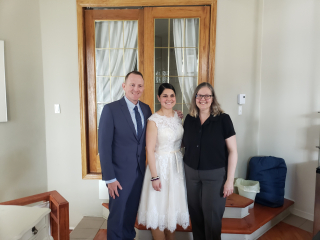 Evan & Chanel
Diane Matichak was easy to get in contact with an open to a variety of communication methods, which was great considering that due to geographic distance, meeting in person wasn't always easy/possible. She is very flexible and knowledgeable about the marriage process . Her charisma and charm made her easy to feel comfortable around and it was a pleasure to talk with her. She injected a little bit of humor in the ceremony and delivered the lines with strong emotion and passion. She definitely made our ceremony one to remember! Evan & Chanel September 2019
David & Stephanie
Diane Matichak was amazing! Everything we wished for and more! I would definitely recommend her! Thank you Diane! David & Stephanie September 2019
Alessandro & Mélissa
From the beginning to the end, Diane Matichak was professional, caring and friendly! She explained every step of the process in the most clear & simple ways to avoid adding the paper work and ceremony script task to the usual wedding prep stress. She was even super receptive to the idea of adding our personal touch to the ceremony! I would not hesitate for a second to recommend Diane's service! Thank you Diane for making our ceremony something we will forever remember! Alessandro & Mélissa September 2019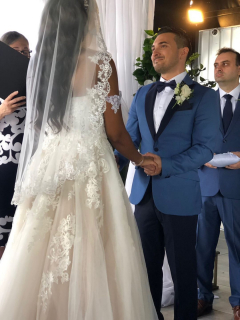 Jak & Josée
Diane Matichak a dépassé nos attentes! Elle était géniale. Jak & Josée September 2019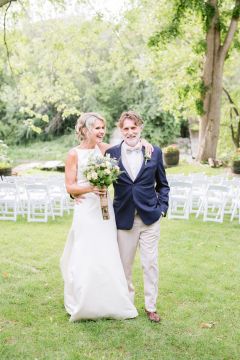 Alain & Jacynthe
Un gros merci à Diane Matichak pour l'excellent service, tres professionel et chaleureuse. Nous avons eu une journée parfaite, exactement comme on avait souhaité. Nous garderons toujours en memoire que de beaux souvenirs de cette experience....encore, merci ! Alain & Jacynthe September 2019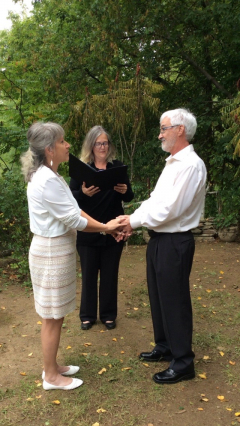 Jeremie & Rebecca
Diane Matichak was fantastic! Easy to talk to, and happy to customize the vows as desired. She was always professional and patient with us as well! Will definitely recommend her again! Jeremie & Rebecca August 2019
Salim & Alesia
Diane Matichak est tout simplement formidable! Elle nous a guidé et accompagné pas à pas dans nos démarches . Elle a su nous mettre à l'aise et nous rassurée durant ce moment qui peut être stressant! Diane est tellement sympathique, souriante, elle transmet sa bonne humeur et sa belle énergie à tous. Merci Diane :) Salim & Alesia August 2019
Mark & Laura
Diane Matichak was wonderful and did an amazing job. She was a able to meet with us at various times and places and was always on time. She was did an amazing job and I would recommend her. Mark & Laura August 2019
David & Jessica
Diane Matichak was absolutely wonderful. She was easy to reach. She was quick to respond. And she made everything easy and painless. She helped me surprise my entire family! And she was absolutely wonderful through the ceremony, and with my family afterwards. I would absolutely refer friends/family to Diane and/or All Seasons. Thank you for making this such a memorable experience for me and my family. David & Jessica. July 2019.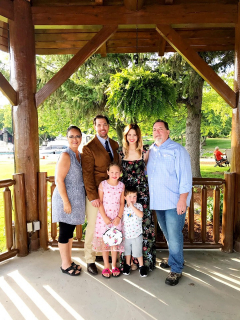 Kelly & Jesse
Diane Matichak was really great ! She made us feel comfortable from the moment we met her and she was always there to answer any questions we had throughout the planning process. Kelly & Jesse June 2019
Yannick & Alyssa
Diane Matichak was amazing! We felt as if she was a member of our family and were so at ease and comfortable with her! Diane did an excellent job at our wedding!! We would highly recommend her!! ⭐️⭐️⭐️⭐️⭐️ Thank you Diane! Yannick & Alyssa May 2019
Noah and Eliza
Diane Matichak performed an intimate service for a small gathering. We flew in to Montreal from Vancouver to have a legal ceremony performed at the retirement home of the grandparents of the groom. The occasion was bittersweet as there is a large ceremony planned in July in BC but illness meant the grandparents would not be able to attend. Diane made the occasion informal but professional and was so sensitive and kind regarding the needs of the bride and groom and their grandparents. She struck a perfect balance with a casual yet meaningful and very moving tone to the celebration which was exactly what the couple had requested. We were extremely happy with the ceremony and would not hesitate to recommend her services. Noah and Eliza April 2019
Leigh & Louis
Diane Matichak was a great officiant. We loved her. She did a great job. Our ceremony could not have gone more smoothly. We would recommend her to anyone. We would also recommend your services to anyone. We had peace of mind knowing everything was taken care of for us. [July, 2018]
Justin & Stephanie
Diane Matichak was fabulous - friendly, easy to work with, and really made the whole process feel effortless.
Melissa & Kazadi
Diane Matichak was great! Very open minded and professional, very clear and detailed about everything, very outgoing and fun to be around. Would definitely refer her to others!! Thanks again xx
Nicolas & Geza
Diane Matichak was punctual in all our meetings and explained the process in great detail. She always answered any of our questions and was extremely cooperative if we had changes in the ceremony. We would certainly recommend Diane to any of our friends looking to get married.Diane helped to make our wedding day a special and memorable occasion indeed. Diane also allowed plenty of space for our ceremony to be customised and always maintained a high level of communication. Her professionalism was evident, her caring and warm nature made the whole process enjoyable and her conduct during the ceremony was excellent.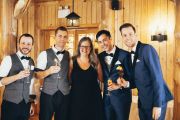 Graeme & KariAnn
Diane Matichak met and exceeded our expectations. She went above and beyond to make our day special. She was one of the reasons our day was so special.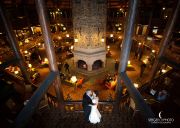 Arlene & Kevin
Diane Matichak took the time to learn about us and how we met. The ceremony included our extended family. Our wedding wasn't traditional in any sense of word but it suited us and Diane wasn't flustered by anything we managed to throw her way.
Maria & Juan
Diane Matichak is fantastic! She was extremely professional, worked with us to customize our ceremony in line with what we envisioned, and conducted it beautifully! The ceremony was very touching and absolutely one of our favourite moments from our wedding day. It created a very beautiful and lasting impression. We would highly recommend Diane as a wonderful officiant! Was our office staff friendly and helpful? Yes We had all of our questions answered in a very prompt and helpful manner. Overall, the booking process was very smooth and easy. Again, thank you Diane for conducting such a beautiful ceremony! P.S. Diane spoke in 3 different languages at our ceremony, which was amazing and ensured all of our guests felt included.
Amanda and Lukasz
Thank you Diane for making our wonderful day a success. Best!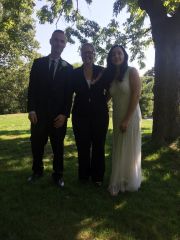 Béatrice & Luc
On a été très content de la cérémonie ainsi que de Diane se fut agréable merci...
Melanie & Michael
Diane Matichak was great!! Thank you so much!!!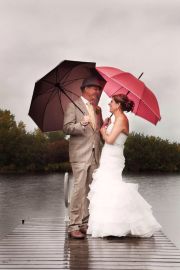 Emily & Patrick
We were very pleased with All Seasons Weddings, and with our officiant Diane Matichak. Diane was lovely to work with, we would definately refer her!
Cheryl and Bill
Thank you very much for the role you played on our special day. We really appreciated you calm, kind, professional and engaging manner, not to mention putting up with my stream of emails! The wedding was such a meaningful and special day for Cheryl and I, our friends and families, and we appreciated your input into the ceremony. Thank you again! Please feel free to use us as a reference in the future if you ever need to.
Tracy & Ryan
Diane Matichak was wonderful!!! She met us prior to our wedding day and was attentive to our needs and wants. Our ceremony was perfect:) She was able to involve our son, guests and personalities in the ceremony , which we loved... It made the moment more intimate for everyone. She was patient and humorous, as we had our three year old with us. Diane has a great personality and helped make our wedding day as special as it was. Thanks Diane for being part of our dream day:) we couldn't have asked for better!!! We would 100% recommend you... you were highly recommended by a couple we knew. We would definitely refer All Seasons! Thank you for helping us make our dream wedding come true:)
Linden & Tomoko
Diane Matichak was absolutely great. I could not think of anyone that would have performed this ceremony any better than her. The office staff were very friendly and the service totally if not exceeded our expectations due to Diane's professionalism and general attitude.