Denise Beaumont
Request Denise Beaumont
Secteurs desservis
Grand Bend, Port Franks, Forest, Sarnia, Thedford, Arkona, Camlachie, Wyoming, Petrolia, Oil Springs, Lambton Shores
Commentaires
Steve & Rob
Throughout the process Denise Beaumont reached out to check in and didn't pressurize us. We appreciated her calm and approachable manner. Flexible and supportive in our wishes and on the day was a key part in making it all run so smoothly. Thank you Denise! Steve & Rob August 2019
Adam & Sarah
Denise Beaumont was amazing and more than we could have asked for. She was so personable and we knew she was the one we wanted to share our day with the moment we met her. Her light-hearted, easy-going attitude was the perfect addition to our wedding. Denise was so lovely and quickly agreed that she was the right person to perform our short and fun ceremony. Looking back now, I could not imagine our day without Denise. Adam & Sarah August 2019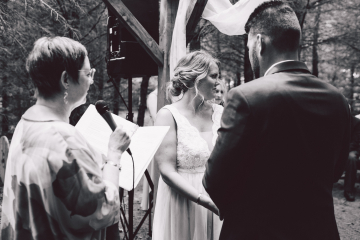 Sam and Nicole
Denise Beaumont was our officiant for our wedding. We communicated via email and set a time to meet for coffee to get acquainted before we officially booked her but before we had finished out coffees, we knew she was the one we wanted to marry us. Other then someone to perform the ceremony and that we wanted it to be Non-Traditional, we did not have much in mind for the actual layout. Denise sent examples and gave suggestions about what is legally required and we put together the entire ceremony that was tailored to our relationship, future goals and how we felt about each other. Thank you so much we absolutely recommend Denise and we are honoured that she was a part of, so far, the biggest day in our lives. Sam and Nicole June 2019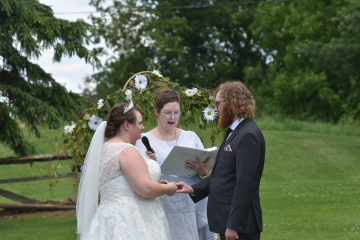 David & Rick
Denise (Beaumont) was wonderful and we couldn't have asked for a more caring and competent officiant for such an important life event. She was happy to answer all of our questions, and she was very well organized. We never needed to worry about anything that she was responsible for. It was a huge comfort to know we could count on her! Denise contacted us at the appropriate times, when our heads were completely occupied with the zillions of other wedding details, and she kept us on track for the important things like license, vows, and of course the ceremony itself. We held our late summer ceremony outdoors, which added to the logistical issues (weather and guest-herding), and Denise was a cool pool of calmness throughout. We really appreciated Denise's confidence, ability, and the way she also brought her own enjoyment of helping people into everything she did for us. Denise's involvement was definitely a substantial part of our wedding turning out perfectly, and we're very thankful to her for that. David & Rick
Debbie & Rick
I would recommend Denise Beaumont to anyone. She was very polite, caring and always smiling. She has a great attitude and just a nice person overall and an exceptional lady all-round.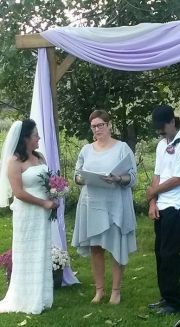 Dale & Carolyn
Denise Beaumont is a phenomenal officiant. She was extremely helpful and caring in the lead-up to the wedding, and provided us a wonderful ceremony the day of.
Shannon & Tom
I am writing to thank Denise Beaumont for providing us with the most beautiful wedding ceremony we could have imagined. Before meeting with Denise, we did not give a lot of thought to the ceremony. We were excited to marry, and had given so much thought and planning to the day, but in the midst of this plan our focus on what we wanted in a ceremony was overlooked. Denise met with us to learn a little about what we envisioned. By the questions she asked, it was clear she was aiming to tailor a ceremony that complimented our personality. She provided us samples of readings, of vows and asked questions that I would never have considered (eg. are both parents walking me down the aisle?) The result, was a beautiful personal and captivating ceremony that we could never have planned on our own and would never have been cultivated without her. Everyone wants their wedding day to be perfect. It is without doubt one of the most important days of our lives - and a day that I will reflect upon, share and keep with my fondest of memories. I am so grateful we were fortunate enough to be married by Denise. She was such an integral part of this memory and helped shaped the day into the perfection that it was… Thank you!