Christine Libon
Request Christine Libon
Secteurs desservis
Barrhaven, Carp, Kanata, Kenmore, Manotick, Nepean, North Gower, Orleans, Ottawa, Ottawa Central, Ottawa East, Ottawa West, Ottawa South, Richmond, Stittsville
Commentaires
Andrea & Dan
We could not have chosen better. Our officiant, Christine Libon, went above and beyond our expectations with her personalized attention to details! She was there to guide us through every step of the way before, during and after the ceremony. Not only was she very kind and patient throughout (couple of date and venue changes), but always had helpful suggestions. We loved the way she personalized our ceremony using sentimental anecdotes about ourselves. It made the occasion more memorable and unique. Andrea & Dan, September 2021
Andria & Greg
We are so happy to have had Christine [Libon] officiate our wedding. She was the perfect blend of personable and professional from our initial phone call through the rehearsal to the ceremony. Her demeanor, attention to detail and organization had us at ease about the process of planning our ceremony. She ticked all the etiquette boxes without us even having to ask - recommending an unplugged ceremony, presenting herself professionally and being thoughtful in her staging of the ceremony to remove herself from the frame of photographs during poignant moments like the first kiss and during our vows. She made sure that our bridal party was crystal clear on the process during the rehearsal and dealt with some very last-minute changes without missing a beat. Where Christine really shone, though, was through the effort that she put into personalizing our ceremony. Christine asked us to provide notes about how we met, what we liked most about one another, etc. She took those notes and crafted an address that so perfectly captured our relationship that we had guests ask if we wrote the ceremony ourselves. The way that she wove personal details into the script made the ceremony feel so intimate and it was perfectly cohesive with our celebration. It was beautifully designed and we received comments from our guests about how enjoyable and memorable the ceremony was. Christine, thank you so much. We felt so well supported and appreciate that your process involves collaboration to create a ceremony unique to your couples. Your words during our ceremony brought our focus to one another and allowed us to tune out the nerves to be truly present in those moments while still ensuring that our guests felt involved and invested in the proceedings. Andria & Greg, September 2021, Photo by Lauren McCormick Photography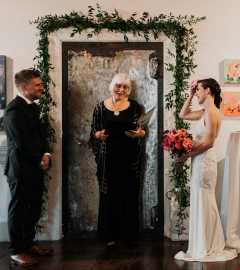 Kayla & Robert
Christine [Libon], we can't thank you enough for officiating our wedding. We are still in awe at how beautifully the ceremony went and could not imagine having any another officiant pronounce us as husband and wife. We are at a loss for words, so we'll just say thank you, yet again, for the services provided. We couldn't have done it without you! Kayla & Robert, September 2021
Sarah & Daniel
We were so glad to have chosen Christine Libon as our officiant. She went above and beyond for our special day. Amazing - A++ Sarah & Daniel July 2021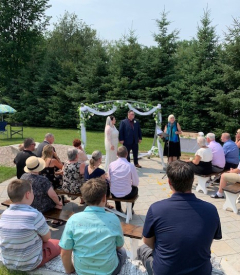 Catherine & Daniel
Christine Libon not only met but exceeded our expectations. We felt so lucky to have ended up with her as our officiant. She was incredibly organized, warm, and well spoken. Communication was excellent. We would definitely recommend Christine and All Seasons Weddings. Catherine & Daniel August 2021
Shelley & Tom
We would like to thank you Christine for officiating on our wedding day and for adding that special touch to our ceremony. We could not have asked for a more perfect day and a beautiful ceremony held with our family, grandchildren and you as our officiant. Those who engage you in their wedding will be adding that special touch to their very special day." Shelley & Tom, August 2021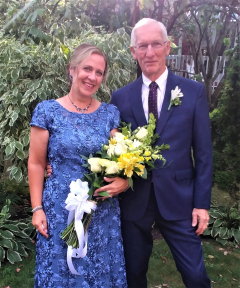 Mackenzie & Isaac
Christine Libon was the best officiant! She was very flexible and went with all the constant changes that were being made. She is very kind and cared deeply about each of us. She remembered special details about us and incorporated them into a beautiful ceremony. Everyone was talking about how intimate the ceremony was. A HUGE thank you Christine for all your hard work :). Mackenzie & Isaac, July 2021
Jessica & Jason
We are so happy we had Christine Libon officiate our wedding! She took the time to get to know us as a couple to make our ceremony feel more authentic and fit our personalities. All of our wedding guests kept telling us how well the ceremony was delivered and how meaningful it came off to them. Christine made the whole process of planning our ceremony script go very smoothly and did a great job at leading our rehearsal. Thank you Christine, we couldn't be happier! Jessica & Jason, July 2021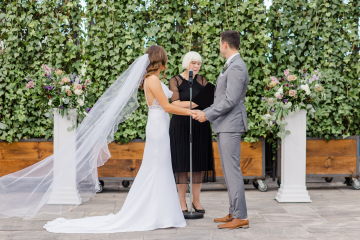 David & Marie
Christine Libon was nothing short of wonderful! We had not met Christine in person prior to our ceremony, having only phone and email correspondence; despite this, her display of professionalism and charisma gave us more than ample confidence in her services. In person, our expectations were far surpassed. The ceremony she conducted was flawless in its execution, energetic, humorous, and all the while deeply heartfelt. She made our special day even more special. We would highly recommend her to anyone! We hope our paths cross again one day. David & Marie, April 2021
Michele & Andrew
Christine [Libon] was warm and kind and we were very happy with her as an officiant. We were impressed with her professionalism before and after the ceremony, and she acted very safely given COVID protocols. The ceremony was sweet and personal and beautifully highlighted the important parts of our relationship. We highly recommend Christine as an officiant! Michele & Andrew, April 2021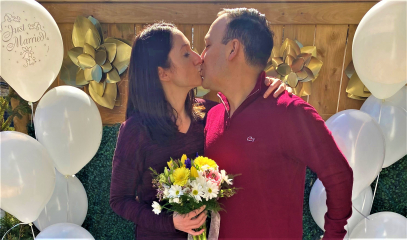 Randy & Donna
Christine Libon was very enthusiastic and we loved her energy! As well, she was very professional, kind and handled the ceremony with ease. We are so thankful that she was able to officiate and share our wonderful day with us. Thanks! Randy & Donna, April, 2021
Joelle & Simarjot
Dear Christine (Libon), Words are not enough to express our gratitude for having had you as our officiant and for making our day so special. We both felt very lucky as you made us and our guests feel very comfortable. Also, thanks for your best wishes. Joelle & Simarjot, March 2021
Travis & Kezia
Christine Libon was everything we'd hoped for in a wedding officiant. She presided over our last-minute ceremony with warmth, kindness, and professionalism. She ensured that we had the short and sweet wedding we wanted, while still helping us make it special and meaningful. As one of our witnesses said: "Best wedding ever." We couldn't agree more. - Travis & Kezia, January 2020
Lorna & Bruce
Christine (Libon), we were so happy that you officiated at our wedding. Thank you for your attention to the details and for creating such a beautiful and special ceremony. Just perfect! Lorna & Bruce, December 2020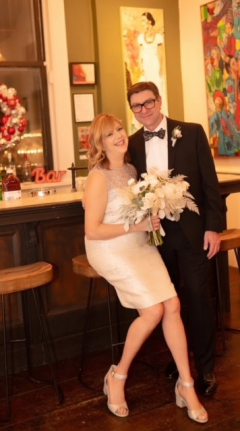 Charlene & Shane
First, we wish to say that Christine (Libon) is a very lovely individual and provided a wonderful ceremony for our wedding. She is very sweet, caring and thoughtful. Even the smallest details were not overlooked by her. The ceremony felt personal and very special, from our vows, to the character we bring to our marriage going forward. It made us laugh, cry, smile and made our guests and loved ones feel truly involved in our special day. We could not have asked for a better person to unite us in marriage and it will be a memory that lasts a lifetime for the both of us. Charlene & Shane, October 2020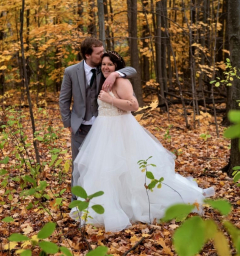 Lisa & Alex
Christine (Libon), we want to thank you for such a wonderful ceremony! You made it so personal and your words were full of meaning and absolutely beautiful. Our families also enjoyed the ceremony :). Thanks again. Lisa & Alex, September 2020
Caroline & Liam
Christine (Libon) was an amazing officiant who spent the time making our ceremony personal and exactly what we wanted. She made us feel important and took great care when considering our needs. We highly recommend Christine to help make your ceremony extra special. Thank you, Christine. You made our day so special and it turned out exactly the way we wanted. We are forever grateful for everything you did. Caroline, Liam and Millie, October 2020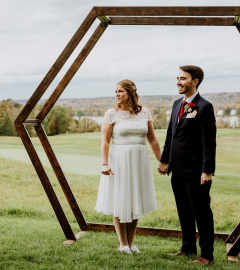 Hannah & Nick
Dear Christine (Libon), thank you so much for your thoughtful and eloquent officiating of our wedding. We truly could not have asked for a more perfect ceremony. We are so grateful for how you were able to weave our personal stories into the ceremony so beautifully and for seamlessly guiding us through the proceeding. Despite the fact that it was last-minute, and in the midst of Covid, you made it feel meaningful and uplifting and our family and friends were so touched. We received so many compliments from everyone who was there on your officiating. Thank you again and all the best. Hannah & Nick, September 2020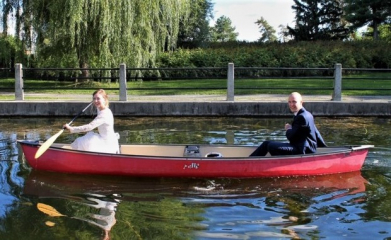 Hannah & Nick
Dearest Christine (Libon), our deepest thank you and appreciation for your special role in creating such a heart-warming and meaningful ceremony for our beloved "children"...so moving and memorable for Hannah and Nick, for us their devoted parents and for all the others who were blessed to share in this celebration of love. Warmly with thanks, Terri, Frank, Andrea, and Eric, September 2020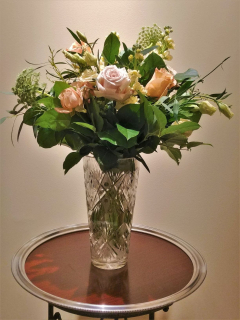 Saskia & Simon
Thank you so much for helping us to have a wonderful day! We were so happy with how everything turned out :) Many people have commented on the wonderful job you did. Thank you so much!" Saskia & Simon, August 2019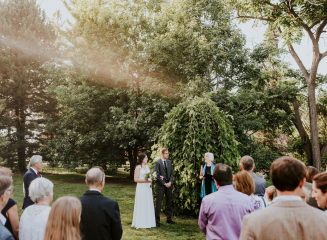 Claire & Phil
Dear Christine (Libon), thank you for all your work as our wedding officiant. Your guidance was integral in keeping us organized and calm. The extra touches and personalization were above and beyond and made the ceremony extra special. Thank you also for the beautiful card you wrote to us and the photos you took and sent us. Warm regards, Claire and Phil, July 2020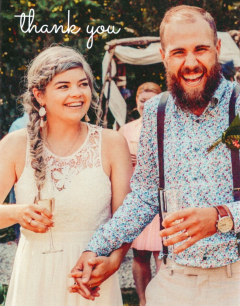 Dan & Taylor
Christine Libon was an absolutely amazing wedding officiant. We planned a very last-minute wedding in my parents backyard - it was extremely small and intimate. Christine made the process completely stress free and delivered such a memorable ceremony. We are grateful we had her on our special day. Dan & Taylor September 2020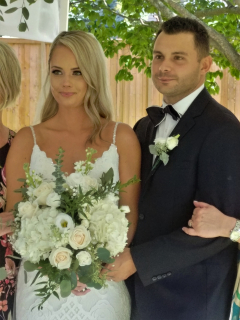 Robert - Guest Officiant
I was asked by family friends to be the guest officiant at their wedding. As a first-timer, I was thrilled to meet with Christine (Libon) to gain her insights into the wedding ceremony process. Christine was terrific to work with on the development of the ceremony script and the timing and flow of the ceremony itself. Christine was gracious with her sharing of her time and expertise. I was so thrilled with the process that I am even considering becoming a legal officiant myself! Robert, August 2020
Alison & Jarod
We had such an amazing experience working with Christine (Libon) and would highly recommend her to any future couples getting married. Everything went better than we imagined and we couldn't be happier. Throughout the entire process she made us feel comfortable and really worked with us to make it the day of our dreams. She tried to get to know us as a couple and added many personal touches that made the day more special and unique. We cannot say enough good things about Christine. It was truly a joy to work with her. Many thanks Christine. Alison & Jarod, August 2020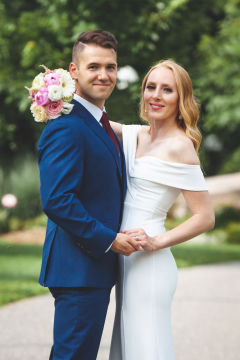 Holly & Caleb
Christine Libon was the perfect wedding officiant! We had a smaller ceremony than we initially planned and it turned out to be even more special than we expected. She conducted the wedding in such a wonderful way. She was crucial in helping us plan our perfect ceremony. We are so very grateful for her experience and expertise! Holly & Caleb, September, 2020.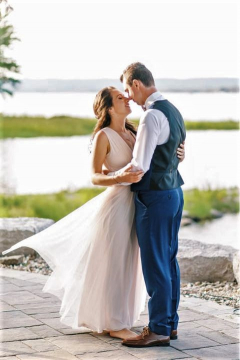 Jocelyn & John
Christine (Libon) made planning our special day so smooth and enjoyable. She went above and beyond to ensure the ceremony was well organized and touching, from giving us tips on writing our vows to arranging every detail in our order of ceremony. Getting married during the COVID pandemic could have been a stressful and confusing process, but instead, it went off beautifully. She is an incredibly warm and thoughtful person and we couldn't be happier with how the day went! Jocelyn & John, August 2020
Aquatopia
Christine (Libon), It was a pleasure working with you for Lesley & Mike's ceremony and rehearsal! You did a splendid job officiating their ceremony and we hope to see you back soon! Cheers, Chelsea Walcz & Madison Byck, Aquatopia
Patricia and Anke
Thanks a lot Christine for making our special day happen, even at very short notice and in the middle of a pandemic! We really appreciated your support and flexibility, as well as your positive presence and your kind and thoughtful words during the ceremony. It was everything we wished and hoped for!" Patricia and Anke (June 20th, 2020)
Soheila and Ali
Dear Christine Libon , thank you so much for officiating our wedding! The ceremony was beautiful and exactly what we were hoping for. It went by so quickly but we will never forget it! We can't thank you enough for the beautiful, beautiful ceremony that you most thoughtfully performed for us. Not only do we continue to talk about it but our families hundreds of miles away were also particularly touched by it. The words and philosophy were so beautiful and touching. We couldn't believe how perfectly it matched us and our lives…it was as if you were speaking our hearts during the ceremony. Everyone thought it was the most beautiful, intimate and loving ceremony they'd ever witnessed! We agree wholeheartedly. Thank you again for playing such an important role in our special day! Soheila & Ali February 2020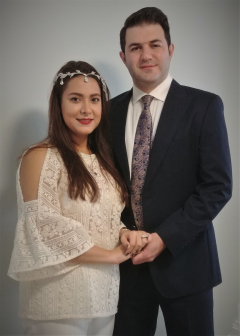 Erica & William
Dear Christine (Libon), Willie and I had the most exceptional day and it would not have been the same without you being a part of it. Thank you for everything you did to make it such a memorable day. Erica and William September 2019
Diana & Christopher
Christine Libon married my husband Christopher and I on Nov 23rd, 2019. We chose to have a small intimate wedding. She was everything we could have asked for in an officiant. She was kind, patient and extremely nice. She walked us through the ceremony with ease. I would highly recommend her. Diana & Christopher Nov 2019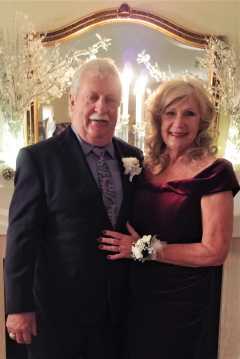 Ken & Robert
Christine Libon was warm, gracious, organized and calm, and helped to make a very happy and special occasion even better. Many thanks to Christine! Ken & Robert. September 2019
Spencer & Brittany
Christine Libon was an amazing officiant! She did an excellent job on the day of, making our day extra special. She was personable with the guests, and was extremely patient and helpful as my husband and I went through the process, and drew inspiration from our lives and family to perfect a beautiful and unique ceremony. She even shared with us a few photos she was able to snap of us after the ceremony. Spencer & Brittany August 2019
Sandy and Gord
Christine Libon was awesome to work with. She understood our non-traditional ceremony and our desire to allow our grandchildren to be such an integral part and to just be themselves. Christine managed to make the entire process go so smoothly with her organizational skills and having the vows on the cards made for no additional stress whatsoever. We received many compliments on our day and about the service in particular. Thank you Christine for making our day! Sandy and Gord August 2019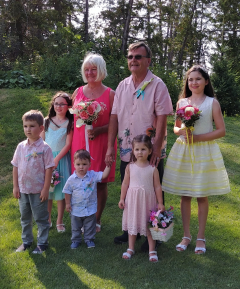 Benson & Allison
Christine Libon; you are a lovely person and it was a pleasure meeting you. Allison's and Benson's ceremony was amazing thanks to the great job you did officiating it. I also appreciate the great advice in preparing my speech and the feedback. All the best, Tony (co-officiant) Benson & Allison June 2019
Harvinder & Alyssa
Christine (Libon), we would both like to thank you for officiating our wedding. We had a wonderful time and we couldn't be happier with the way the ceremony went! Thanks again. Harvinder and Alyssa (Jan. 5, 2019)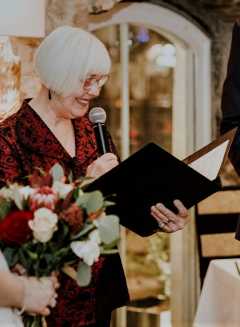 Jenn & Brandon
Hi Christine (Libon), Many thanks for filling in on such short notice. It was perfect and we deeply appreciate your time and services. Warm regards, Jenn and Brandon, December 2018.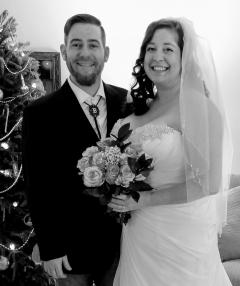 Jane & Claire
Christine (Libon), thank you so much for the beautiful ceremony. We couldn't have asked for anything as beautiful. You are the best! Jane and Claire (November 9th, 2018)
Claire & Jane
I would like to write a review of my experience with Christine (Libon) recently. On short notice, two very good friends, Claire and Jane needed to complete their wedding vows. Claire has an advanced cancer and is not expected to live much longer, so it was imperative that the ceremony proceed as soon as possible. I found Christine on your AS website, contacted her through email, gave as many details as I could, explained the urgency of the situation and left it with her. She came through in amazing fashion. Jane and Claire were thrilled with her personality, consideration, professionalism, sensitivity and warmth. Christine went over and above any expectations we could have conceived under such unfortunate circumstances. I will recommend Christine and All Seasons Weddings whenever the occasion should arise. I am very thankful that this experience turned from an anxiety-filled situation to a positive, memorable celebration of love. Thanks, in part, to Christine Libon. Sincerely, Bonnie, November 2018
Lisa & Joey
Thank you so much for everything, the ceremony was so beautiful. Lisa & Joey, October 2018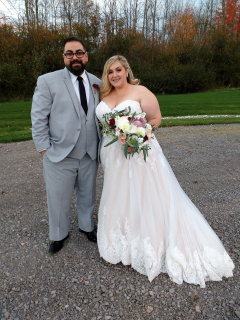 EunJoo & Vincent
We cannot imagine our wedding with anyone else but Christine (Libon). She was very engaging throughout the whole process and conducted such a beautiful and meaningful ceremony. We felt that Christine grasped our personalities incredibly well and chose her words perfectly. Our guests also loved our ceremony and appreciated her calm vibe and beautiful words. Thank you so much, Christine! EunJoo & Vincent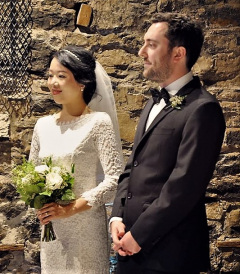 Rachel & Nick
Christine Libon, we are so grateful that you were our officiant on our special day. You went above and beyond to personalize our ceremony and to make it so special. You stuck with us through the cold, the rain, the snow, and the hail, all in great spirits! You are so lovely and wonderful and we can't thank you enough! You added something so special, that no one else could have!! Rachel & Nick, October 2018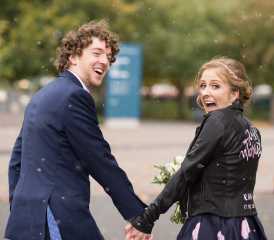 Shawna & Michael
We want to thank you (Christine Libon) so much for helping create our perfect wedding ceremony! We can't thank you enough for facilitating Mike's dad (guest officiant) taking part in the ceremony which was a very special part of our wedding. We appreciate all the hard work and time you contributed. We love the cards you made for our vows which was such a great idea; they will be kept in our memory book and re-read with happy thoughts of our 'big day.' Thank you for being there for us, sharing the day, and helping to create the ceremony we wanted! We also really appreciated you holding the umbrella😉. It felt very natural having you up there with us. Shawna & Michael, October 2018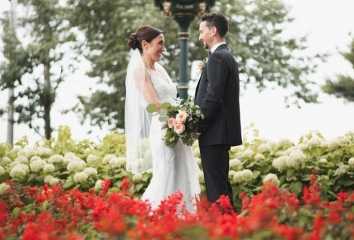 Sarah & Chad
Thank you so much Christine (Libon). We are still flying high from our amazing wedding. We wouldn't have changed a thing. We had the best time and we couldn't have done it without you! Everyone told us afterwards how much they enjoyed the ceremony and how warm and special you made it for us and we couldn't agree more. You truly went above and beyond and it showed. We are very appreciative of your attention to detail and calm demeanor. Thank you from the bottom of our hearts for making our day incredibly special, unique and above all, filled with love. Sincere thanks for sharing our special day with us. It was truly a pleasure working with you. Thanks again for everything. It was a perfect day and we couldn't have done it without you. Sarah and Chad, October 2018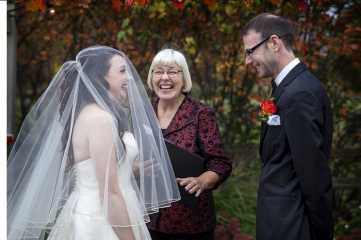 Terry-Guest Officiant
Christine Libon was a pleasure to work with. She had many great suggestions for the ceremony and the wedding script. And as the guest officiant, she made my job much easier. I appreciated how flexible she was, and that she was right there if anything unexpected happened. Thanks again Christine. Terry, October 2018
Sara & Stephen
Christine (Libon), we cannot thank you enough for being a huge part of our special day. All of the comments we received from the guests were how great, intimate and relaxed the ceremony was. It was absolutely perfect and just what we were looking for. Thank you! Sara & Stephen, August 2018
Heather & Ben
It was wonderful working with Christine (Libon) to create our ceremony. She provided the structure we needed, and the flexibility for us to personalize it to make it our own. We were very happy with how it went on our big day. Thank You! Heather & Ben, August 2018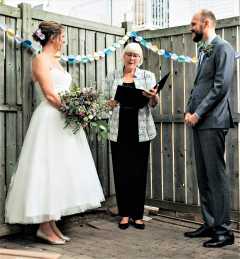 Jennifer & Mohamad
We were so blessed to have Christine (Libon) as our officiant. She was exactly the calm, confident, open hearted person we needed to help us bring together the diverse faiths and cultures of our families. What an amazing day! Jennifer & Mohamad, July 2018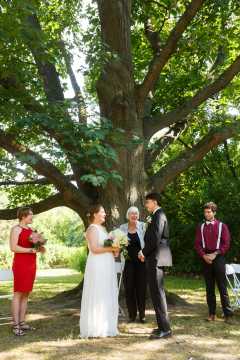 Anya & Boris
Thank you Christine (Libon), You did a great job! Thank you for providing structure and beauty to our ceremony. Our guests thoroughly enjoyed your officiating of our marriage and especially loved the inclusion of the handfasting ceremony as part of our vows. It was symbolic of our relationship and the adventures to come. We also sincerely appreciated the meetings with you as you guided us with the creation of our vows. You were welcoming, calming and sweet. We sincerely appreciated your hard work. We will definitely recommend you to family and friends as your positive energy is contagious. (Anya & Boris, July 2018)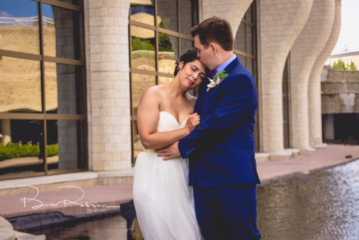 Lillian & Alex
It was a day that we will treasure forever. Christine (Libon), we can't thank you enough for making it perfect. Lillian & Alex
John - Guest officiant
You (Christine Libon) provided the calm assurance that made it possible to all of us to prepare for the day knowing that we were anchored by your calm professionalism. My heartfelt thanks to you for creating the space that allowed me to craft a text knowing what I could and should have in it. It was a great day and you made it so. Many thanks again and all the best. John
Michelle & Joel
Thank you for all your help (Christine Libon). A big thank you for having prepared those lovely little cards with our vows. They were a life-saver given I had forgotten mine in my bag! They also are a lovely souvenir that we are keeping to cherish. It was a day we will cherish for years to come. Michelle & Joel
Amir & Julia
Christine (Libon) was our officiant for our wedding at Restaurant E18hteen. She was very flexible and accommodating to our needs and helped incorporate elements of our culture into a beautiful ceremony. Thank you Christine! Amir & Julia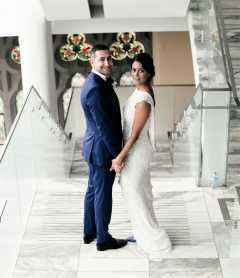 Gillian & Randy
Christine Libon is very kind and personable. She is accommodating and a pleasure to work with. Gillian & Randy
Barbara & Ralph
Hi Christine (Libon). Thank you for such a wonderful service. The wedding was professional but warm. Exactly what we wanted, and then some!! You are great at what you do. Most sincerely, Barbara & Ralph, August 2017
Beatriz & Thiago
It was a pleasure to have Christine Libon as our wedding officiant. We had a small and simple ceremony and it turned out to be even more special with her beautiful words and exciting text. The way she conducted the wedding was so lovely! Thank you for everything Christine! Beatriz & Thiago, April 2017