Cecilia Penner, BSc (McMaster), BEd (Queens)
Request Cecilia Penner
Secteurs desservis
Greater Victoria, East Sooke.
Commentaires
Brydon & Sareena
Cecilia Penner was amazing! Super kind, happy and went above our expectations! So glad we had her as our officiant and would definitely recommend her to anyone looking! Thank you so much!! April 2022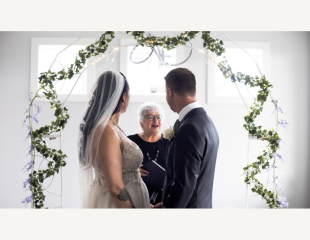 Shannon & Andrew
Cecilia went beyond meeting our expectations. Cecilia was so helpful and so professional and so caring from day 1. On December 21st when we were told that our original plan for our wedding couldn't happen due to Covid rules, we were devastated. We had to come up with a new plan. When we emailed Cecilia about our idea we eagerly waited for her reply. Her response was "No matter what you plan, I am absolutely there!" We had a beautiful, magical, outdoor at night ceremony in the snow on New Years Eve, that ended up better than our original plan. Thank you Cecilia from the bottom of our hearts. We couldn't have done this without you. Dec 2021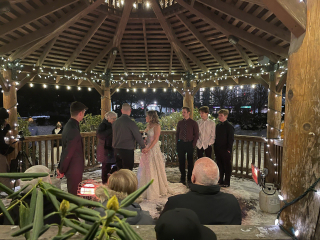 Tuire & Armando
There are so many wonderful things to say about Cecelia Penner! She is a genuine, kind-hearted, and passionate woman. She radiates joy and love as she eloquently addresses a crowd. She is witty and knows exactly how to create the perfect flow to her words. The biggest impact was the time she took to get to know us before helping us create our ceremony. It's incredible how she captured the essence of our family, life situation, spiritual preferences, language, and love story in such a short time, turning it into a deeply personalized ceremony . She was made for this line of work! It is with our sincerest gratitude that we say THANK YOU CECELIA for the most incredible day of our lives! We would highly recommend her to any couple as they embark on the journey towards their wedding nuptials. Feb 2022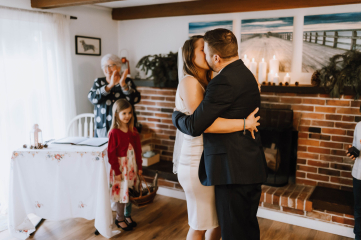 Morgan & Rhylee
Cecilia Penner is one of the most lovely individuals. She was kind and patient while explaining the process, she met with us before hand and helped us customize the ceremony exactly how we wanted. She braved the freezing winds on top of a mountain on Christmas eve just to make our dreams come true. She brought the sweetest, friendliest witnesses for us and they all pitched in to bring us bubbly for a toast. They took pictures for and with us and were all in all a lively and fun bunch of people. My husband and I have always wanted to do a public vow renewal eventually as we eloped, and I will most certainly be looking to book Cecelia for that in the future. December 2021
Annapurna & Daniel
We were so grateful to have Cecilia Penner wed us! From her attention to detail, embracing both of our cultures that was integrated into the ceremony, printing our vows on beautiful cards sealed with a wax stamps... making sure we had a practice ceremony (thank goodness). We are beyond thankful for her on our big day! Everything was perfect and beautifully thought out; she really put us at ease and went above and beyond. Anyone would be lucky to have Cecilia as their officiant and we are eternally grateful for her presence and professionalism on this day we hold near and dear to our hearts. We feel very lucky! Nov 2021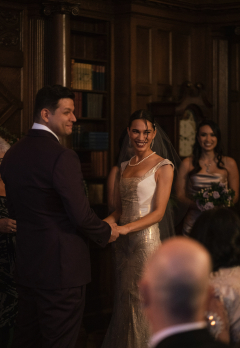 Geralee & Michael
I can't say enough about Cecilia Penner. She was such a wonderful part of our day and we will forever remember the kind words she spoke. She was so patient with us crazy east coasters lol. October 2021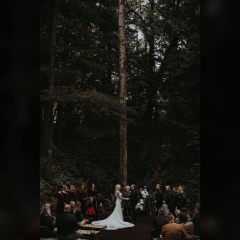 Andrew and Lindsay Sept 2021
As always Cecilia is lovely and helpful. She has such a calm and friendly demeanor, she puts everyone at ease. We love working with her. xo
Miranda & Dylan
Cecilia Penner absolutely blew us away. She showed excitement with us from day one. Cecilia stayed in close contact with us throughout the months leading up to our Wedding and provided us with all the necessary information, on how to obtain our wedding license and even how to change my name. Cecilia created the most exceptional ceremony for us and I honestly could not have wished for anything more. It was just perfect. Cecilia provided us with 2 witnesses, as we eloped and did not have any friends and family at our ceremony. I wish we could have spent all afternoon with the 3 of them! They were SUCH a beautiful part of our day. Cecilia has a warm and welcoming demeanor about her. She is someone that you could imagine, just gives the grandest of hugs! Miranda & Dylan August 2021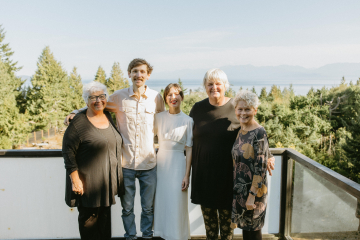 Róisín & Rylan
We were very happy with our experience with Cecilia Penner! She made our ceremony very special and authentic to us as a couple. I highly recommend her as an Officiant! She has a big heart and really cares about the couples she works with. She is the best! Róisín & Rylan August 2021
Sam and Jasmine Aug 2021
Cecilia was very kind, thoughtful, and created a beautiful ceremony for us. We appreciate the effort she put into printing our ceremony and our vows, as well as giving us a personal card to congratulate us. We loved her enthusiasm and support throughout the vow writing process. She was fantastic with her communication and was always quick to respond to questions/concerns.
Stephanie & Carey
Cecilia was amazing! We were so happy to have her preform our wedding ceremony. She went way above and beyond anything we could have expected. She was so full of amazing input and tips. Her experience and skill definitely showed. Stephanie & Carey July 2021
Alex & Stephanie
Cecilia Penner did an amazing job. She was helpful, encouraging and very pleasant to work with. She went above and beyond, and really exceeded our expectations to make our day special. We've already recommended her to friends, but unfortunately she was already booked for their date. A testament to how good of a job she does I guess :) Alex & Stephanie May 2021
Brian & Rosie
"Cecilia was everything we could have wanted and more! Even while getting married during the pandemic, Cecilia brought a spectacular energy to our wedding and made our day as special as it could be. The script was a true personification of both of us, and this was only eclipsed by her delivery of the ceremony. Another show of her ability is that our best man asked her to officiate his wedding because he loved her just that much. If you are wanting a ceremony personalized just for you, Cecilia will do a better job than you can imagine and we highly recommend her to anybody when given the chance." Brian & Rosie May 2020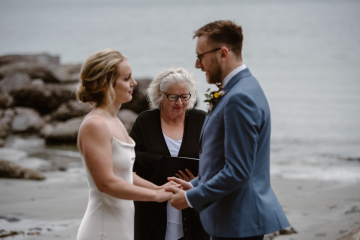 Thomas & Cynthia
Cecilia Penner was very professional and just the right balance of friendly and kind. Thank you for making our day possible. Thomas & Cynthia March 2021
Mitchell & Annie
We would highly recommend Cecilia Penner as an officiant! From our very first phone call, we had a great feeling! Cecilia is warm, friendly and compassionate. You can tell that she loves what she does. We got married in December 2020 when COVID restrictions were rapidly changing. Cecilia checked in regularly to support us along the way and make the necessary accommodations. Cecilia walked us through the whole process and sent us a copy of the ceremony well before the wedding to review. She made lots of thoughtful touches and printed out our vows on lovely cardstock paper. The wedding day was pouring rain but she braved the weather with a smile. Thank you Cecilia! Mitchell & Annie December 2020
Grant & Nikole
Cecilia Penner Cecilia is wonderful and so nice to work with! She was great with communication and made our ceremony perfect. Thank you. Grant & Nikole December 2020
Jason & Linsey
Cecilia Penner went above and beyond our expectations as this year threw us many curve balls in planning a wedding during COVID. She was extremely accommodating, went with our forever changing plans and ensured we were comfortable with the ceremony she was planning to perform. Cecilia made sure the ceremony was perfect in every way! I've known Cecilia since I was in high school so it was special to have a friendly face performing our marriage. We will never forget our wedding and the special words Cecilia said. - Thank you! Jason & Linsey September 2020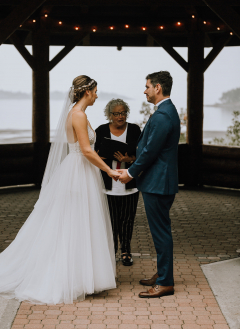 Stephen & Carey
Cecilia Penner is so passionate about what she does and it really shows. She was very accommodating during an unprecedented time . There was no hassle, no issues. We where so happy with Cecilia and how she performed the service. Thank you for a beautiful day! Stephen & Carey October 2020
Benjamin & Sarah
Cecilia Penner was amazing! She really went above and beyond. She was so easy to communicate with and really wanted our ceremony to be exactly what we wanted. She was incredibly charming and personable. Benjamin & Sarah September 2020
Dan & Molly
Cecilia Penner was wonderful and we were so lucky to have her. Thank you! Dan & Molly August 2020
Jack & Victoria
Cecilia Penner went above and beyond and made our wedding day even more special than we could have imagined. She was kind and understanding, especially because we were not entirely sure which traditions we wanted to include in our ceremony. Cecilia also went out of her way to learn more about the type of ceremony we were having. My guests even came to me afterwards and said how lovely she was. Jack & Victoria August 2020
Sean & Vanessa
Cecilia Penner was lovely!! She made the process of planning the ceremony so easy and it became my favorite part of the day! Sean & Vanessa August 2020
Ron & Sheila
Cecilia Penner was absolutely great. Would recommend 100%! Ron & Sheila June 2020
Keith & Karin
Cecilia Penner was wonderful. She wrote the most perfect words for our wedding and was so helpful with ideas and suggestions. I am extremely happy that I contacted you and will definitely recommend your services.! Thanks for everything!! Keith & Karin May 2020
Allan & Traci-Lei
Cecilia Penner made us feel amazing on our special day.! she was the perfect person for us.i will highly recommend her to anyone!! Allan & Traci-Lei May 2020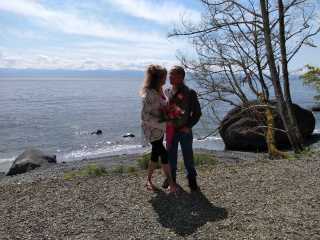 Lauren and Shelby
Cecilia Penner was absolutely wonderful. We had over 140 people in attendance via Facebook live and a zoom call with out family and friends, nearly the same number of people had left comments to myself or Shelby about how wonderful Cecilia was and how beautiful the ceremony was overall. Myself and Shelby both agreed that we are so happy with how we decided to get married and could not have asked for a better officiant to make it all happen. Cecilia is a wonderful woman, very professional but has a way of adding personalized touches to the moment that made us feel as though we already knew her before we officially met her on the day. Thank you for making our day so much more than we could have imagined. Cheers, Lauren and Shelby April 2020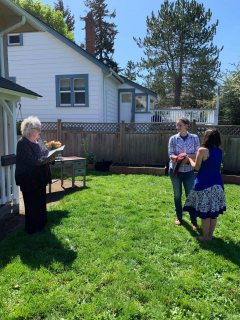 Jonathan and Sharlaina
Working with Cecilia Penner was such a pleasure for everyone involved. She was very personable, got to know everything she could about ourselves and our witnesses, she was punctual, and she was an amazing person with positive energy. We shared some good laughs, and had a beautiful ceremony. Jonathan & Sharlaina February 2020
Kim and Ian
Cecilia Penner was absolutely amazing! She was supportive, patient, and flexible during our last-minute elopement. Our wedding ceremony felt personal, meaningful, and was a joy to be a part of. I would not hesitate to recommend Cecilia (and All Seasons) to any friends getting married in the future. Kim and Ian February 2020
Georgia and James
Cecilia Penner was amazing. She gave us advice and was flexible and easygoing throughout the process. She executed our ceremony perfectly and was lovely to work with. Georgia & James December 2019
Casey & Molly
Cecilia Penner went above and beyond for our ceremony. She did not "meet" our expectations; she well surpassed them! She met with us multiple times, sent many options for the base of our ceremony, and personalized the ceremony to match our personalities and our relationship. She was grounding in our planning, always happy to help, and patient but persistent with my husband when he didn't send his vows in until mere days before the ceremony. She worked with us to create a ceremony that was deeply personal, wildly sentimental.T hank you for making this such an incredible experience. Casey & Molly September 2019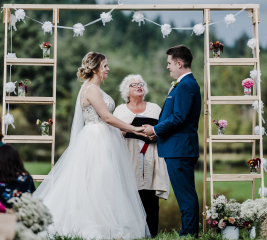 James & Emma
Cecilia Penner was a pleasure to work with. She made us feel very comfortable and supported and helped us craft a ceremony that reflected our relationship perfectly. She was warm while also being very professional. We can't recommend her enough. James & Emma May 2019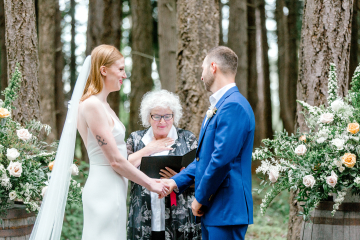 Jean-Luc & Sheri
Cecilia Penner was excellent. Very nice person and very helpful with information. Thank you for helping make our day perfect. Jean-Luc & Sheri August 2019
Greg & Shirley
Cecilia Penner was wonderful and made our day to relaxing, she is a wonderful lady and so professional everyone loves her. Thank you Cecilia for making our day the best! Greg & Shirley August 2019
Kevin & Hwisoo
We were so very glad to have Cecilia Penner as our Wedding Officiant. Prior to contacting Cecelia, we had very little idea or comfort with planning the ceremony. Cecelia was helpful, understanding, and gave us many ideas to consider for the procession and ceremony. She helped us assemble a beautiful ceremony. With Cecelia, the ceremony proceeded as smoothly as we could have imagined. From the very beginning, she took care of the details for us, and we were able to focus on other aspects of our wedding. Kevin & Hwisoo June 2019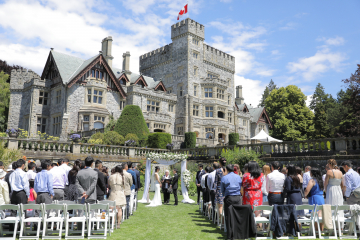 Craig & Rosalynde
Cecilia Penner was amazing every step of the way. thank you so much Cecilia ! Craig & Rosalynde May 2019
Diane & Steve
Cecilia Penner is such a wonderful lady who was absolutely suited for us. She went above and beyond our expectations. We appreciate Cecilia in are long overdue love of 16 years together. She shared in our beautiful, romantic and powerful,emotional love, with her sincerity, excitement and laughter along with us. We are so happy to have you officiate us. Thank you for celebrating our love for an eternity. Hugs to you. Love,
Natalie & Lisa
Cecilia Penner presided over our wedding and made an exceptional impression on both of us, as well as our guests. From the outset she exuded a warmth and welcome that made it easy to share with her our desires for the day. She took the time to help us include intimate details about our life and relationship within the script for our ceremony. At no point did it feel like Cecilia was simply doing her job, instead it was clear that she aimed to play a memorable part in our celebrations. By far, what sets her apart is her eloquence and ability to design and deliver memorable remarks throughout the ceremony. I cannot imagine our wedding without her, and am confident that others will have a similar experience. Natalie & Lisa Sept 2018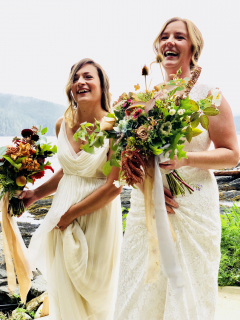 Matthew & Allyson
Cecilia Penner was amazing. She was available last minute the morning of the rehearsal and she said she would be happy to fill in. With less than a day's notice, she lead the rehearsal and the ceremony with such amazing poise and grace that I knew the universe had done me a favor by putting us in her hands. She saved my nerves and our wedding in my eyes. I will be forever grateful to her and the love she showed us on our special day. Matthew & Allyson Oct 2018
Paris & Jamie
Cecilia Penner was an amazing officiant. We are a young couple who went through a long year of people telling us "marriage is hard... marriage is work... marriage is NO FUN!" But right away she saw the love my now husband and I shared and understood what we needed right away. We wanted a quick ceremony and it was just that! She was personable, with a great sense of humour, and could really relate. We were going in blind with the wedding planning, and she was very understanding. I would recommend Cecilia to anybody, anyway, anywhere! Paris & Jamie Oct 2018