Cat Baron
Request Cat Baron
Secteurs desservis
Casselman, Cumberland, Embrun, Leitrim, Manotick, Navan, Nepean, North Gower, Orleans, Ottawa, Plantagenet, Richmond, Rockland, Russell, Vars, Wendover
Commentaires
Travis & Jenny
Cat Baron did a wonderful job, her pleasant demeanour and sense of humour helped make our ceremony perfect for us a as couple, and so enjoyable for everyone in attendance. In addition, she was excellent to correspond with in the months leading up to the wedding, answering all my emails promptly and patiently. She was a delight to work with. November 2022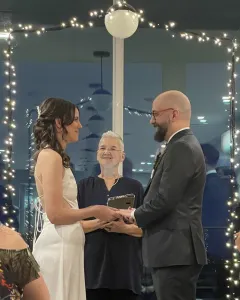 Alissa & Christian
Cat Baron was great! She was really friendly, professional, and the perfect officiant for our little at home "make it official" marriage. She did all the paperwork and told us exactly where to sign and there were no issues. She answered our questions. She also took a rapid test at our request to ensure it would be safe. Thank you again Cat! We would absolutely refer you to others! September 2022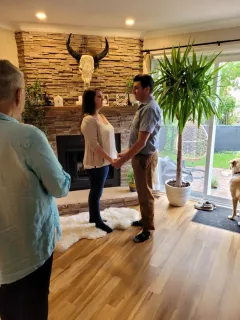 Kim & Randy
Cat Baron was incredible! Exceeded our expectations!! She was a perfect match for us. Thank you again. June 2022
Dharesh & Komal
We had a very great experience with Cat Baron and All Seasons Weddings. Thank you for handling all our wedding requirements so smoothly. March 2022
Randy & Brenna
Cat Baron was wonderful! Couldn't have asked for a better experience. We will Absolutely recommend her to others getting married ! October 2021
Kelley & Erica
Cat arrived before our scheduled time and finished the paperwork while we were running around doing our final touches. The ceremony was quick, which was great - just like we wanted. All we had to do was sign and it was done. She made us feel very comfortable and adjusted to our vibe very quickly. October 2021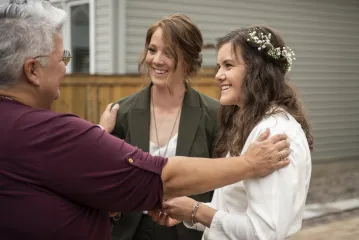 Alex & Jessica
Cat Baron was phenomenal to work with. She not only met our expectations but blew them out of the water. She made our wedding special during very irregular and very difficult times. Working with us through the pandemic really took some resourcefulness and dedication. October 2021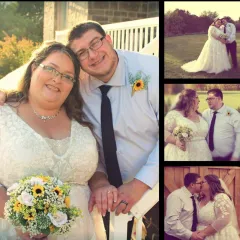 Christina & Corey
Cat Baron was so kind. Absolutely wonderful. She kept it super sweet and short. Exactly what we were looking for. September 2021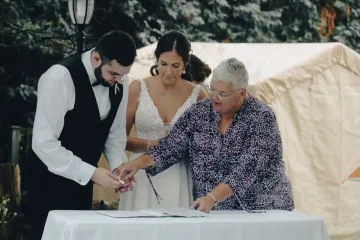 Patrick & Caitlin
Cat Baron was so amazing and wonderful on our special day. She exceeded our expectations. She met with us virtually and was really flexible as we have to change plans many times. She helped us a lot with planning the script of the ceremony. She was so personable and a perfect fit for our ceremony. She was a dream to work with. June 2021
Julie & Stephanie
Cat Baron was simply the best, very easygoing and very understanding !Cat Baron really exceeded all of our expectations ! She made sure we had the best wedding day ever !It was a ceremony we will never forget for the rest of our lives. We are so thankful to have found the best officiant ever and we would recommend her to all of our friends! We were a little late for our ceremony and Cat was very understanding and patiently waited Thank you so much Cat !!! You rock ! September 2019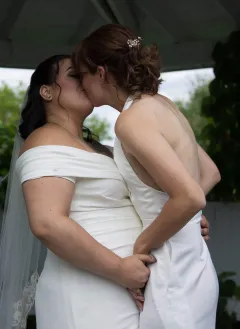 Chrissie and Blair
Cat Baron is simply amazing. Blair and I wanted to thank you so much for making our day so special. You couldn't have been kinder and your personality fit perfectly with our relaxed ceremony - I can still hear you asking Blair whether he was checking his email!! Thank you for everything !! August 2019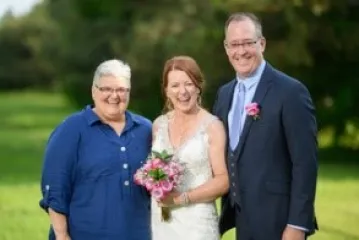 Michelle and Raphael
Dear Cat (Baron), We cannot thank you enough for marrying us. It was our honour to have you officiate our wedding. Your calm, warm, and joyful approach was exactly what we both needed. Prior to the ceremony we were both feeling nervous and self-conscious, but you had us smiling and giggling in no time. You created an romantic, loving, and delightful wedding atmosphere. Several of our guests commented on how wonderful you were. Thank you for allowing us to personalize our wedding with the Celtic hand-fasting ceremony, and the inclusion of our daughter in the ring exchange. Thank you for meeting with us and answering all our questions. Thank you for coming to see me in the bridal room prior to the wedding to put my mind at ease. Your serene and supportive disposition was exactly what I needed before walking down the aisle to my future husband. Working with you was an absolute pleasure and we highly recommend you to everyone planning a wedding! Sincerely, Michelle and Raphael. June 2019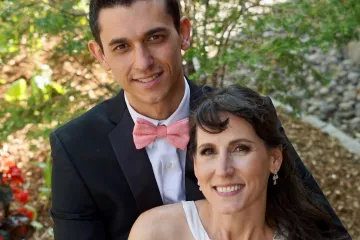 Mike & Nathalie
Mike and I would like to extend our sincere thanks to Cat (Baron) for truly giving us the ceremony we wanted. We would recommend her in a heartbeat!
Luke & Chelsea
Cat Baron was amazing, she really knew what we wanted and adjusted her style to make sure our ceremony was fantastic.
Norah & Adam
Cat Baron was phenomenal! She made us feel comfortable, has a great sense of humour and made everything run smoothly! She was THE BEST!
Laura & David
We could not have been happier with Cat Baron. She helped us prepare and customize the ceremony, she made us feel comfortable, and she made the ceremony feel warm and joyous. I would not hesitate to recommend Cat and All Seasons. The entire process was easy and seamless. And the ceremony was everything we had hoped it would be.
Marc & Lynn
Hello Cat, Marc and I can't thank you enough for making our wedding ceremony so perfect for us! You added just the right amount of Elvis and humour. When I arrived at the Church and stood outside before entering, I suddenly felt very emotional and nervous. My son Eric looked at me and smilled when he said: "Mom, it will be alright". I actually covered my face with the bouquet of flowers because I was a): scared out of my mind; and, b):on the verge of tears. Then I saw Marc and the fear completely vanished. And then I saw your smiling face and I knew everything was going to be allright (you clearly had everything under control). Thank you Cat - you are a bright, beautiful soul. Marc & Lynn
Cindy & Mark
Our officiant Cat Baron was absolutely phenomenal. Cat knew how important it was for us to keep things casual and not super rigid. She was able to keep it light, get the guest laughing and make it a memorable experience. The guests were coming up afterwards and saying how amazing she was and that they loved her. Thank you Cat!
Olga & Shane
We were so lucky to have Cat Baron as our officiant. She made me feel comfortable and at ease. So happy she made that day as stress free as possible for us. Cat Baron was amazing.
Deb and Mandy
Hey Cat Baron! We loved the wedding ceremony and how you delivered it. Lots of people commented on the ceremony and how great you are as an officiant. We really enjoyed the whole thing, and you put us at ease throughout. We really appreciate what you did for us, and without a doubt we have already passed on your name. Thanks again.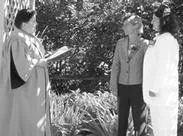 Amanda and Michael
For Cat Baron.'Thank you so much for being such an integral part in our wedding day. The wedding ceremony was everything we had hoped it would be and set the tone for the rest of the day of celebration, and really for the rest of our lives. It was very important to us to have a wedding ceremony that was meaningful and personal and it was just that.'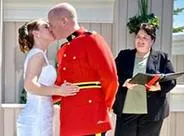 Jennifer and Joshua
Cat Baron thank you! It was a great wedding ceremony and everyone who was there had nothing but great things to say how great of a job you did. We will definitely recommend All Seasons and yourself for any weddings we hear of with our friends. Thank you again so much, it definitely was a great day. Our most sincere thanks.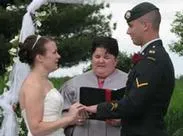 Jenn and Marc
Our thanks and gratitude to you Cat Baron for performing an excellent wedding ceremony! The ceremony could not have gone smoother and your support throughout this whole process has been nothing less than amazing.We wish you all the success in the world, and will be sure to refer you to anyone who's looking for a fantastic officiant. Our most sincere thanks!