Carolyn MacLean, BAH, LLM
Request Carolyn MacLean
Secteurs desservis
Brampton, Don Mills, Etobicoke, Forest Hill, Georgetown, Mississauga, North York, Oakville, Ontario Place, Scarborough, Toronto – Downtown, Weston, Woodbridge
Commentaires
Adam & Sandra
Carolyn MacLean was fantastic! Prior to our wedding we had a great phone meeting with Carolyn and she listened closely and asked good questions about the type of ceremony we were looking for. She then came back to us in a timely manner with a draft for the wedding and took our feedback well as we made some changes to the draft. On the day of, Carolyn showed up on time, dressed professionally, and executed flawlessly. We were so happy with the overall ceremony, and even received feedback that it felt very true to us! Carolyn was even great about giving us direction to look at each other (and not at her!) and managed to swiftly move out of professional photos so that just my husband and I could be captured. She is a pro! August 2022
Ryan & Marc
Carolyn MacLean was wonderful! She was so easy to work with leading up to the wedding and always focused on what we wanted and guided us through. On wedding day, she was made us comfortable and performed the ceremony flawlessly. Amazing! August 2022
Andrew & Lori
Carolyn MacLean was excellent!! She spoke well, smiled the entire time, very engaging with guests. Couldn't have asked for a more perfect person. July 2022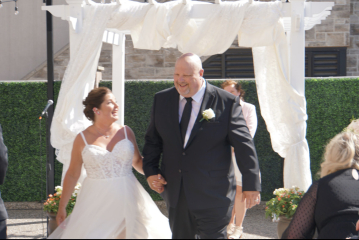 Thomas & Karen
Carolyn MacLean Definitely meet all of our expectations. Carolyn was prompt, accepted some last minute slow downs, performed a lovely wedding ceremony and was gracious. May 2022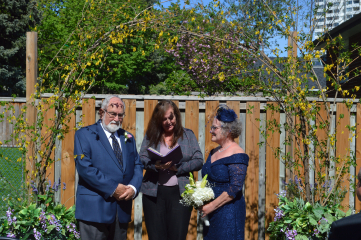 Ana & Adele
Carolyn MacLean was kind, thoughtful and made us feel completely at ease! Thank you Carolyn! March 2022
Christopher & Jean
Carolyn MacLean exceeded our expectations. Thank you Carolyn. Christopher & Jean October 2020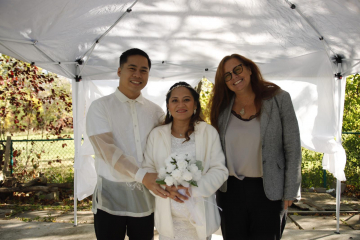 Mike & Kristin
We had the privilege of being married by this wonderfully amazing person!! Carolyn MacLean was sweet, personable, professional and always accommodating!! We absolutely adore her!! Thank you ! Mike & Kristin October 2019
Wayne & Julie
Carolyn MacLean was fantastic !!! She made the ceremony absolutely perfect! Thank you for everything Carolyn. Wayne & Julie July 2019
Nicole & Edward
Hi Carolyn, From the bottom of my heart, I want to thank you for performing the most beautiful wedding ceremony. The day was absolutely perfect, from beginning to end. So many people commented on how beautifully you performed the ceremony and everyone loved the blessing of the hands. We were so happy we decided to keep that in! August 25, 2018 will be a day I will never forget. Thank you so much for being part of our special day and making it so memorable. Sincerely,
Stephen & Jennifer
Carolyn MacLean was very friendly and approachable. From the first phone conversation to the end of the ceremony, she was very professional and accommodating to any of our needs. I would definitely recommend Carolyn to other people looking for a versatile officiant.
Cameron & Manal
Carolyn, what can I say? You were EXACTLY the right person for our wedding. We were beyond happy and one of the best compliments I can give to you is that both of our families told us how exceptional you were. Anyone would be lucky to have you. Thank you once again.
Tabitha & Kyle
Carolyn MacLean was beyond our expectations! So nice and she really made it special! Carolyn worked with our style and helped is get what we wanted for the day! I would recommend Carolyn for sure! She was too perfect not to! Carolyn married us in our apartment on New Years Day, and she made it that much more special as we were surrounded only by our immediate family. Our cat was even able to partake in photos! Carolyn understood what we wanted on that day and she delivered! Thank you so very much!
John & Brandon
Carolyn MacLean was such a good partner in planning the perfect service and loved having her part of our special day.