Carmen Danner, BA (University of Ottawa)
Je vous aiderai à faire de votre journée spéciale la meilleure qu'elle puisse être et je suis fière de vous considérer ma priorité. À titre de planificatrice de mariage agréée à Kingsville, je comprends bien l'importance de chaque aspect de votre journée spéciale. Je suis à l'aise avec toute forme de cérémonie de mariage, qu'elle soit intime ou élaborée ou traditionnelle. Je suis bien branchée partout dans Windsor et le comté d'Essex, et même au-delà du secteur. Je maîtrise tant le français que l'anglais; je suis même diplômée en traduction de l'Université d'Ottawa. Je suis aussi une sommelière reconnue et j'aime beaucoup rédiger une chronique mensuelle pour plusieurs journaux du comté d'Essex. Je vous remercie de me fournir l'occasion d'être votre célébrant.
Request Carmen Danner
Secteurs desservis
Amherstburg, Belle River, Comber, Cottam, Emeryville, Essex, Harrow, Kingsville, Lakeshore, LaSalle, Leamington, Oldcastle, Pointe aux Roches, Ruthven, South Woodslee, Stoney Point, Tecumseh, Walkerville, Wheatley, Windsor
Commentaires
Kyle & Jasmine
Carmen Danner was very nice, he was happy and willing to work with us on such a short notice. Everything went perfectly. Thank you Carmen ! September 2022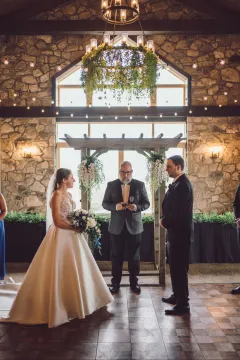 Josh & Kelsey
Carmen Danner was more than I could've hoped for, for our special day. Our ceremony was perfect and we thank him so much!!!! July 2022
Kelsie & Brandon
Carmen Danner was fantastic. We were able to meet him through Skype prior to our wedding and after our meeting we knew he was the perfect fit. He has such a lively, charismatic demeanor and a good sense of humour. He was very relaxed and always professional. He is easy going which matches our personalities perfectly. Throughout the planning process he was attentive and helpful. On the wedding day he was great. He kept things light and fun. We would definitely recommend him to others looking for an officiant. When we met Carmen, we knew right away we had picked the right person to officiate our day. We are forever grateful!! July 2022
Charlee & Jordyn
Carmen Danner was excellent to work with! Thank you so much to Carmen again! He helped make our day perfect! June 2022
Kallie & Alex
Hi Carmen, We wanted to thank you for officiating our wedding. We appreciate the help you gave us to choose what we wanted to say for our ceremony, and then also for helping us get through it when we got goofy! We felt that everything about it was very "us" and even received compliments from several of our guests so again, thank you for helping us plan it. Thanks, -Kallie and Alex
Angie and Brad
"We just wanted to thank you for what a lovely ceremony you delivered, it was so much appreciated. You were perfect, even down to the way you dressed for our ceremony. Thank you, thank you, thank you from the bottom of our hearts. It was absolutely perfect." Angie and Brad
Donika & Dylan
Carmen Danner was above and beyond wonderful! He was 100% the perfect choice for us. We met with him before hand for a drink and get to know you session...come time for the wedding and it felt like a friend was marrying us. He was a friendly, reassuring and calming presence and helped us to have fun! If we did it all over, we would pick Carmen over and over again! September 2021
Greg & Debbie
Carmen Danner contacted me to ask the colours of the wedding so that he could coordinate. He looked so sharp as you can see. He was friendly and came up to the bridal room ahead of time to review some things with me. He made Greg very comfortable while he was standing waiting for me to appear. Best of all he was able to roll with the punches when we had little glitches during out ceremony. We had a lot of laughs together. Greg & Debbie July 2021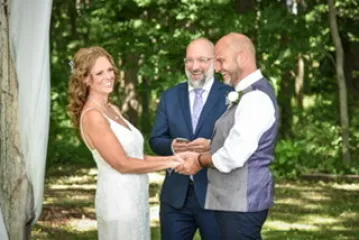 Murray & Heather
Carmen Danner was wonderful. Everything went as expected, he was quick & efficient. Which was great given it was very cold outside. Thank you Carmen. Murray & Heather December 2020
Travis & Lauren
Carmen Danner Carmen was awesome to work with. Helped tremendously with our ceremony, we would recommend him to anyone getting married in the area! 5/5 Travis & Lauren September 2020
Jonathon & Sarah
Carmen Danner was absolutely amazing and delivered the most beautiful and personal ceremony we could have asked for!!! Jonathon & Sarah October 2019
Samantha & Mitchell
Our experience with All Seasons Weddings was incredible from start to finish. The company was extremely professional while setting up the first meeting with our chosen Officiant, and very easy to deal with after realizing I had initially chosen the wrong date for our wedding (whoops!). We chose Carmen Danner as our officiant after reading his biography on the All Seasons Weddings website and realizing our mutual love of local wines. Carmen reached out to us numerous times throughout the wedding planning process to make sure we were comfortable and to offer his services however we may need him. He even gave us some very helpful advice when planning out our decorations! A couple weeks before the wedding date, we found ourselves stuck with our vows. Not knowing how to proceed, or even where to start, Carmen came to our rescue and gave us countless examples of vows and passages to pull from and make into our own. Carmen even made sure to colour coordinate so he stood out the perfect amount against our backgrounds and with our wedding party! He was professional, yet personal and easy to relate to. He was highly experienced, yet easy to bounce ideas off of. Carmen made time in his busy schedule to join us for a rehearsal dinner, and by the end, was cracking jokes with our closest family and friends! In fact, we were so fond of Carmen, that we encouraged our newly engaged family member to request his services as well! All in all, we have zero regrets and Carmen and All Seasons Weddings played a huge role in making that happen.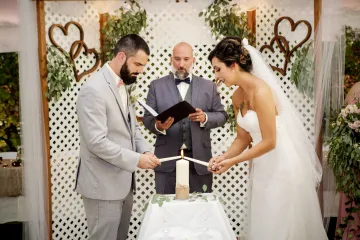 Roger & Nathalie
Carmen Danner was very approachable and helpful in putting together our wedding. He is kind and dependable with a great sense of humour. Carmen provided the information to us as a guide so that we were able to personalize our ceremony. Thank you Carmen for making our day the most special and stress free! November, 2018
Tony & George
I just wanted to say that Carmen exceeded our expectations. I was personally struck by his kindness and sense of humour! Often times, planning a wedding... even the most studious and organized can get stressed out and crabby. Carmen was very "cool" and served as a reminder that at the heart of it all was joy and FUN. Thank you Carmen :) August, 2018
Elise & Eric
Carmen Danner was beyond accommodating throughout the entire process. Incredibly calm, lovely, and personable for the ceremony. Carmen came highly recommended by two of my friends and I too would encourage you to include Carmen in your special day. July, 2018
Julie & Paul
Carmen Danner exceed our expectations. He helped us to personalize our ceremony perfectly, making sure to include our children as well. I would highly recommend Carmen to others. He was very professional but also very friendly.
Jacqueline & David
Carmen Danner was very friendly and helpful during the entire planning of the ceremony. He offered many examples and ideas. He was willing to meet when needed and made the planning very easy. He was also open to any changes we wanted to make and was very flexible. The ceremony was perfect. It was definitely an added bonus to us that Carmen speaks French since we had a bilingual ceremony. I would definitely recommend him. Thank you!
Sydney & Chris
Carmen Danner was very kind and very well prepared. He knew the kinds of questions to ask and he was willing to be flexible and help make our wedding into exactly what we wanted it to be. He is comfortable customizing for all wedding types and styles. Just as a cherry on top, he speaks great French. Highly recommend.
Rebecca & Philippe
Carmen Danner was amazing! He helped us create the perfect ceremony before our wedding and had lots of really valuable advice! On our wedding day he was beyond great and really made our ceremony better than we expected! The entire process of hiring an officiant was easy and quick! I had all the info I needed and felt that everyone I worked with was professional and knowledgeable.
Megan & Loni
Carmen Danner was fantastic! I would recommend him again and again and again! He was kind, caring and open to our ideas. Zero complaints. Thank you so much Carmen
Melinda & Eric
Carmen Danner exceeded our expectations!!!! He was helpful, fun, accommodating, and professional. His suggestions and presence made our wedding perfect. I would highly, highly recommend Carmen!
Abby & Steve
Carmen Dannier was excellent to work with! He gave a personalized approach and worked with us to create a ceremony that was unique to us and fun! We were so happy with all of his efforts! He was available by email and communicated with us regularly throughout the process! I will be recommending him to all my friends getting married !
Alison & Matteo
Carmen did an amazing job at our wedding last summer! He was professional, easy going and helped make our day everything we hoped for. Thanks again for being part of it!
Stacey and Sarai
Carmen, Wow! It was such a beautiful and amazing ceremony. Thank you so much! Your kind voice and willingness to make it "ours" was perfect and the wedding would not have been the same without you. Thank you so much!
Joel and Sara
Carmen (Danner) was amazing in every step leading up towards our wedding day. He answered every question as well as every email we sent. He helped us customize our ceremony to be exacally what we wanted! our ceremony was so perfect couldn't ask for a better officiant! thanks
Jade & Lawrence
Carmen Danner was so amazing through our whole experience. He was very open to our ideas and had a lot of great feedback and was so helpful.
Kristin & Jay
Carmen Danner exceeded our expectations. He was professional, polite, punctual, kind and helpful. We couldn't have picked a better officiant for our wedding day! Please extend our heartfelt thanks to Carmen and pass our compliments on his excellent service to your management. He is a wonderful representative for your company and your service.
Tamara & Michael
Just wanted to touch base one last time and ensure you know how amazing you are! While we had quite the casually non traditional wedding, you were great and made the ceremony piece worry free! Every single guest complimented you and the job well done and we just wanted to let you know that we couldn't haven't been happier, nor would the day and entire experience leading up to have been the same without your help and input! Cheers to a great day and all the best with you in all future endeavours! Most appreciative and thankful.