Bryant Karner
Request Bryant Karner
Secteurs desservis
Dunnville, Fort Erie, Niagara, Niagara-on-the-lake, Port Colborne, St. Catharines, Stoney Creek, Welland, Grimsby, Vineland, Niagara Falls, Jordan
Commentaires
Claire & Taylor
Bryant made our wedding ceremony absolutely seamless! We got married Sept. 2022 and the day before our wedding, the officiant we had booked got Covid. We were in a panic! We called "All Seasons Weddings" and were matched up with Bryant. He helped ease our worries and stepped up to the job without hesitation. He did a fantastic job officiating our ceremony, made the guests laugh (and cry) and was extremely organized, making this a stress free experience for us. Thank you Bryant! Claire & Taylor Sept. 2022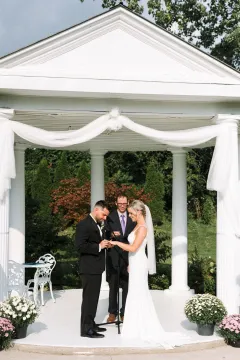 John & Pamela
Bryant Karner was very professional and provided us all the details for us to get organized. All the while he made our ceremony feel very personal. He was helpful as we prepared and his calm manner helped us remain calm during our celebration. Thank you Bryant! John & Pamela August 2020
John & Pamela
Bryant Karner was very professional and provided us all the details for us to get organized. All the while he made our ceremony feel very personal. He was helpful as we prepared and his calm manner helped us remain calm during our celebration. Thank you Bryant John & Pamela August 2020
Taylor and Greg
Hi Bryant!! Greg and I both wanted to thank you for everything on our big day! We are so happy with how everything turned out and we both can't stop smiling. Everyone loved the ceremony. Taylor and Greg
Michael & Andrea
Bryant Karner was spectacular. He made our ceremony personal and special. Hence, our day was magical. He allowed us to include our own vows and delivered a ceremony that was beautifully written! Thank you Bryant. Michael & Andrea August 2019
Andrea & Michael
Bryant Karner was amazing ! Thank you for making our day so very special, we could not of had a more perfect ceremony and you made our day so magical. Andrea & Michael August 2019
Donna and Shawn
Shawn & I would also like to send a big thank you to Bryant Karner. Bryant & I had worked for the same company back in 2016 - 2017. While working with him, I found out he was also an officiant & D.J. on top of his full time job. When the time came and we decided to have an actual wedding instead of just City Hall, he was the first I thought of to perform the service. Thank you so much for everything. Our apologies for forgetting certain things you had mentioned at our meeting, but you just went with the flow! Thank you again! ? October 12th, 2018
Angie and Glenn
Thank you for everything you did for us at the wedding. We had many compliments on the service and everyone enjoyed the enthusiasm you put into the role. You really helped out making spur of the moment decisions to keep things on the proper timetable. The weather could have been a little warmer for a beach wedding, nonetheless, everything was perfect. Thanks again for all your help, we really appreciated it! - September 22nd, 2018.
Christa & Sergio
Thank you (Bryant Karner) for performing our wedding ceremony at the Pillar and Post on Dec. 22, 2017. Sergio and I were both very grateful you were able to step in last minute and help make our wedding day special. We couldn't have asked for a better day ..... and we even got the "White Wedding" we were hoping for! I am attaching a photo. I can't for the life of me think what we were all laughing about, but it helped to make for a perfect ceremony!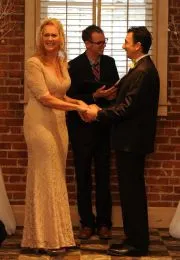 Rob & Bryn
Dear Bryant (Karner), Thank you for officiating our ceremony so gracefully and thoughtfully. We received many compliments from our guests on how beautiful our ceremony was. You were so great to work with and were very flexible about changes to the script, and being able to attend and run the rehearsal at the last minute! Thank you for making our ceremony so special. Sincerely Rob and Bryn
Jason & Krista
Bryant Karner went above and beyond our expectations. He personalized our ceremony by allowing us to include our son with a special part acknowledging him which was so important to us. He spoke eloquently and really adapted to what was appropriate considering it was a small crowd on a beach. That's the thing about Bryant, I believe he can excel at a wedding of 500 people or at a wedding of 10 like ours was. He made everyone laugh and even made the strangers on the beach cry (out of joy!). It truly was such a beautiful day and I credit a huge part of that to Bryant. I am so thankful to him for taking the time and care to make a quick 15 minute ceremony on the beach such a beautiful work of performance art. Anyone who wants to feel like their ceremony is truly theirs and about them instead of the same old recycled stuff you hear at every wedding should choose Bryant Karner. The whole process was made easy and simple and Bryant did a great job explaining everything to us and putting us at ease. We would absolutely refer Bryant to others and probably have him again for our vow renewal. Thank you Bryant!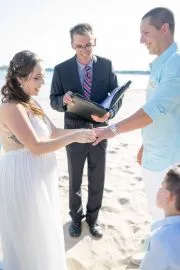 Bob and Jennifer
Bryant- Sorry it has taken me so long to write this letter of thanks. You married my husband and I back on May at Queenston Heights. We cannot thank you enough for making our special day so perfect. You were very helpful and kind throughout the whole process. We have just had the chance to file for a marriage certificate after getting settled in with the birth of our little girl. Again, We could not be happier. We appreciate all your help to make our love and promises official. A special thanks to the witnesses you provided as well and for their help taking pictures to capture our special day. We hope you are having a good summer. Take Care. Bob and Jennifer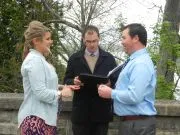 Leanna and Max
Hi Bryant. We were very happy with how the ceremony went. It was short yet still included everything we wanted said and appreciate your help in making it possible. Thanks again.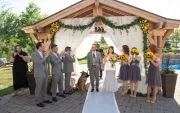 Shawna and Darryl
Hey Bryant Just wanted to send you a huge thank you! You did a wonderful job! It was all so perfect! I will most certainly refer you to friends.
Danielle and Kirk
Hey Bryant! Kirk and I want to thank you for doing a wonderful job at our wedding. My coworkers were impressed with your announcing voice. You rocked that fish too by the way haha!"
Adam and Megan
Hello Bryant! Just wanted to say thank you, we didn't get a chance to see you again before you left. We really appreciate everything you did for us, you seemed to take extra care to make our day special. We wouldn't change a thing about the ceremony and if you ever need a recommendation don't hesitate to ask. Thanks again for all your help. Take care!
Adam and Dianne
I would highly recommend Bryant Karner as a wedding officiant. He is a warm, caring and professional. He is very flexible and is involved in every aspect of your ceremony putting in as much input as you want. He is experienced, will guide you and let you create a ceremony that is your own and is exactly what you want. Bryant helped us create a truly beautiful day we will remember forever! Everyone kept commenting how it was the nicest ceremony they had ever attended.
Callie & Ryan
Dear Bryant, We cannot thank you enough for the beautiful ceremony you performed for us. It was exactly what we wanted! Beautifully worded and performed, but to the point :). We are so grateful that we found you through allseasons and that you were able to be our officiant that day. It was a perfect day for us, and we will never forget it. I've attached some pictures for you as well, all the best in your future endeavors. Thank you! Callie & Ryan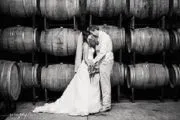 Iesha and Adam
I would just like to say thank-you so very much for the outstanding ceremony! There was not a dry eye in the place that day! We received a lot of compliments about how different but great it was. Thank you, for making it OUR day and not like others.
Natasha and Dragan
Hey Bryant We just wanted to send a thank you for performing our ceremony on Saturday. It was such an amazing day, we really appreciate your flexibility and help as we planned it. Thanks!!!!!
Michael and Heather
Hi Bryant, Wow how time flies, The ceremony happened, then we got whisked away and then all of a sudden summer was over! Heather and I just wanted to thank you deeply for the amazing job you did with our wedding ceremony. Our wedding went perfectly. You even matched the purple that was our unofficial wedding colour! Our families were very touched by the ceremony and agreed that everything went off so well! We will definitely recommend you if any of our friends get married in the Niagara region, Again, Thank you very much!! Michael and Heather
Stefani & Brad
Bryant! We wanted to thank you from the bottom of our hearts for officiating our wedding at the Grand Victorian in Niagara on the Lake. Everything about the ceremony was perfect and we couldn't have asked for a more wonderful day. I know we didn't get to chat much (or at all really!) after the ceremony but we wanted to let you know that we were thrilled and hope you had a lovely time officiating for us! We will forever remember our special day. Thank you so much for being a part of it. Sincerely, Stefani & Brad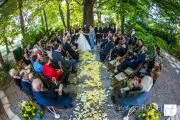 Dan & Camelia
Dear Bryant (Karner), We want to thank you for such a perfect ceremony! Not only did you make our special day unique from any others, but you also made it special for our guests. We received many compliments on the service and the wonderful poem you recited. Thank you so much for traveling to Niagara-on-the-Lake and for helping to make this day one of the most special in our lives together. (married May 25th, 2013)
Terra & Rob
Hi Bryant (Karner) I am sorry for the long delay in getting this to you. I wanted to be sure to send you a big thank you for the amazing job you did for our wedding ceremony. I couldn't imagine it being more perfect. You really put us at ease before our wedding & during the ceremony as well. When I could barely speak your voice guided me through. I am so glad that we found you online. You did an amazing thing for us joining us together for the rest of our lives & we will be forever thankful. Hope you are well. Thanks again!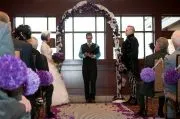 Kathy and Richard
Hi Bryant, We just wanted to thank you for everything you did to help make our wedding day so special and running so smoothly. The ceremony was lovely and we had many comments both on how nice the ceremony was and also regarding you personally, Bryant, as an officiant. It was just as we wanted it and some people said it was the best ceremony they had ever been to. Once again, thank you for everything. You were great to work with and a lovely person. We wish you all the best both personally and in you business.
Manfred and Kimberley
It was a pleasure and an honour to have Bryant come and share our special day with us. We were extremely happy with our choice of our officiant. Bryant is a very compassionate kind soul, and we would highly recommend him for wedding ceremonies. Bryant is clear when speaking and put's his heart and soul into what he is saying we enjoyed our time spent with him.We have already passed the word around to our friends and family member if they are thinking of getting hiched then this would be the man to call!!! Thanks again Bryant for everything much appreciated.