Bob Quick
Request Bob Quick
Secteurs desservis
Peterborough, Lindsay, Kawarthas, Bobcaygan, Fenlon Falls, Minden, Coboconk, Port Perry, Sunderland, Bethany, Omemee
Commentaires
Keith & Susan
Rev Quick was warm, personable, humorous and professional. He knows his stuff! We were a bit nervous but he put us at ease immediately. We had a very small wedding on our boat with just our two witnesses. Bob helped to make it very special for us. We highly recommend All Seasons Weddings, in particular Rev Bob Quick. Bob, thank you for making our special day extra special! Keith & Susan, August 2021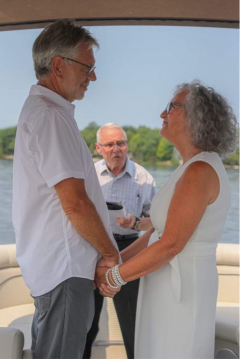 David & Jennifer
Bob Quick was friendly, funny, knowledgable and efficient. Highly recommend him! David and Jennifer November 2020
Kent & Kristen
Bob Quick was an absolute delight. He was kind, funny and professional. We would definitely recommend him. He made us feel relaxed while performing the perfect ceremony. Thank you for everything. Kent & Kristen June 2020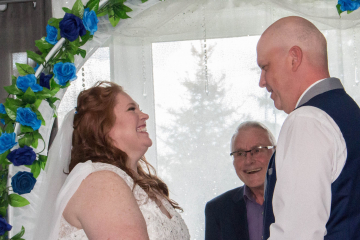 Kevin & Robin
Bob Quick was great and played along to a joke the best man and I played on the bride. Thank you Bob for giving us a great ceremony. Kevin & Robin September 2019
Marilyn & Ted
We have now started life as Mr. and Mrs. and the process was made all the more enjoyable with you as our wedding officiant. From our first meeting and right through until the end of saying our vows you kept us at ease with your pleasant and relaxed manners. We have had many compliments regarding you and your choice of sayings during the ceremony. As we continue forward on our journey together, we will remember always to live our vows as you gently reminded us. Our heartfelt thanks go out to you, Marilyn & Ted September 2019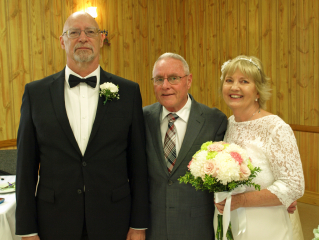 Theodore & Marilyn
Bob Quick was just great.. He performed our ceremony just perfect. Everyone could hear his words clearly. Also the choices of different ceremony wording that your company sent were all very appreciated. Theodore & Marilyn August 2019
Sarah & Greg
Thank you so so much Bob Quick for being our officiant for our wedding. Even before the wedding, you were extremely helpful and great at answering any questions we had really quickly and put any worries we may have had at ease. You made our ceremony absolutely perfect, everyone commented on how beautifully delivered it was. It couldn't have been more perfect, you kept it short and sweet, weren't at all phased by the little ones toddling around, were extremely kind and patient when I forgot to say my lines, It was also an extremely hot day so thank you so much for standing there and delivering it all the way you did, that can't have been easy! Sarah & Greg July 2019
Sarah & Greg
Hi Bob (Quick), I just wanted to pop you over an email to say thank you so so much for being our officiant for our wedding. Even before the wedding, you were extremely helpful and great at answering any questions we had really quickly and put any worries we may have had at ease. You made our ceremony absolutely perfect, everyone commented on how beautifully delivered it was. And as for Greg and I, it couldn't have been more perfect, you kept it short and sweet, weren't at all phased by the little ones toddling around, were extremely kind and patient when I forgot to say my lines and helping us all sign the register and just making sure we all knew what we were doing and where to go throughout the whole ceremony. It was also an extremely hot day so thank you so much for standing there and delivering it all the way you did, that can't have been easy! So again, thank you so much for making our day perfect, we are so happy you agreed to perform the ceremony for us. Sarah & Greg. July 2019.
Helena and Jenna
Hi Bob, Wanted to thank you again for everything!! We had an amazing rest of our day and wouldn't of been possible without you! Love Helena and Jenna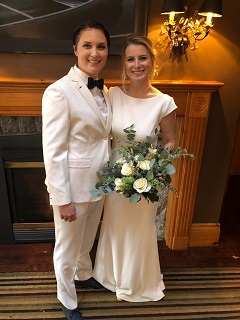 Renata and Joe
Hi Bob, Joe and I would like to thank you for the great job you did officiating our wedding this past Saturday:) It went very smoothly and we thank you for that... you made our day that much more special:) Take care, and thanks again, Renata and Joe
Steph and Andrew
Hi Bob: I hope you are well! Andrew have just returned home form our honeymoon this morning. We wanted to thank you so much for officiating a beautiful ceremony and making the process leading up to the ceremony so easy. You were so pleasant, organized, personable and professional. Thank you so much for helping to make our day so wonderful. Sincerely, Steph and Andrew
Melissa and Kyle
Dear Bob: Kyle always wanted to be married by Batman, but i said No Way! Thank you for helping me make this possible Bob. Kyle was blown away. Crowd loved it. So much fun. Thank you again.
Jamie n Judy
We hope this finds you well. Our apologies for the late communication form our August wedding... We've been caught up in the wonderful world of bliss! :) You were an absolute wonderful part of our Big Day. Thank you very much for your warmth, humour, humanity, and attention to detail in making our ceremony a truly (short, yet) memorable one! We had many compliments on our ceremony, your character inserted, and how it was truly "us". We appreciate the personal touches and words we could use to make it our own. We are thrilled we got our Number One Pick for Officiants! Thank you, Bob! We'd like to mail you something (via Post). Would you have an address we could send this to please? Much appreciated. With warm regards, Jamie n Judy
Rob and Simone
Hi Bob, We wanted to thank you for helping make our day so special. It was an absolute pleasure working with you for our wedding and will recommend you to anyone who asks! All the best to you and thanks again.
Dan & Deb
Bob Quick was very professional, led us through the ceremony step by step, and spoke well.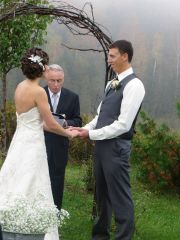 Jenna & Kurt
Bob Quick went over and above! He made sure he was available whenever anything was needed, whether it was meeting up, or emailing back and forth to ensure we has all of the correct information. I have 2 friends that just got engaged and you All Seasons was the first place I told them about! Everyone was willing to help, and answer any question we had. All Seasons and Bob Quick made this process easier when we didn't know what we doing. I loved his honesty and wanting to help in anyway he could. The day of the wedding was stressful for us and he made everything come to ease when we began speaking. He took his time and spoke slower when we stumbled and made our day even more special. He was amazing and couldn't have asked for anything better!!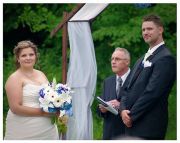 Sarah & Joshua
Bob Quick was absolutely amazing!! He was so nice, and helped calm us down as we were a bit nervous! HAHA He spoke loud and clear, and did an overall fantastic job! Also, he was right on time, helping our wedding flow on time quite nicely! I would refer your company for sure!! If anyone asks or is looking I will be sure to send them your way :) Thank-you so much for making my officiant search easy and convenient! We loved having Bob there to marry us, it was a fantastic day!
Madison & Justin
Bob Quick was excellent. I really appreciated how simple he has made everything and how he has still made himself available to answer any questions that we could possibly have regarding our marriage certificate. I really liked how he made available all different kinds of ceremonies and we were able to customize one specifically for us. The entire service has made this completely simple. For someone who found the idea of wedding planning daunting this service really helped me reduce stress in this area of the day. Bob asked us what we wanted and after that took care of everything. Thank you for helping make our special day a reality.
Mary Lou and Paul
Many thanks Bob...and thanks again for doing such a nice job of our wedding ceremony! You really helped make our day a special one. You have a very nice way about you, a wonderful mannerism and an excellent presentation and speaking voice. Not to mention your spiritual side, which shined through!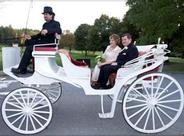 Molly and Victor
Hi Bob, Victor and I wanted to extend our sincere appreciation for your incredible services at our wedding ceremony on July 24th. I can't imagine anything (or anyone!) that could have made our ceremony more special. You were warm, humorous, and completely understanding of our desires to keep things light-hearted and comfortable. Guests are still commenting about how it was the most intimate and "real" ceremony they have ever been to!!! Thank you for being so open-minded and allowing our personalities to shine on our special day. We're truly thankful for everything that you did to make our ceremony so perfect for us. -Molly (and Victor, too!)
Kaila & Jesse
Bob Quick was a great officiant. He was punctual not only for our meetings but of course the wedding! He more than exceeded our expectations. Several of my guests commented on how clearly he spoke and emphasized the important parts of our personalized reading and vows.
Brian & Lyndsay
When we first met Bob Quick cannons roared, mountains crumbled, and sparks sparked when he walked. We would recommend Bob to anyone, as he was recommended to us. Thanks Bob and All Seasons Weddings for your fantastic services!
Virginia and Adam
Hi Bob, thank you so much for performing our marriage ceremony. It was absolutely perfect, and I think the guests liked it too hehe. Thank you again, and have a wonderful wedding season. Cheers, Virginia and Adam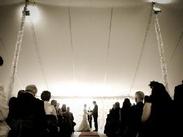 Julie and Will
Bob, Thank you very much for being our officiant! We finally have our pictures back and here is one that we have attached to this email! Thank you again for all that you did for us!