Bill Buckland
Request Bill Buckland
Secteurs desservis
In ON: Casselman, Chesterville, Crysler, Finch, Kenmore, Limoges, Metcalfe, Ottawa, Ottawa East, Ottawa South, Ottawa West, Russell, St. Albert In QC: Ayer's Cliff, Bishopton, Cookshire, East Angus, Lachute, Lennoxville, Magog, Milby, North Hatley, Sawyerville, Sherbrooke, Waterville
Commentaires
Adam & Rikki
Bill Buckland was very professional, did an amazing ceremony!Thank you very much for everything that you have done for us. Adam & Rikki August 2020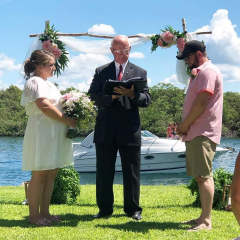 Alexandra and Robert
Good morning Bill, Thank you again for everything on Saturday. It was such a beautiful day! Thanks again for being part of our special day. It was perfect.
Christine & Gord
Bill Buckland exceeded out expectations! He was professional, engaged and kept us smiling at all times. Bill walked us through the ceremony at our first meeting and emphasized that the ceremony was "ours". August 18th, 2018
Sarah & Jon
Bill Buckland made all of our expectations. August 25th, 2018
Amber & Michael
Bill Buckland did an amazing job. He is professional, courteous and caring.
Trish & Greg
Bill Buckland was absolutely amazing. He was friendly, easy-going, and a pleasure to have officiate our wedding ceremony. I would recommend using All Seasons for your officiant needs.
Jenny and Eric
We had the great privilege of having Mr. Bill Buckland as the Officiant for our Christmas Eve wedding. What a wonderful gentleman; he is warm, caring, a great listener, and very knowledgeable. He was an absolute joy to work with, provided helpful guidance, and conducted the ceremony with style and grace. Thank you Bill, our family is grateful to you.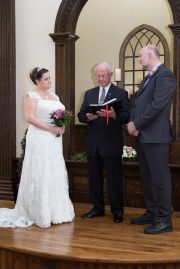 Greg and Trish
Thank you for being a part of our wedding ceremony. it was an absolute pleasure having you - everything was so perfect. take care Greg and Trish
Emily and Chad
Hi Bill! Chad and I would like to thank you for doing such an amazing job officiating our wedding on July 9th at Lago. The day was perfect and it couldn't have been done without you! Warmest thanks, Emily and Chad
Stefanie & Marco
Bill Buckland was amazing and made us feel so comfortable!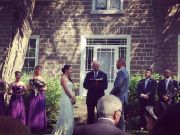 Jozef & Jaroslawa
Mr. Bill Buckland ... friendly, helpful, nice, what else can we say He was amazing. Thank you Bill, thank you.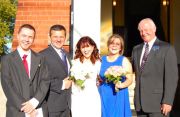 Scott & Crystal
Bill Buckland did a great job. We were very happy with the service. Thanks so much so making this process so easy and memorable.