April Luchies
April est favorable à toute cérémonie de mariage; elle accueillera tous les couples qui souhaitent se marier. En tant qu'infirmière autorisée dans la région d'Oshawa, elle est parfaitement bilingue en Français et anglais et a la capacité unique de tisser des liens très profonds avec les gens. April est la mère de deux garçons et vit un mariage heureux avec son militaire. April sait ce que c'est d'être remariée et affirme que « notre amour est le triomphe de l'espoir sur l'expérience ». Elle a une bonne expérience d'oratrice, grâce à son passe-temps de reconstitution médiévale. Nous savons que vous trouverez April souple et dispose à travailler avec vous pour que vous puissiez profiter de la cérémonie qui répond à vos rêves.
Request April Luchies
Secteurs desservis
Whitby, Oshawa, Pickering, Ajax, Courtice, Bowmanville, Clarington, Port Perry, Uxbridge, Markham, Stouffville, Brooklin, Lindsay, Little Britain, Orillia
Commentaires
Josh & Jenna
April Luchies was AMAZING and exceeding expectations, thank you for everything! Josh & Jenna October 2019
Ryan & Madison
April Luchies was amazing and made me feel so at ease. She has a way about her to take away any anxiety.April is so well spoken and you can see the compassion she has for the couple. Thank you for everything! Ryan & Madison September 2019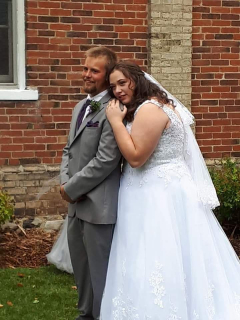 Jeremy & Nicola
April Luchies was everything we wanted in an officiant that we didn't even know we wanted. She was amazing. We got so many compliments about her and what a beautiful ceremony it was. She went above and beyond to ensure that our ceremony went perfect and was patient with us. She worked hard to understand who we were and how best to give us the ceremony that would work for us. Part of me wants to get married again so she can be my officiant again! November, 2018
Laura & Johnathon
April Luchies was amazing. Would totally recommend her! June, 2018
Alayna & James
April Luchies was absolutely amazing! She is incredibly friendly, thoughtful and professional. She quickly adapted to exactly the type of ceremony we were looking for. Running through the rehearsal with her was a breeze, as was our communication throughout the whole process. We are so grateful to have found April to officiate our wedding and highly recommend her to anyone!