Amanda Zuke
Request Amanda Zuke
Secteurs desservis
Sault Ste. Marie
Commentaires
Kehinde & Melanie
Amanda Zuke was fantastic. Very easy process, everyone was friendly and informative. Thank you . January 2023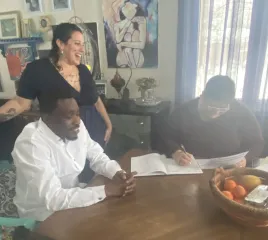 Jason & Kara
Amanda Zuke exceeded our expectations . Thank you for a beautiful ceremony . August 2022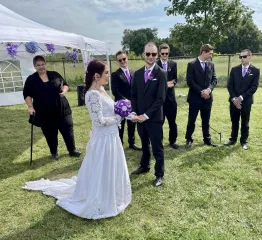 Kevin & Kesha
Amanda was absolutely amazing! She has a very friendly and calm air about her. I was so busy getting ready I didn't even remember to speak with her before the ceremony. She helped incorporate our traditional indigenous ceremony into the regular ceremony. I will be forever grateful to Amanda for that ❤️ thank you! June 2022
Tyler & Jordan
Amanda Zuke was very patient, helpful, kind, with good a sense of humour. With everyone we coordinated with throughout planning our wedding, she was probably the easiest to work with. Thank you Amanda ! April 2022
Joseph and Sue
Amanda Zuke made my signing ceremony feel special by the way she spoke. She immediately made us feel comfortable. Our financial affairs are meager so there was no decor, no reception but the actual event itself felt extremely special and full of love! It was one of the happiest days of my life! I'm sure just as special as any bride feels no matter how elaborate or small the ceremony was. So thank you Amanda for one of the most happiest days of my life! Joseph and Sue February 2020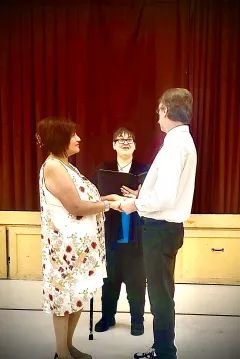 Dennis and Heather
Amanda Zuke is so personable and amazing! She married Dennis and I in February 2020, and we couldn't be happier! Amanda was very quick and to the point. She's a wonderful person and highly recommended if you're looking for a phenomenal wedding officiant. She came right to our house, and everything was so easy and straight forward. Such a beautiful person inside and out. Thank you again, Amanda!! Dennis & Heather February 2020
Jacques & Anne
Amanda Zuke was very receptive to what we wanted of our wedding day! Her approach made us feel comfortable and made our ceremony exactly the way we wanted it! Jacques & Anne October 2019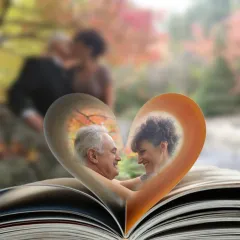 Amber & Mandi
Amanda Zuke was our Officiant, we are pleased with the level of service and patience as we worked through our wedding plans. Amanda did a great job of delivering the ceremony and was great to work with. Amber & Mandi August 2019
Karl-Egon & Jessica
Amanda Zuke was great! She was quick, to the point and very friendly. Exactly what we wanted. Karl-Egon & Jessica July 2019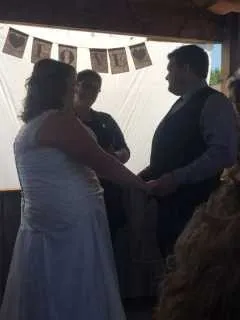 Liisa & Tyler
Amanda Zuke did an excellent job at our wedding. She read the room very well. Our ceremony was beautiful. Thanks Amanda!
Rosemary & Lionel
Amanda Zuke did not miss a detail. She made us very comfortable, she made us feel at ease and answered all of our questions, very positive person. We already have told all of our friends about Amanda and All Seasons Weddings
Paul & Richard
We were VERY pleased with how Amanda Zuke was able to cater to our needs. We were VERY happy with the service and the officiant was PERFECT! Thanks again for helping make our special day even more special!
Jessica & Joshua
Amanda Zuke was fantastic to work with. She provided us with a great framework for the ceremony and helped us customize it. Amanda performed the ceremony beautifully; she was relaxed, friendly, and engaging. We wouldn't change a thing.
Katie & Robert
Amanda Zuke was absolutely amazing, she alleviated a lot of stress and made the ceremony enjoyable and completely personal to us. I would absolutely recommend her to anyone getting married.
Ashleigh & Nathan
Amanda Zuke was very helpful in putting together the ceremony. We needed quite a bit of help with personalizing it, and she had great ideas and suggestions. Amanda was VERY friendly, and was a pleasure to spend time with.