Rev. Ernie Metz
Request Ernie Metz
Secteurs desservis
Cochrane, Airdrie, Crossfield, Didsbury, Beisker, Chestermere Lake, Okotoks, High River, Turner Valley, Black Diamond, Cremona, Bragg Creek.
Commentaires
Jennifer & Norbert
Ernie Metz was amazing! We would recommend him to anyone… He's a beautiful man! July 23 2022
Pierre and Steph
We were married on Sept 10 2022 with Ernie Metz. We just wanted to mention that it was a pleasure to have him as our officiant. He met with us prior to the wedding and was very receptive to our requests. We would highly recommend him to others.
Janice & Anthony
Ernie Metz met us a few weeks before the wedding to get to know us. We instantly liked him. The wedding was intimate with 30 guests and Ernie made sure to accommodate our wishes! He was pleasant, professional, and a pleasure to deal with! We would recommend him in a heartbeat! Aug 2022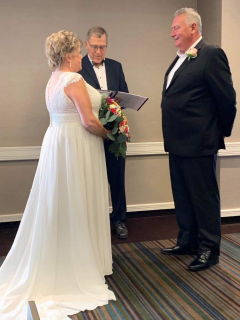 Chris & Catherine
We had Ernie Metz do our wedding as an officiant. He was really great. He took the time to talk to us and get to know us. We loved his calm demeanor and personality. Made things casual yet cheerful. Also was good at addressing our needs. Would definitely recommend. Ernie did a great job and would suggest him to any couples. May 2022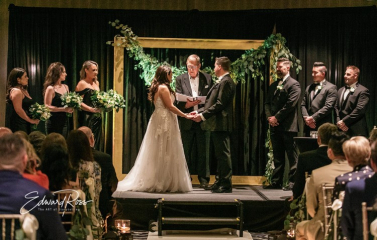 Warren & Marinda
Ernie Metz was great! He was early and patient with all of our chaos! I would definitely recommend Ernie to anyone! May 2022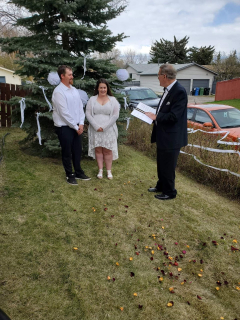 Marinda & Warren
We had a wonderful small simple ceremony. Ernie Metz was wonderful, polite, professional, and awesome. He was early and handled our children's chaos perfectly. Our original officiant was out due to covid and Ernie stepped in last minute and for that we are thankful. 10/10 would recommend him to anyone looking for an officiant! May 2022
Kenbe & Chinenye
Ernie Metz services exceeded our expectations. He was perfectly on time and was really patient. He made our guests feel very comfortable, accommodated our friends and family who were watching online and was cautious to involve them all through the ceremony (even though this was not pre-arranged with him). We would happily recommend Ernie to anyone looking for a kind and deliberate officiant who wouldn't treat their wedding like "just another one". May 2022
Joeun & Brendan
I am sending you this email to let you know that we had such a wonderful experience with Ernie Metz. He made us feel comfortable and also made us smile for our valuable wedding day. It was great that we had him as our marriage officiant! I hope to see him again in the future. April 2022
Charlyn & Antonio
Ernie Metz was very good and professional. September 2021
John & Angela
Ernie [Metz] was so wonderful through the whole experience. He was so caring and thoughtful and really listened to what we wanted for our marriage ceremony. He was amazing to work with and we couldn't imagine our wedding without him. Thank you Ernie! August 2021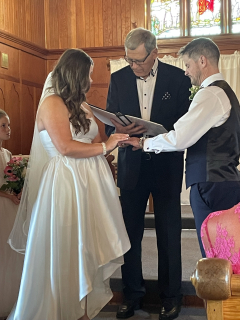 Eldridge & Reigem
Ernie [Metz] went above and beyond our expectations. Ernie was very accommodating with our requests to adjust the ceremony based on Filipino tradition. He's the perfect officiant, because I just see my grandpa in him, very kind and sweet. He also drove more than an hour for our rehearsal despite the traffic caused by some accident, he patiently waited for us and still did the rehearsals with us. Such a wonderful man! If we're going to do a renewal of vows we would totally book him again! We'll definitely recommend him. August 2021
Michael & Diana
Ernie Metz was perfect. Thank you for making our day possible. March 2021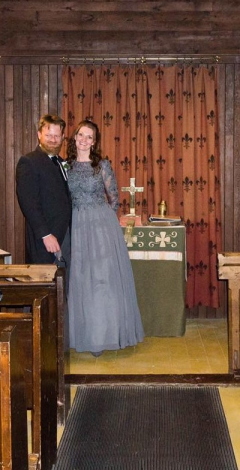 Kim & Mike
We had a beautiful ceremony at St Martin's Church in Heritage Park Saturday! Rev Ernie Metz did a very touching service followed by a beautiful blessing. I would highly recommend him for anyone who needs a minister.
Dan & Amber
Ernie Metz made our day very personalized to what we were looking for and made our day very special. We had a good feeling after our first meeting with him. Very happy and satisfied that Ernie did such a good job and was so easy going. October 2020
John & Marg
Ernie Mets was amazing with our wedding. He added some things to make our ceremony extra special which included a sand ceremony. His patients, honesty and professionalism was very much appreciated. As a score, I give him 10 out of 10, Perfect! John & Marg September 2020
Nicole and Philip
I just wanted to let you guys know how pleased we were to work with Ernie for our big day. He has such a calming demeanour, was so easy to work with, great at making us feel more comfortable when nervous during the ceremony and he has openly offered to help provide any additional guidance we may need as Philip and I go through life together. I highly recommend Ernie as it was such a pleasure to work with him Regards Nicole and Philip (married Aug 15th, 2020)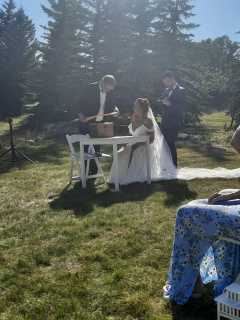 Bradley & Farzana
We wanted to thank Ernie Metz for officiate our wedding . Everything went great! We appreciate and thank him driving to Strathmore for us when the roads weren't that great with the snow! He was early, very pleasant and professional and everything went smoothly. Highly recommend him. Bradley & Farzana December 2019
Robert & Melanie
Ernie Metz was thrown a curve-ball in relation to the needs of our ceremony and accommodated us without judgement or hesitation. He provided a beautiful commitment ceremony for us to consider and we wound up changing nothing. He listened and heard what we were hoping to accomplish during out initial meeting with him. He is a kind and intuitive man, speaks eloquently and helped to make our special day that much more memorable. We highly recommend him to anyone seeking a meaningful and treasured wedding experience. Robert & Melanie October 2019
Lisa & Mike
We met with Ernie Metz shortly after our confirmation was sent to us ,we could tell Ernie would be a warm person just by his photo. After the meeting with him we had such confidence he would be a perfect fit for us. He did not disappoint! We were surrounded by many family and friends and Ernie's delivery was perfect. We are so happy with our ceremony and his service. We will not hesitate to recommend All Seasons and Ernie to others. You were so responsive and timely to our requests and everything flowed so smoothly. Thank you for everything! Lisa & Mike September 2019
Kyle & Megan
Ernie Metz was very kind and soft spoken officiant. He made us have a very unique and blending experience tailored to our family. My husband had two kids before we got together and Ernie incorporated the kids into our ceremony. Kyle & Megan. July 2019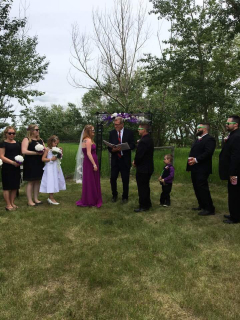 Mark & Alejandra
My Wife and I were very pleased with the ceremony that Ernie Metz performed for us. Ernie is a gentleman with a very calming nature, he made our ceremony very special by way of his thoughtful words and guidance. We really appreciated his offer of support in the future on our journey of marriage. We are very happy with our choice of officiant. Thanks again Ernie! Mark & Alejandra May 2019
Mr. & Mrs. Johnson
It was such a pleasure to have Ernie Metz officiate our wedding on February 14th, 2019 in our home. Not only was he courteous and professional, he made everything so simple for us. He has such a pleasant and joyful demeanor and made our wedding day so special. Ernie Metz was an absolute pleasure to work with. When we first spoke with him on the phone he was very easy to talk to, explained everything in detail, and ensured us that he would be able to customize our ceremony to our liking/traditions. Once we met with him in person, he further explained what we should expect to use for the ceremony. For only meeting Ernie Metz one time before our ceremony, he managed to make us feel like we had known him forever. He was very personable and professional. His plans for the ceremony were communicated clearly and were well thought out. The ceremony was BEAUTIFUL. Ernie included every tradition that we asked for. He made the passages we chose to be said during the ceremony flow smoothly and transition nicely. Overall, he was fantastic and we were so happy to have him as our officiant. We highly recommend him to anyone that wants their wedding done with such professionalism. THANK YOU SO MUCH! Mr. & Mrs. Johnson, February 2019