Wendy Onstein
Wendy calls Brockville home, born and raised. She thrives on seeing people succeed in life and wants to cater to your custom wedding ceremony. People choose Wendy because she has a passion and dedication to make your wedding day a lifelong memorable experience in an organized, modern and energetic way. She is knowledgeable, honest, punctual, fun and approachable.
Request Wendy Onstein
Areas served
Algonquin, Athens, Brockville, Cardinal, Iroquois, Lyn, Maitland, Merrickville, North Augusta, Prescott, Rockport, Roebuck, Spencerville
Reviews
Darryn & Tabitha
Wendy Onstein did an amazing job! She listened to everything that we wanted for our ceremony, and incorporated it all!! We knew that Wendy had not done many weddings before us, but it didn't show! She was a natural! It was exactly what we wanted, thank you for being a part of our special day!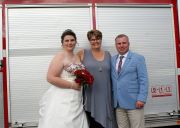 Karen & Kevin
Wendy Onstein was fantastic with us! We didn't have a clue about how our ceremony would run, she went through our options, and made us feel at ease! She was an absolute delight!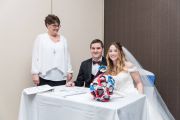 Joanne & Daniel
Wendy Onstein provided us with some great advice and was very organized.
Bill & Megan
Wendy Onstein was amazing to work with. She always got back to us if we had a question and was willing to work with us from the beginning. She performed a very beautiful ceremony and we couldn't be happier. She gave my husband a play by play of when I was coming down the walk way at Mallorytown landing or shall a say a chariot since there was flooding lol. We are extremely happy with everything!! Thank you again Wendy for being part of our special day. Hugs Bill & Megan June 2019