Vera Oglan
Vera was recently voted by her peers as the 'Most Popular Wedding Officiant in Windsor' at the prestigious international Wedding Industry Experts 2016 Awards. Vera is a very warm, genuine, compassionate and caring person who loves to help people and will go the extra mile to make your wedding ceremony most memorable. She will sit down and suggest ways you can customize your wedding vows. She will work with you to make sure that your wedding ceremony will be enjoyed by everyone. She is able to conduct non–denominational and spiritual wedding ceremonies you and your guests will be proud of. Vera has conducted hundreds of wedding ceremonies of every kind and in a multitude of locations.
Request Vera Oglan
Areas served
Windsor, LaSalle, Amherstburg, Maidstone, Tecumseh, Belle River, Emeryville, Lakeshore, Kingsville, Essex, Cottam, Comber, Harrow, Ruthven, Leamington, Stoney Point, Wheatley, Woodslee, McGregor.
Reviews
Anne-Marie & Ryan
Vera Oglan exceeded our expectations! Vera was warm and friendly. She made all of our guests feel welcomed at our wedding. It was a great day and we have Vera to thank for it. Thank you for your service!
Alexandrea and Riley
Vera Oglan performed a beautiful ceremony!
Kathleen & Mike
Vera Oglan was amazing she was so warm and welcoming and did a fantastic job. So easy to talk to and was very funny too. We both loved her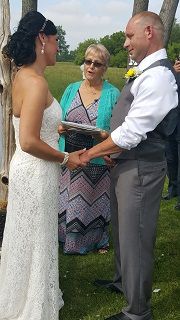 Cindy & James
I would like to say that Vera is a wonderful lady! She married both James and myself and made us feel so comfortable. I would definitely recommend her to my friends and family! So glad that my daughter had recommended All Seasons to us.