Suki Garson
Life is meant to be wondrous and meaningful. Give life meaning by celebrating those special events and moments in life. This is how Suki will approach your wedding day – a wondrous day, full of love, joy and meaning, a celebration of your two hearts connecting, uniting. Suki's passion for celebration was initiated as she studied ancient wisdoms, specifically Huna. This led her to become an ordained interfaith minister where she recognizes, accepts and honours people of all faiths, traditions whether religious, secular, interfaith, same sex or spiritual. Congratulations on your upcoming wedding – may your love grow with each passing day.
Request Suki Garson
Areas served
Hamilton, Dundas, Ancaster, Stoney Creek, Lynden, St. George, Grimsby, Copetown, Flamborough, Greensville, Waterdown, Milgrove, Carlisle, Kilbride, Lowville, Freelton, Puslinch, Alberton, Mounthope, Carluke
Reviews
Charlene and Fred
Meeting Suki garson was just a great pleasure.At our meeting with Suki prior to the wedding it didn't take long for us to realize that Suki grasped the type of ceremony that we wanted and delivered exactly what we requested.I am very grateful to All Seasons Weddings and especially to Suki for the beautiful ceremony.If anyone were to ask me if I recommend All Seasons Weddings and Suki Garson the answer would be a resounding "YES."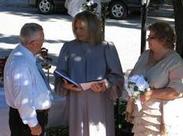 Sheryl and Tom
We would like to give our utmost thanks to Suki Garson! Her professionalism, and ability to bring our ideas for our wedding ceremony to life went beyond our expectations. She answered any questions we had, gave helpful advice when it came to writing the vows, and made our day very special. We would and will recommend her to anyone we know who will be getting married.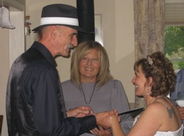 Catherine and Ken
To Suki Garson in Hamilton. Thank you SO MUCH for the energy and passion you brought to our wedding day. Your poem has me bawling my eyes out . You are such a beautiful person and we are very fortunate to have met you.I will be printing and framing your poem. We will cherish it forever as it will be relevant throughout our journey together.Our family was very grateful for the words you shared about our uncle Dan, thank you for that.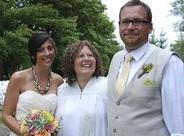 Karen and Rob
Suki(Garson), thank you for being a part of our wedding day. We knew the moment that we had the opportunity to meet you that you were exactly the right person to perform our wedding ceremony. You gave us the unique opportunity to allow us to make our day our own and everlasting. There is no doubt in our minds that you would do what it takes to make another couple's day special like ours.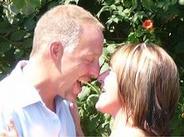 Heather & Dave
Suki Garson was wonderful! She was very helpful and encouraging with suggestions. She was also open and accepting of what we wanted or didn't want in our ceremony. It was a pleasure to go through the process together with her to make our wedding day special.
Ken and Nadine
Nadine and I would like to thank you for helping us arrange our beautiful wedding ceremony. We could not have asked for anything more perfect and you made it all come together. You did an amazing job and we certainly would recommend your services to any of our friends and family. Also we want to thank you for the copy of our ceremony, it will be cherished. Again we want to thank you for the amazing services. Take care and we will certainly let you know when the 4 weddings show will air. Ken and Nadine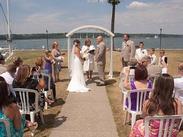 Sherilynn and Thomas
Suki We want to thank you so much for the beautiful job you did at our wedding ceremony. It was so much fun to work with you and it really meant a lot to us that we were able to bring in so many of our own ideas. It really did feel special and personal to us and all of our guests thought so, too. Thanks so much again for everything!!!!!!!