Steven Crawford
Steven who lives in Oshawa, is an Appointed Minister with Clergy Support Church. He is a very caring and compassionate person with a great sense of humour. He loves life, his wife of 25 years and his 2 teenage children. Steven has seen everything life can throw at you and believes the key to getting through anything is laughter. Conducting weddings since 2001 he has an uncanny ability to put people at ease and to lighten any moment to ensure everyone is comfortable and has a great day. He will work with you to ensure that your wedding day will be everything you dreamed it to be.
Request Steven Crawford
Areas served
Oshawa, Brooklin, Whitby, Ajax, Pickering, Courtice, Bowmanville, Newcastle, Port Perry, Uxbridge, Goodwood, Ashburn, Claremont, Nestleton
Reviews
Kim and Carly
We would like to thank Steven Crawford for a beautiful ceremony. He was very helpful and professional in our pre-planning meeting. He was very accommodating to the changes we requested, even if they were last minute. The ceremony was exactly what we wanted. The timing and pace was perfect. We have had nothing but positive comments about the ceremony. I would definitely recommend Steven Crawford. He is an excellent officiant focused on making sure your day is perfect. Thank you again! Kim & Carly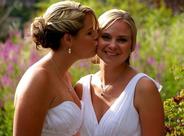 Marlene and Murray
We are to thank Steven Crawford for such a memorable true to us ceremony. We live our lives laughing and I had searched for months before finding the right Officiant to fit our characters...it took me months before stumbling onto your post. You mention that laughter is a big part of everyday. You were the good sport. I loved the parts I knew were coming and anxious for what I didn't. Family and friends alike said it was the most memorable Wedding Ceremony they had ever been to...Laughing and being themselves. Murray and I don't take ourselves to seriously most days. All in all, I think I had "My Perfect Wedding."
Jennifer and Sam
Thank you so much for sharing in our special day! Steven beyond exceeded our expectations and we received so many wonderful compliments regarding our ceremony. We both felt extremely comfortable with Steven and are so thankful he could be part of our special day. He made it truly memorable. He was extremely accommodating to all our needs and was extremely punctual and professional each time we met. We will definitely be recommending him to our family and friends!
Joanna and William
Steven Crawford was the most wonderful Officiant we have ever encountered. He was incredibly relaxed, professional and kind. We are so thrilled that Steven was a part of our special day as he was the absolute perfect person to officiate our nuptials. We are so very grateful to Steven for everything.
Christina & John
Steven Crawford was absolutely great. Everything went exactly as planned. Steven was extermely helpful and I would recommend his services in a heartbeat. My wife and I would like for you to forward our thanks and gratitude to. Steven for everything. Many many thanks!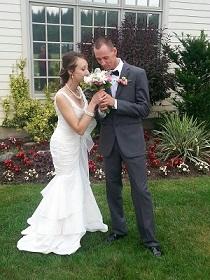 Zbigniew & Louise
Steven Crawford was excellent. He really made us at ease and the ceremony suited us. He really helped make our day special.
Fleur & Reg
From the moment we met Steven Crawford we knew we chose a fantastic officiant. He helped us through the entire process and let us know that we could contact him at any time if we needed support. During our wedding day, he was receptive to our request to alter the speech and was a calming presence while still being fun and confident in his delivery. If you're considering Steven as an officiant, we would certainly recommend him on your special day.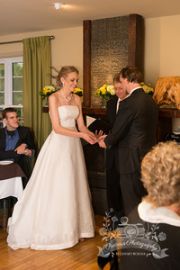 Don & Sarah
Sarah and I were very impressed with your service, the way Steven Crawford performed the ceremony and how he took the time to talk with us before and after the ceremony.we would certainly recommend this service and steven to anyone who wants to get married. Thank you so much for all your help.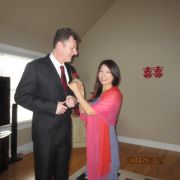 Sharon & Brian
Steven Crawford went way above our expectations - friendly, sincere, very adaptable to changing situations. Our guests loved him! We would definitely recommend him. This is my 2nd experience (my daughter used your services 2 years ago) and we are extremely impressed! We can't thank Steven enough for making our ceremony so beautiful and memorable!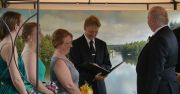 Heather & Dave
Steven Crawford was an amazing officiant! We had mixed ideas of what to incorporate into our ceremony and vows, and he created the perfect blend of spiritual, religious and non-denominational content. He was knowledgeable, patient, funny and very easygoing. Our wedding party commented on how relaxed he was, as did our guests, making it a very lovely ceremony. Our limo was late to the ceremony venue, and so we were in a bit of a rush. But he reminded us to slow down, take our time and enjoy the moment, which allowed us to take every second in! We would definitely recommend Steven for future ceremonies.
Erin & Jason
We cannot thank you enough for performing our wedding ceremony. The ceremony was beautiful and so well delivered. You made us forget about the stress of the day and just focus on one another and our vows. We have received many compliments about you! Thank you again. Kind regards,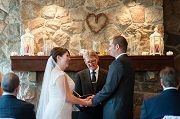 Sharon & Mikey
BIG shout out to All Seasons Weddings where we found our fabulous Minister Steven Crawford. He made our vow planning and wedding day stress-free and so much fun. We gave him tidbits to incorporate into vows and his timing and personality could not have been better matched to our personalities. Anyone thinking of getting married we would definitely recommend this company!! Thank you Steven for making our day extra special xo