Steve Zink, M. Div
Steve is a dynamic public speaker, engaging, funny, and inspiring person. With a background in ministry and the Toronto film industry, Steve came to Ottawa bringing his great passion for acting/public speaking and helping people. He is sympathetic, respects and acknowledges the inherent beauty in diverse religious/philosophies and traditions. Steve resides in Kanata and his spare time usually involves kickboxing, musical composition, French roast coffee, reading, and a Tanqueray TEN martini (in no particular order). Steve is steadfastly committed to ensuring your wedding day is second to none! On top of that he is a really great wedding officiant with a great voice.
Request Steve Zink
Areas served
Almonte, Barrhaven, Carleton Place, Kanata, Kemptville, Kenmore, Manotick, Metcalfe, Mississippi Mills, Munster, Nepean, North Gower, Orleans, Ottawa, Richmond, Stittsville
Reviews
Laurie & Bryan
We are more than happy that we chose All Wedding Ceremonies. It was as simple as we wanted. We really enjoyed our officiant Steve Zink. He was funny, easy going, and made our day enjoyable. Thank you again Steve, you're awesome!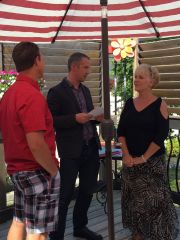 Natalie & Tyler
My husband and I were very fortunate that Steve was available to officiate our wedding. After a series of conversations with our original officiant, it became clear to us that we did not see eye to eye and we needed to find someone better suited for our needs. Steve met us at our convenience, close to home & we connected with him instantly. He understood the importance of a rehearsal (something we were having to convince our original officiant of), and was completely accommodating in terms of what we envisioned for our ceremony. His presence made everyone comfortable and calm, but he also brought a great sense of humor where appropriate. Steve is the perfect balance between very easy going and professional! It was a pleasure to have him share such a perfect day with us.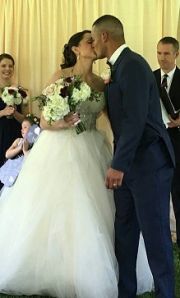 Ann and Doug
We decided to have an officiant perform our 15-year wedding anniversary and vow renewal ceremony and we are just over the moon happy with Steve. He is just so kind and considerate. He worked with us to ensure we got exactly what we envisioned and he was absolutely bang on in his delivery. He was enthusiastic and so encouraging. He engaged with everyone in the room before and after the event. What a great guy! He obviously has a passion for his profession and he exhibits this from the moment you contact him. We highly recommend Steve. You will not be disappointed. Ann and Doug
Kaitlyn
Steve (Zink) was amazing. So accommodating and easy to work with. He took so much stress away on the day; professional, prepared and dependable. He is great at what he does; answers any questions you have, make things so easy to understand. He's got a great personality my husband and I felt so comfortable and our guest really enjoyed him! Would highly recommend Steve!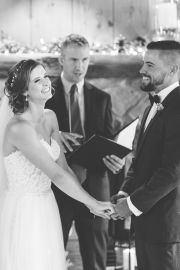 Kelly & Austin
Steve's calm and pleasant demeanor made working with him very easy. He is knowledgeable, listens well, and communicates clearly and directly. We appreciated his wry sense of humour, both during the planning and on our big day. At the ceremony, Steve (Zink) was reassuring and relaxed, which put us at ease on a very exciting day. Would highly recommend - thanks Steve! Kelly & Austin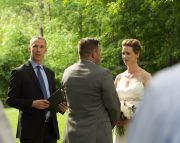 Francine & Greg
Steve Zink was great. Prepared, easy going, helpful. Fit right in with our wedding
Wendy & Paul
Steve Zink was everything we were looking for. Warm & friendly & totally professional. We would recommend him to anyone.
Wendy & Adrian
Steve Zink was so great before, during and after our wedding! He was more than helpful and answered any and every question we had for him. He could not have made our ceremony any better. Thanks so much Steve!
Melanie & Thomas
Steve Zink was the perfect officiant for us. He fit with our wedding party dynamic, he handled my fumble well during the vows and, although this is serious, made it lighthearted and fun. We were really glad we had chosen Steve.
Wendy and Rob
Hi Steve, Just wanted to say thank you for the wonderful job you did making our wedding ceremony so special and memorable! We really appreciate how you worked with us to make it our own and how you perfectly captured the mood of the perfect day. Many of guests told us how welcomed they felt being part of the ceremony! Wendy and Rob Ottawa May 27, 2018
Anonymous
Steve was amazing! He was funny, he kept it light, and it was an enjoyable ceremony :) He did a great job and our guests had great things to say about him!
Jessica & Robert
Steve Zink met ALL our expectations and more. He made us feel so comfortable and made us laugh and our wedding guests thought he was great! He still continues to answer any questions I have and replies to emails promptly. Steve is amazing such a good hearted gentleman, friendly and professional! [July, 2018]
Maria & Daniel
From the start, Steve Zink was extremely easy to work with and he took the time to really understand the type of service we wanted and the details of it. Steve had a very upbeat and positive attitude. He knew we wanted it quick and simple and he was very enthusiastic about it. He was passionate during the ceremony and delivered what we wanted and more! Steve was so easy to communicate with, his response was always prompt, leading up to our wedding day and extremely accommodating to any wants or needs we had for our ceremony. We would highly recommend Steve to anyone! July, 2018
Cassie & Corey
Steve Zink was absolutely wonderful and we truly felt like he was the perfect fit for our big day. Our ceremony was short, sweet and funny; we had many compliments about how beautiful the ceremony was by our friends and families which really meant a lot to us. Thank-you Steve for making this process so very easy :) November, 2018