Shirley Clermont
As an experienced licenced wedding officiant, I offer my Integrity and commitment to help make your special day one of your happiest. I am fluent in English and French, I have a good sense of humor and I'm a good listener. Presiding over your choice of spiritual, traditional or same-gender wedding ceremony is my priority. I have a background with the public with 25 years of management, 10 years as a beauty counsellor and 15 years in daycare.I live in Hawkesbury and I enjoy volunteering at the culture center, and for (Nova) the battered woman shelter and the food bank.
Request Shirley Clermont
Areas served
Alfred, Alexandria, Chute a Blondeau, Dunvegan, Hawkesbury, Laggan, Lancaster, L'Orignal, Plantagenet, Vankleek hill, Wendover, Grenville ,Calumet, St Philippe, Browsburg, Lachute, Rigaud, Mirabel, St.Canut, St André D'Argenteuil, Hudson
Reviews
Amber & Quinn
Thank you so much, Quinn and I really like you and are so happy to have you there for us. We both wanted a woman to marry us, and you are so kind. Thanks again for everything.
Gaby et Jérome
Merci Shirley (Clermont) d'avoir célébré notre mariage et d'avoir fait de cette journée un moment mémorable. Tu nous as fasciner avec ton ouverture d'esprit, à l'écoute de nos choix et nos envies pour la cérémonie. Tes textes étaient créé de façon original et unique de notre personnalité. Merci pour ton côté professionnels et amicale. Encore mille fois merci Shirley de nous avoir unis en cette belle journée de printemps. Gaby et Jérôme
Catherine and Ayoade
We would like to say a big thank you to Shirley (Clermont) for making both of our ceremonies so special. The ceremony that we did with family and friends was just perfect and exactly what we wanted, Shirley took the time to listen to us and understood what we wanted. Our second more intimate ceremony was so special because of Shirley and her kindness and generosity. We would definitely recommend her to anyone, she was very attentive to our wishes, made us feel at ease with her loving personality, and her touch of humour. It shows that she really loves her job . Thank you again Shirley, for all you did for us!
Jill and Glenn
Oh wow where to start??! From the moment we met you Shirley(Clermont) and you wrapped me up in a big hug we knew you were the right choice for us. Shirley, thank you so very very much for the lovely ceremony last night. You absolutely understood what we were looking for and took it to the next level by making it unique and personal. It was intimate, sweet, comical and just magical. Your words touched us both very much as well as our families. You took the time afterwards to speak to our family and they absolutely thought you were the perfect fit for us. Your communication was extremely clear and efficient and we appreciated all the small touches (you even color coordinated your outfit to match our colors!). Thank you for helping make the night magical!!!!!
Alain et Audrey
Merci beaucoup Shirley (Clermont)! Vous avez été d'une grande aide pour nous! Nous sommes très heureux que vous ayez fait partie de notre journée. Tout était parfait!! Merci 1000x!
Gillian & Gregory
Shirley Clermont was very professional and her experience shined through both in preparing for, and on our big day. Thank you so much for enabling such a worry free ceremony. We are so pleased with your timely responses and professional team. Could not ask for a better outcome. Many Thanks!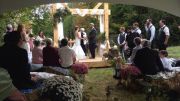 Cind & Joey
Joey and I would like to thank you Shirley (Clermont) for performing our wedding on Saturday. You made it feel very personal and intimate. We could not have asked for any better, making our day that much more special. Cindy and Joey
Terri and Kris
Shirley (Clermont) gave our wedding ceremony a special elegance and warmth. Leading up to the wedding Shirley was organized and efficient, gently guiding us through the process with good ideas and flexibility for our ideas. She arrived early and instantly made everyone comfortable and ready to celebrate. Shirley executed the ceremony beautifully, helping our small group feel at ease. And she made it all official! It makes all of the difference to have a professional there to support and guide a most important moment in our lives. Thank you, Shirley, for everything! Terri and Kris Dec 31st, 2017
Luke & Elizabeth
Shirley Clermont exceeded our expectations. She was incredibly flexible and accommodating of our ridiculous schedule while we hunted down our marriage license. So much thanks and appreciation to her! Just a giant thank you! We become teary when we return to the memories of this day and the days leading up to it. Shirley and your organization made our day unforgettable. Perfect.
Elisabetta & Allen
When we decided to use an officiant, we sought out All Seasons Weddings to see how they could accommodate our needs. They connected us with Shirley Clermont and we were instantly put at ease that she was the right person for us! Then, when unexpected challenges arose, she made herself very accommodating and went the extra mile to be flexible and to put our concerns at rest. We are very appreciative and grateful for her caring and passion in what she does. She added such a nice personal touch to our celebration and things couldn't have gone any better, all due to her devotion to what she does. We consider meeting her as a Divine Appointment and we know that she will continue to be a blessing to many other couples, just as she was to us! Thank you so much dear Shirley and God bless you always!! Elisabetta & Allen March 8th, 2019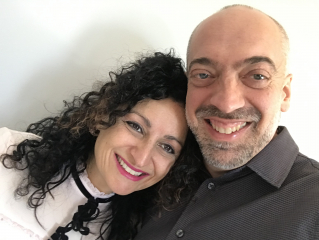 Michel & Éléna
Our wedding with Shirley Clermont was perfect. She is attentive, kind and sensitive. We chose to marry in her beautiful home as we had our 9-month-old baby with us and preferred to get the marriage licence in the morning and then go straight to her house. If that weren't the case we would have asked her to come to the Fairmount Chateau Montebello where we were staying for the week. Thank you so much for a great experience. Michel, Éléna and baby Théo April 2019
Roch & Nathalie
Un gros merci à Shirley Clermont pour notre belle cérémonie qui était à notre image, simple et touchante. Nous avons bénéficier d'un service très professionnel!!! Roch & Nathalie June 2019
Stéphanie & Francis
Nous voudrions remercier Madame Sherly Clermont de nous avoir permis d'avoir une si belle cérémonie pour notre marriage samedi passé 🙂 très bon service! Stéphanie & Francis juillet 2019
Daniel & Karine
Nous avons seulement de bons commentaires pour All seasons et Mme Shirley Clermont. Elle a réaliser la simplicité que nous voulions pour notre cérémonie de mariage. Merci pour tout. Daniel & Karine July 2019
Réal & Jessica
Shirley Clermont was absolutely amazing, we are so grateful that she was our officiant for our special day, not only was she friendly but she was also very soothing and comforting. The staff was very helpful and quick at answering our questions and we thank you for that. We would definitely recommend your services to others who are looking to make their day even more special. Réal & Jessica. July 2019
Saif & Nora
We want to thank Shirley Clermont for giving us the best memories of our wedding ceremony! Shirley did an amazing job, she is so lovely and sweet she made us feel so welcomed in her lush green backyard as its were we did our intimate wedding ceremony. We Couldn't have it any other way! Thank you for everything Saif& Nora July 2019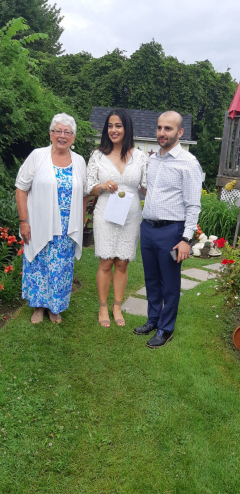 Claire & Mathieu
Je te remercie de tout coeur Shirley Clermont tu es très professionnelle,ton beau sourire,ta chaleure humaine fait de toi une personne speciale. Je n'ai qu'un mot pour cette belle cérémonie MERCI ❤ Claire & Mathieu September 2019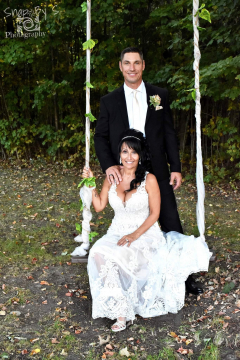 Anthony & Christi
It was a honor to have Shirley Clermont marry us. She is so kind hearted, you could feel the happiness coming off of her. The ceremony was short and sweet, just how we wanted it. It was perfect. Thank you so much Shirley Clermont . Anthony & Christi September 2019
Sean & Jessica
Shirley Clermont made a stressful day move forward with ease. What helped was meeting her ahead of time and talking through the whole process. Her welcoming personality and warm demeanor really pulled everyone together and set us at ease. Her being perfectly bilingual made the day that much more special. Thank you Shirley for going above and beyond with everything! Sean & Jessica October 2019