Sandra Ruch
Sandra who lives in the Beaches area brings a professional attitude infused with joy and enthusiasm to both your wedding planning and your wedding day. She is a mother and grandmother, who loves to sing and was an educator prior to her wedding ministry. She is a leader in her community and works hard as a human rights activist. She loves wedding ceremonies and hopes to facilitate a wedding ceremony to meet all your expectations. She believes in the inclusion of all. Wherever you choose to celebrate - in a traditional setting or under a waterfall, Sandra will bring just the right amount of reverence to your wedding ceremony.
Request Sandra Ruch
Areas served
Don Mills, Etobicoke, Markham, Mississauga, North York, Oakville, Ontario Place, Richmond Hill, Scarborough, Thornhill, Toronto Downtown.
Reviews
Courtney & Allan
From start to finish my experience was fantastic! Everyone at All Seasons Weddings made our official wedding ceremony easy plan and they are extremely efficient in planning and wonderful to communicate with. Sandra was our wedding officiant and I can't say enough about how pleasant, kind and wonderful her spirit is. When I first welcomed her into our home, I felt like I had known her for years. She is warm and caring and took the time to get to know us. Initially we had planned to have Sandra come to our home and sign our marriage certificate but she made us feel special and put the care into her role to present a sweet speech and really highlight what it means to commit to marriage. We had already had a symbolic wedding ceremony at our destination wedding but Sandra still made our quaint living room gathering feel special. Thank you Sandra! I talk about you to all my friends getting married and really hope that you can spread your kindness and spirit to other couples. You really left and impression on us and thank you for being our officiant!
Andrea & Rob
We had the absolute pleasure of Sandra Ruch officiating our wedding ceremony. From the moment we met Sandra it was clear that she truly cared about us and wanted our day to be tremendously special. She spent an evening getting to know us and helped guide us through what turned out to be a very personalized, well executed, and beautiful ceremony. Thank you Sandra for caring so much about us and delivering a beautiful ceremony.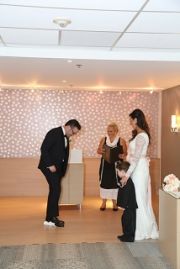 Kenana & David
Sandra Ruch was absolutely amazing! She went above and beyond to provide us with a ceremony that my husband and I both loved. She provided with us with many readings and gave us an outline of how the ceremony would go. She was professional, responsive and gave us lots of ideas! Our guests thought the ceremony was beautiful and memorable.Thank you so much Sandra! Kenana & David 09/17/2016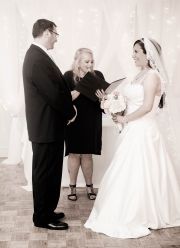 Joan & Dale
Sandra Ruch was awesome. She started off by sending us a bunch of possibilities for the ceremony, and we chose what to include and what not to include. It was really well-suited to us. She was also very warm and lovely. Everybody was very impressed With the ceremony. The groom is Deaf and very shy. She did a wonderful job of making him feel comfortable. There are so many people registered on the Internet, it was a bit overwhelming until we found you. Your list of officiants that gave a little information on them all was very very helpful. And interviewing two also worked well for us. They both seemed amazing. But we picked the one whose lips Dale could read best.
Kale & Justin
Sandra Ruch went beyond our expectations, she was kind and really guided us through the entire process. I have already had numerous people reach out to me asking for Sandra's information - she was a huge hit. Sandra was truly magnificent. She was accommodating with us being out of province, she provided so much guidance in the process and really gave us a warm feeling. She has the combination of a really heartfelt smooth tone with genuine excitement and love when performing your service. We would recommend her to all.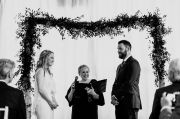 David and Wayne
Thank you Sandra (Ruch) for your professionalism. It was a pleasure to have you as our officiant to the start of our life together. Sandra had a gently personality, dressed very professional and had great shoes. We have nothing to say except great things.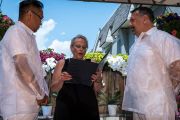 Gail & Barry
Sandra Ruch more than met our expectations. She was lovely and professional. I would absolutely refer your company to anyone.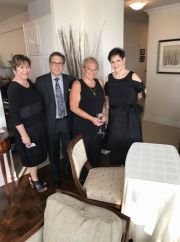 Lisa and Stéphane
Sandra Ruch was an absolute dream to work with, from start to finish. We knew from our first meeting that she was the perfect choice for our wedding officiant: smart, funny, so warm and compassionate. We knew we were on the same page. She really listened to us and helped us create a ceremony that was perfect suited to our personalities and needs, combining our Jewish and Acadian backgrounds. Thank you, Sandra, for the most memorable day.
Anonymous
Sandra (Ruch) did an amazing job! So glad that we had chosen her for our special day and would definitely recommend her to anyone looking. Sandra was very friendly and easygoing, which truly made the process that much easier on a very busy family. She handled our crazy day with ease and was amazing while dealing with/including my toddler into the ceremony (my daughter felt the ceremony was a perfect opportunity to shine). This truly made the ceremony feel more filled with love. Thanks for everything!
Aaron & Brittany
I can't say enough good things about Sandra Ruch! My (now) husband reached out to All Seasons looking for an officiant for our wedding and Sandra was the perfect fit from the start. From our first meeting she was simply delightful, and truly interested in making it a wedding that was OURS. We worked with her to create a ceremony that was reflective of Jewish traditions, while remaining inclusive. She was so positive and engaging through the whole process! Our ceremony went off without a hitch, and that's in large part to Sandra's professionalism, calm demeanor and positive outlook. We truly feel like we lucked out choosing/finding Sandra. Thank you! Aaron & Brittany July 14th, 2018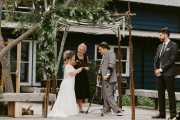 Ali & Sarah
Sandra was kind and very patient with us on what can be a stressful day to plan. As well, she was prompt and responsive in communications leading up to our day. She also does signings only - in our case we had a spiritual leader to our ceremony, while Sandra took care of the legal signing. I *highly* recommend Sandra! [Aug 5th, 2018]
Gerald & Ashwin
Sandra Ruch was incredible! She was prompt, communicative, and professional. Sandra was able to accommodate any request we needed - for example, Sandra officiated the signing in a short and sweet time frame. Thank you Sandra!
Jesse & Diana
Sandra Ruch is a lovely and warm person and a professional when it comes to wedding officiating. She conducted our official signing and was present for our first look, while our officiator facilitated the ceremony. She communicated everything with us in advance and completed everything quickly and efficiently. We are happy to recommend her services to other couples. Jesse and Diana August 12th, 2018
Jaclyn & James
We are beyond happy that we chose Sandra Ruch to be the officiant for our wedding! Sandra gave us many options for our wedding ceremony which we really appreciated since we were having a culturally blended wedding and we weren't sure where to start. It was nice to put our ceremony together and choose what we did/didn't want. Sandra is so warm and loving, she has a such a great spirit. We could really feel that she was so happy for us on our special day. She kept us calm with our spirits high. Jaclyn & James Aug 25th, 2018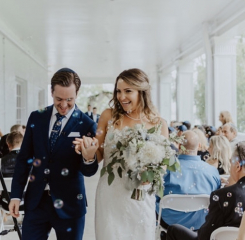 Brett & Katherine
We could not have picked a nicer, funnier and more professional officiant for our wedding! We got married in August 2018 at the Toronto Hunt Club by Sandra Ruch and from the first phone call, we could tell that she was going to be wonderful. She understood exactly what we wanted and gave us plenty of options and accommodated our asks. She was sweet, charming and engaging and the ceremony went off without a hitch. We received a lot of positive affirmations from our guests who absolutely loved Sandra and we're so happy she could be a part of our special day! She's a fantastic officiant and still the best I've seen (even though we might be biased!).
Hayley & Matthew
Sandra Ruch was the officiant for our wedding and she did such a wonderful job! She is such a warm, positive person and she brought this energy into our ceremony. She provided us with a template for our ceremony, which we customized to our needs. We were able to add, remove and change everything and this made it SO easy to put together a ceremony that meant something to us. Sandra was very easy to work with and was always available if we had any questions or concerns. We got so many compliments on our ceremony, and we owe it all to Sandra! I highly recommend selecting Sandra as your officiant for your wedding, she has a great vibe and did a fantastic job! [September, 2018]
Christian & Amanda
Sandra Ruch was professional and warm and exceeded our expectations. She gently walked us through all the decisions and choices that we had, she helped make our ceremony personable and unique. We would recommend her to anyone. Christian & Amanda September 2019