Robin Smith
Robin lives in Aurora but can serve most of the GTA. She is an experienced non-denominational or spiritual wedding officiant. She is a trained mediator and graduate of York University where she studied creative arts. Robin is the kind of person who strives to honour the couples' cultural and spiritual beliefs in every ceremony; she is sensitive to the wide range of human choice and welcomes non-denominational, spiritual or interfaith wedding ceremonies. Robin is a caring person, filled with warmth, humour and supportive without being intrusive. Chat with her on the phone and you will see what we mean.
Request Robin Smith
Areas served
Ajax, Alliston, Aurora, Barrie, Beaverton, Bolton, Bradford, Concord, Durham Region, Etobicoke, Holland Landing, Horseshoe Valley, Keswick, King City, Kirkfield, Markham, Newmarket, Nobleton, Pefferlaw, Pickering, Port Perry, Richmond Hill, Scarborough, Schomberg, Stouffville, Sutton, Thornhill, Toronto, Toronto-Downtown, Unionville, Uxbridge, Vaughan, Whitby, Woodbridge
Reviews
Brooke & Michael
Robin Smith was amazing. Everyone was very happy with the ceremony. There were a lot of skeptics in the family when I said I was doing the Christening at home. Everyone thought it was fantastic.
Carolyn & Jason
Robin Smith put such a wonderful personal touch to the ceremony. I would recommend All Seasons Weddings to anyone. What Robin did for us was very nice and she is a wonderful person.
Lynn and Bob
On May 23 Bob and I were married in our home in Aurora. We contacted your company All Seasons Weddings and were referred to Robin Smith. We were so pleased with Robin, she did a beautiful job and we received many compliments from family and friends. We would gladly recommend Robin to anyone who is looking for a thoughtful, kind, friendly as well as professional person to share in their special day. We thank you for your help and are very pleased with your organization and in future will gladly recommend All Seasons Weddings as well as Robin. Lynn and Bob
Jennifer and family
I just wanted to send a note about our baptism this past Saturday. Robin was so wonderful! She exceeded my expectations, her little touches that she added were so special. I couldn't have asked for a more beautiful ceremony! Robin is such a wonderful person, we felt like we had known her forever. She is so warm and caring and was wonderful with my son. I will definitely use Robin Smith for my next special occasion and definitely request Robin Smith! Thank you so much,
Nicole
Hi I wanted to send an email to say just how wonderful our ceremony was this weekend with Robin. She was a pleasure to work with, and facilitated such a beautiful ceremony for my Mom and step-dad this weekend. I contacted All Seasons Wedding with only three days to turn this around and everyone there was incredible to work with. Robin called me and understood the history of my Mom & Dad and spoke so eloquently and passionately about their love and their 20-year history together. I strongly recommend her for any wedding ceremony. Thank you to everyone at All Seasons Weddings, and especially to Robin. Thanks, Nicole
Carlee & Nicholas
Robin Smith was amazing in every way. She truly made the ceremony exactly what we wanted and felt like she really made it match our personalities! We had a hard time choosing an officiant and Debbie was the one we spoke with. She was very kind and helped us through the process!
Russell & Eva
Robin Smith was superb! She enabled us to personalise our ceremony and make it the memorable occasion we imagined. And she conducted it with the warmth and ease appropriate to the event. Thank you!
Bronwen and Tyler
Robin Smith was absolutely incredible. We are so lucky to have had her as our officiant. She is warm, kind, relaxed - really listens to what type of ceremony you want. We weren't sure what we wanted - but she read us so well and gave us a ceremony that was perfect for us. She did an amazing job at calming me and my husband and making us feel relaxed and comfortable. I would recommend Robin Smith to anyone getting married - especially free spirits like us!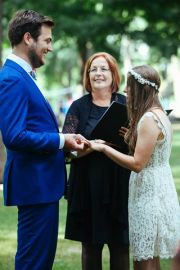 Liana & Anthony
Robin Smith was amazing. She made our ceremony so special and helped guide our rather large wedding party through a rehearsal. Everyone commented on how lucky we were with our officiant! We cannot say enough to thank Robin, we would recommend her to anyone and everyone She made it so stressfree and did a wonderful job. Allowing us to focus on celebrating and enjoying our day. Thank you so much Robin!!!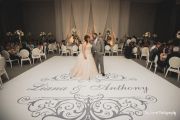 Sean, Emma and baby Kane
A huge thank you to Robin for conducting our son's baptism ceremony. It was truly magical and very unique. She even included our daughter in the ceremony, as well as my husband and I renewing our commitment to one another. Couldn't have asked for anything better. Sean, Emma and baby Kane
Robin (Smith) was amazing! She helped us feel comfortable and guided us through what was a very nervous experience (as we are both shy in front of crowds). During both our phone meeting and in-person meetings before the event, she was an incredibly calm presence in helping us know what our next steps were, as well as making sure that we were able to form a ceremony that complemented us as a couple. We wanted a comfortable back yard wedding, and her presence was perfectly suited to the feeling of family that we were looking for. As an LGTBQ couple (my partner and I are both legally female, I identify as female and my partner identifies non-binary), we also found that Robin was exceptionally understanding and accommodating to our wishes for terms used within the ceremony. We were also pleased to hear of her long history of involvement with marriage equality. Would absolutely recommend her to any couple!
Jennifer & Derek
Robin Smith was everything we needed on our day, especially as we were coming from Calgary and were only able to correspond through email mostly. She was extremely helpful and eased us through the process like it was no effort at all. She helped make our day the easy, laid-back and special event we were looking for. Thank you so much Robin!
Danielle & Annie
Robin Smith was amazing! She helped us feel comfortable, and guided us through what was a very nervous experience as we are both shy in front of crowds! During our phone meeting and in person meeting before the event as well, she was an incredibly calm presence in helping us know what our next steps were and making sure that we were able to form a ceremony that complemented us as a couple.