Robin Jones
Robin was recently voted by her peers as the 'Most Popular New Wedding Officiant/Celebrant in Westport' at the prestigious international Wedding Industry Experts 2016 Awards.Your day. Your way. I am very flexible, have a great sense of humour and bring the laughter out in others. As the Mayor of Westport, I am a good listener. Whether you are looking to have a traditional, non-denominational, spiritual, same sex or inter-faith wedding ceremony or renewal of vows, I will listen to you and help you tailor the ceremony to suit your wishes. Weddings need to be memorable and meaningful. I will ensure that your ceremony is personalized and respects your dreams and wishes. I look forward to making this ceremony - yours.
Request Robin Jones
Areas served
Westport, Rideau Lakes, Newboro, Chaffey's Lock, Salem, Bolinbroke, Fermoy, Bedford, Godfrey, Burridge, Portland, Lombardy, Delta, Crosby, Elgin, Jones Falls, Morton, Philipsville, Perth, Maberly, Sharbot Lake, Parham, Inverary, Port Elmsley, Smiths Falls
Reviews
Joanne and Edward
Robin (Jones) was fantastic. We had the pleasure of her assisting us to plan and create a ceremony that was custom to our life and our love story. On the day of the wedding, Robin was serious when need be, but also provided some light humor to settle the nerves. I would recommend Robin for any marriage ceremony. She was truly an asset to our dream wedding. Thank you for everything Robin! Joanne and Edward
Charmain & Brian
Robin (Jones) officiated our ceremony. She was amazing! From the day we met her to plan what we wanted, to performing the ceremony. She made us feel special and wonderful. She did everything we wanted and made our day even better for it. We can't thank her enough and highly recommend her for anyone else looking for an awesome, relaxed and funny officiant! Thank you Robin and thank you All Seasons! Charmain & Brian 06/20/16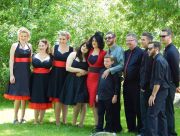 Terri & Jacob
Absolutely thrilled with Robin Jones! Jacob says talking him through the beginning was very helpful. All my questions and requests were replied to quickly and everyone was very friendly! Thank you Robin for a wonderful ceremony. Thank you to all the All Seasons reservations office for getting this setup.
Jennifer & Richard
We loved Robin Jones. She has a great personality and we are so glad we chose her.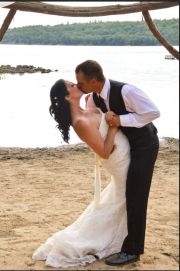 Amanda & Ryan
Robin Jones was wonderful, knowledgeable and patient. She helped us out by taking a lot of stress off of us on our big day knowing she would be punctual and professional! Shes a wonderful person to have on your big day!
Victoria & James
Robin Jones was great. She created a relaxed ceremony making us and our guest feel very comfortable.
John & Melissa
Robin Jones was great. It was a very good ceremony and exactly what we wanted... thank you again Robin! Thank you for having a site where we can see all officiants giving us the opportunity to choose. Robin was great and the ceremony was absolutely lovely and exactly what we wanted