Raul Gurdian
Raul who lives in Edson also serves many other communities in the district. Whitecourt, Hinton, etc. He is a pastor who deeply cares about others and he is an experienced and welcoming wedding officiant. He is a very active volunteer in his community and takes the responsibility of giving back to the wider community very seriously. He will conduct your personalized non–denominational or spiritual wedding ceremony at a location of your choosing. The wedding ceremony can be in English or Spanish. We believe he is the consummate wedding professional in weddings and in life. Pastor Raul is credentialled by Clergy Support Church.
Request Raul Gurdian
Areas served
Edson, Marlboro, Robb, Carrot Creek, Niton Junction, Peers, Shining Banks
Reviews
Chris & Terri
Raul Gurdian was most kind and considerate towards our wishes, in regards to our ceremony. He was professional and made us feel relaxed and comfortable. Thanks again Raul.
Elize & Gregory
The "Awesome Raul Gurdian". Raul went above and beyond. He was fantastic! We had some troubles with the vehicle me and my dad were driving up in. Raul eased the crowd and put a little humour into it. Our ceremony was so special and I'm glad Raul was our officiant!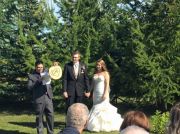 Erin & Darrell
Raul came to Banff from Edson to marry us! He was very personable and willing to include whatever we wanted in our ceremony. I appreciate you taking the time to travel to Banff for us! Thank you!
Andrea & Trevor
We are so thankful to have chosen Raul (Gurdian) to do our wedding ceremony in Whitecourt. He was so easy to work with and very professional. He made us feel relaxed and the whole process using All Seasons was great. We would highly recommend using Raul!