Pixie Roney
Born in London, England, Pixie came to Canada in 1974. She has lived in Scaraborough area since 1976, though she has retained her charming British accent! A warm and loving person, Pixie has been married to her loving husband, Alan, for thirty years and has four wonderful children. Her backgrounds in public speaking and adult education enhance her capability to provide you with the wedding you desire and deserve! Pixie understands what is needed to help couples create the wedding ceremony of their dreams. Let her integrity, straight forwardness and positive thinking help you to make it the perfect day. Pixie serves the Toronto East region.
Request Pixie Roney
Areas served
North York, East York, Scarborough, The Beaches, Pickering, Ajax, Whitby, Oshawa, Courtice, Bowmanville, Clairmont, Markham, Unionville
Reviews
Mark & Laura
Christin and Vimal
Pixie, Thank you so much for what you did at the wedding for us and the ceremony, we loved it.!!!!!!!!!!!!!!!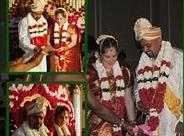 Tara and Peter
Our Officiant Pixie Roney from all season weddings was beyond incredible! We were able to customize our ceremony down to the t and she did a amazing job. I added in the Sand Ceremony after our exchanging of the rings and I found it flowed nicely. We met at site for ceremony location and again Pixie was so accommodating. We simply could not have asked for anything more. The ceremony was perfect and was executed perfectly. We can't speak highly enough about Pixie. Our wedding ceremony was beautiful and just as we wanted it. With Pixie`s guidance, the planning process was easy and helpful. Pixie is a genuinely nice woman; you'll enjoy working with her.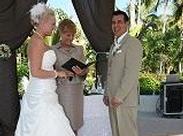 Christina & Paul
On August 20, 2011 I was married to my husband by a lovely Officiant by the name of Pixie Rooney. From the first moment I spoke to Pixie I knew she was the perfect fit for us. Both Pixie and my husband are British so they had a rapport. She walked us through our options for the ceremony and was very understanding. Our meeting was great……it seemed as if we had known her forever. She was prompt and friendly. She met and spoke with our son and made him feel that he was part of the group. The day of the wedding I wasn't worried about anything that had to do with the ceremony as Pixie had thoroughly explained how it would go at the dress rehearsal! The ceremony went off without a hitch and Pixie was very professionally dressed! I am so glad to have had her be a part of our wedding.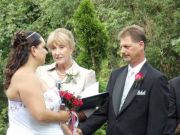 Carrie & Adam
Pixie Roney has a wonderful ability to make you feel comfortable. Her warm personality kept me calm, confident and relaxed during our vows. She is such a lovely person - we couldn't have chosen a better wedding officiant for our ceremony.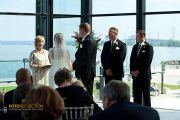 Diana & Brian
Pixie Roney was wonderful. Pixie was warm and the service was lovely.
Firas & Noha
Pixie Roney did a wonderful job at our wedding. We are so glad we chose Pixie and our guests were impressed by her and her words. We would definitely recommend Pixie.
Kim & Yvan
Pixie Roney went beyond our expectations!! Pixie did an amazing job officiating our wedding. We can't thank her enough and would highly recommend her to anyone.
Leah & Adam
Our ceremony was that much more special because of Pixie Roney! She did a wonderful job.
Jonathan and Natasha
We wanted to say thank you to you and your team at All Seasons and a huge thank you also to Pixie Roney for being our officiant. Pixie's warmth, patience and all round lovely personality made our ceremony very special and we felt so blessed to have had such a lovely officiant. Warmest regards.
Ashley
Pixie did an excellent job at the ceremony. She is a true professional. The guests at the wedding had nothing but great things to say about her.
Chantel & Garen
Hi Pixie (Roney), Thank you so much for performing such a wonderful ceremony for us. It was exactly what we wanted and so lovely to meet you. Take care, Chantel & Garen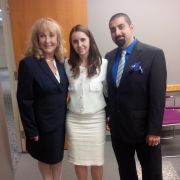 Tania & Mark
We would like to give a very appreciative thank you to Pixie (Roney). She performed an amazing ceremony for my wife and I. Pixie was very re-assuring and helpful during the entire process, her kind and articulate personality shined through during the ceremony, she did a better job than we both ever imagined. Thank you so very much, Pixie, we just wish we took a picture with you afterwards!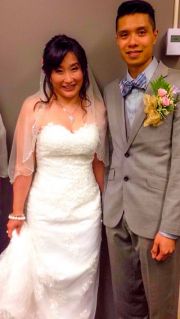 Annalee & Robert
We knew in our first telephone conversation with Pixie Roney that she was the one for us. She was so friendly, knowledgeable, calming. After meeting Pixie in person, we knew we made the right decision. Our guests also commented on how much they enjoyed Pixie's service. We can't thank Pixie enough for making our day that much more special
Carley & Michael
Pixie Roney was great to have for our special day, as she was the perfect fit to bring two families come together as one big happy family in the end. The reservations staff were very helpful and made everything go smoothly even when weddings can be stressful at times for the groom and bride. I most certainly will as everything seems so easy and stress free, and staff are very professional and friendly.