Rev Philip Smith
Philip who lives in Oshawa serves in many communities. He is a talented award winning wedding officiant. Philip says: I believe that your day should be as unique as your love for one another. I have helped many couples craft a ceremony that is not just memorable, but unforgettable, filled with all the joy and love that is in their hearts. No matter what your ceremony needs, I am happy to help you meet them. From modern to traditional, formal to relaxed, let's make it about what you want your day to be! And don't worry; if your mother-in-law thinks I would look better in a tie, I have plenty of them to accent your special day!'
Request Philip Smith
Areas served
Ajax, Blackstock, Bowmanville, Brooklin, Clairmont, Courtice, Durham Region, Hampton, Nestletown, Newcastle, Newtonville, Orono, Oshawa, Pickering, Port Hope, Port Perry, Scarborough, Scugog, Stouffville, Unionville, Uxbridge, Whitby
Reviews
Carolyn and David
Dave and I used Phil (Smith) to officiate our wedding ceremony. Phil met with us one week prior to our wedding date (we planned our wedding in 2 weeks) to see what we wanted and to see if he would be a fit for us. Phil was very warm, genuine and funny. He gave us his input but respected our wishes if we differed in opinions. At the ceremony, he was amazing. We had a very intimate wedding in our home. As he was marrying us, his humor and ability to roll with the surroundings, left us feeling like he knew us personally, for years. Our guests raved about him as well. I have no plan to ever marry again so I can't use him but look no further if you are looking for someone. Phil is the best! Carolyn and David
Ashley & Chad
Hi Phil! Just a quick note to let you know we were thrilled to have you as our officiant. You were great and the perfect fit to our day. Thanks for patiently waiting for me :-) Will absolutely refer you to anyone in need of your services! Thanks again!
Jessica and Brandon
Phil (Smith) was absolutely amazing at our wedding! He was so calm and funny everyone loved him and lots of people wanted to know how I found him (Thanks All Seasons Weddings!!!). He kept us cool and collected during our ceremony and made it fun! We were looking for someone laid back and willing to go with the flow and Phil definitely delivered. We are so happy with the service we received from both Phil and All Seasons that any of our friends getting married (we were the first of our friends too!) will be getting this recommendation from us! Throughout the two meetings we had to the ceremony it really started to feel like Phil was an old friend and that is exactly the kind of person you want at your wedding. So if you're looking for an officiant you cannot go wrong with choosing Phil!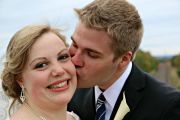 David and Sandy
David and I wanted to thank you for performing our wedding ceremony and making us legal! It was unique and will always be memorable for us. We loved your relaxed and humourous style... the day went by without any worries. Thanks again David & Sandy
Melissa & Justin
Your services were great, very easy to navigate through. Our officiant Philip Smith was fantastic. He made everyone feel calm and less nervous. My guests even commented on how great he was. Thank you for making our day that much better!
Caitlin & Patrick
Phil Smith was fantastic. He was very easy to work with and accommodating from the planning phases to the actual ceremony. We had a ton of people ask us about him after the ceremony and say how much they enjoyed him. He has a unique way of keeping things beautiful and respectful, while also maintaining a sense of humour and lightheartedness, which is exactly what we were looking for on our day. We would absolutely recommend Phil to other couples.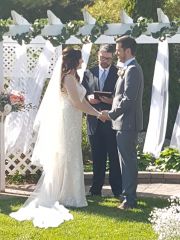 Lauren and Ryan
Philip (Smith), I know I speak for both of us when I say thank you so much for everything. I can't believe the amount of compliments we have received about your work! So thank you again for helping make our day exactly what we had wished for!
Jess and Harvard
Philip (Smith), we wanted to thank you sooo much for being part of our wedding, helping us run things so smoothly, and most importantly, putting us at ease every step of the way. You helped make everything feel natural and fun. The wedding party and parents loved you especially at the rehearsal! You are great at what you do. Attached is a nice photo I found of us.
Naziya & Zach
After the ceremony we got nothing but compliments about Phil, Smith, our wedding officiant. My in-laws thought he was excellent. He had everyone smiling and giggling and made us feel very comfortable. Thank you Phil!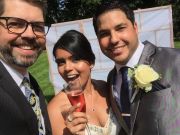 Ian & Jessica
Phil Smith was great from the first time we contacted him through our wedding day. He was able to be charming, funny, and professional all at once and helped make our day really special. Many of our guests complimented him after the ceremony was over.
Natasha & Dan
Phil (Smith), we just wanted to thank you again for your services on our wedding day. We were very pleased and had many guests compliment you. I was told by one person it was the best wedding they have been to ever because you made it feel personal. Natasha & Dan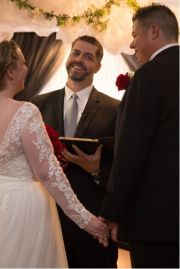 Natasha & Dan
Philip (Smith),just wanted to thank you again for your services on our wedding day. We were very pleased and had many guests compliment you. I was told by one person it was the best wedding they have been to ever because you made it feel personal. Natasha & Dan
Monika & Philip
Philip Smith was an amazing officiant. Our first meeting with him we instantly knew he would be our officiant. He made us feel comfortable and helped us walk through what the day would look like. Philip was very friendly and helpful, he helped us think of questions/items we hadn't even thought of which greatly helped for the day of. He worked with the other wedding contacts to ensure the day went flawless. He was very professional but understood that this was an exciting and happy day. Philip was wonderful at working with us and my family, my father was sick and wheelchair bound and Philip worked with us to ensure that we had the time to get my father to the ceremony and down the aisle. He knew how important my time with my father was and worked with last minute change of my dads schedule. I am so appreciative of Philip's understanding and care.
Darlene & Daniel
Philip Smith was absolutely fantastic! He gave us many options to customize our wedding ceremony and vows. I had many people tell me it was the nicest most personal ceremony they have been to ever. They also wanted to know how long we knew Philip as he was very warm and friendly like an old friend! We are very pleased with his services.
Sarah & Stephen
Philip Smith was absolutely amazing! He helped push for everything I needed on the day of, he kept us calm during our vows and he helped keep our day organized and on track. I couldn't thank him enough!
Kourtney & Dylan
Phil Smith officiated our friends' wedding so when it came time to plan our own, we knew he would be a good fit for us too. Phil was great through the whole process and several people commented on how much they enjoyed him and our ceremony. We would recommend him to anyone - in fact, we already have! Kourtney & Dylan October 2018