Patrick Tracy, B.A.R.
Patrick is a Ordained minister with Clergy Support Memorial Church. Patrick has served as a police officer and an officer in the security industry. His ministry is as a chaplain to various police services. When it comes to life celebrations like weddings he has the personal philosophy that love should have no boundaries and the union of a couple should be limitless. As a much respected and experienced wedding celebrant , he takes great pride in providing couples with the life celebration ceremony that tells their story. Originally from Edmonton, Patrick now lives in Vancouver and provides his services to the Lower Mainland and surrounding areas. His mantra is simple: Food, Friends, Family and Motorcycles…Wherever we go, we enjoy life to its fullest.
Request Patrick Tracy
Areas served
Burnaby, Coquitlam, Delta, Horseshoe Bay, Ladner, New Westminister, North Vancouver, Port Coquitlam, Port Moody, Richmond, Steveston, Surrey, Vancouver, West Vancouver
Reviews
Frank and Jasmine
Patrick (Tracy) was an amazing officiant to have for our wedding. From our initial meeting he took the time to really get to know us and listen to what we wanted from our ceremony before tailoring every detail to our needs. We highly recommend him to any couples in the Vancouver area looking for an officiant. Frank and Jasmine
Nic & Yoon
Patrick Tracy was a wonderful officiant and very respectful. He delivered a beautiful and humorous service for us just like we asked with a little touch of his grace which made it perfect.
Logan & Sadaf
Patrick Tracy was accommodating, friendly, professional and added personal touches to the ceremony. Couldn't have been better. Thanks again.
Cassie & Jamie
Patrick Tracy was wonderful! He helped make our day what it was!
Katy & Kevin
Patrick - We will never forget the feeling of being truly understood, and that was just the first conversation with you! Thank you for your trustworthiness and deeply kind heart. You made us feel like Royalty!
Dale & David
Patrick (Tracy) was a wonderful addition to our day. Easy to work with and very likable. He brought a lighthearted yet sentimental feeling to our ceremony and we were very happy with his service. We wouldn't change a thing! Dale & David
Anita and James
Patrick delivered a heartwarming and personal ceremony that truly conveyed our love story to our families and guests.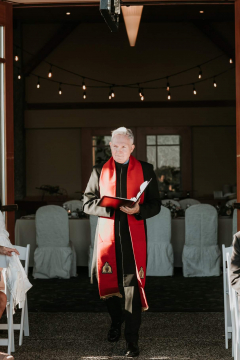 Greg & Suzy
Dear Patrick Tracy, We can't thank you enough for the beautiful ceremony we had! You were so helpful, thoughtful and sweet. We got some photos back from the guests and just the look on your face melts our hearts! Thank you so much for being a part of our special moment! You made it so special with your presence! Greg & Suzy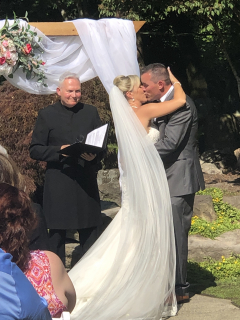 Stephan & Eva
Patrick Tracy was everything we were hoping for. He was incredibly personable throughout the planning process and highly responsive to our needs for a wedding at which we had some very religious people, and others not at all. Throughout the process we had every confidence that he would deliver exactly what we were hoping for, and he did. Stephan & Eva June 2019