Normand Blanchard
Norm is a caring individual who has made serving people his life's vocation. His respect for ALL people, his zest for life and his fluent English/French communication skills make him stand out as a professional in his field. Norm's multi-faceted training and his many years of experience allow him to guide people in the creation of meaningful and profound life celebrations that will be remembered for years to come. Norm will guide you in creating a wedding ceremony that will be filled with significance and reflect both your worldviews.
Request Normand Blanchard
Areas served
Azilda, Blezzard Valley, Callum, Capreol, Chelmsford, Coniston, Copper Cliff, Estaire, Falconbridge, Garson, Hagar, Hanmer, Lively, Markstay, Skead, Stinson, Sudbury, Val-Caron, Valley East, Val-Thérèse, Wahnapitae, Wanup, Whitefish
Reviews
Anthea & Richard
Norm Blanchard was friendly and professional and helped us customize our ceremony to something that represented "us". Our guests have countless compliments on how wonderful it was and we felt it couldn't have gone better.
Nicole & Mitchell
Norm Blanchard was wonderful. At our initial meeting he provided us with all of the information we required and kept in touch via email. He also helped us personalize our wedding day with his thoughtful suggestions. During the ceremony itself his calm and professional manner ensured that everything went smoothly. THANK YOU!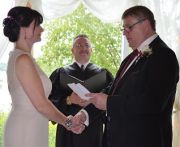 Marc et Noëlle
We had the most wonderful experience with Normand Blanchard. He met with us twice and we felt like he was truly present during our meetings and offered us tips on how to make our ceremony the best it could have been. He came dressed appropriately and knew how to engage the crowd. Our tri lingual ceremony truly represented us as a couple. He was caring, very funny, professional and on time. I would recommend him to anyone looking for the total experience. Thank you Normand! Marc et Noëlle Aug 19th, 2017
Monique & Paul
Our wedding ceremony was AMAZING !!! Thank you Normand (Blanchard) for making our wedding day magical !!! Monique & Paul Aug 12th, 2017
Trista & Matthew
I had Normand Blanchard. He was amazing, happy and joyful. Helped us feel so much better and at ease. Very much met our expectations. I would recommend him to anyone.
Jennifer & Moe
Norm Blanchard was fantastic... he did a wonderful job. All of our guests were so complimentary about how well Norm did. The All Seasons office staff were awesome. Absolutely, completely thrilled with the service. Norm was perfect and very professional. He supported me with the many questions I had. So pleased.
Maxime et Mireille
Normand Blanchard was great! He made us feel very comfortable from the very beginning and helped us decide what was the best ceremony for US. We selected him because we wanted to have a bilingual ceremony and he delivered! We were fully satisfied with him and would recommend to anyone. Merci beaucoups Mr. Blanchard! Maxime et Mireille June 23rd, 2018
Shawn & Karen
Normand Blanchard did an amazing job. He was very patient and did a great job with the ceremony. I couldn't have asked for anyone better. Thank you again Norm!! [July 2018]
Elvie & Mark
Normand Blanchard did a really good job officiating our special day. Our ceremony was beyond expectations. We will of course recommend him to other friends who's getting married for the near future.
Janelle & Brandon
Normand Blanchard successfully met all of our expectations. August 18th, 2018
Amanda & Mike
Normand Blanchard did a fantastic job officiating our wedding. He was very professional and extremely helpful, He kindly meet with us months before the wedding to go over all details and answer questions. Absolutely recommended! Thanks again Norm! Amanda & Mike August 2019
Joey & Jessica
Normand Blanchard was phenomenal! He did an amazing job helping us feel confident in how the ceremony would proceed and definitely made us feel comfortable and at ease with everything. He has a good sense of humor and made sure to add a special touch while making sure that the ceremony would be part French and part English. He is truly amazing and we would definitely recommend him ! Great work Norm, we appreciate your kindness, patience and open mindedness. Thank you so much! Joey & Jessica September 2019
Corey & Melanie
Normand Blanchard was exactly what we wanted he was excellent and met all our needs. I would highly recommend Normand. Thank you for everything! Corey & Melanie August 2019