Nicola Wolters
Nicola believes your wedding day should be celebrated the way you want. She is licenced in Ontario and Quebec and can help you with your choice of a bilingual (English/French), spiritual, non-denominational or same-sex wedding ceremony. She understands it's an expression of your love and your commitment to each other. Having worked as a birth and postpartum doula she has first-hand practice in supporting families at every stage and appreciates the importance of celebrating life's milestones. Nicola lives in Russell, ON and travels all over Ottawa to perform wedding ceremonies. Married for over 20 years with three children, Nicola considers it to be a privilege and honour to help you celebrate your special day.
Request Nicola Wolters
Areas served
Barrhaven, Casselman, Embrun, Kenmore, Gatineau, Hull, Kenmore, Manotick, Metcalfe, Navan, Nepean, Orleans, Ottawa, Ottawa Bilingual, Ottawa Central, Ottawa East, Ottawa South, Ottawa West, Richmond, Rockland, Russell, Greely
Reviews
Amanda and Scott
Thank you for putting up with our last minute craziness! We are very thankful that we had you as our officiant!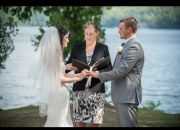 Linda & Denis
Our beautiful wedding was August 6, 2016....I put much thought and planning into our Day. One of the items that was of great importance to me was the Officiant and their personality, bilingualism and energy they brought! Nicola was fabulous! She quickly understood the "feeling" we wanted in our Ceremony and she understood our sense of humour as well. She was very open to my adaptation of the Ceremony text and our vows. She ensured that she was comfortable with pronunciation of the French text which made the changing back and forth between languages seamless! Our friends and family truly appreciated this special attention to detail! Nicola was as excited as I was in the planning which only made me more excited! Thank you Nicola for your important role in our Day and the laughter and appreciation of tears you shared with us.
Melissa & Byron
Our officiant met our expectations and the office staff was friendly and helpful. We would refer All Seasons Weddings to others.
Jodi and Shane
Nicola (Wolters) was such a great choice for us and we could not have asked for anything better!! She was very helpful, caring and sweet. We will definitely recommend this company and especially Nicola to anyone we know getting married!
Mary and William
We felt comfortable and at home. The chapel looked beautiful and quaint. With two young granddaughters in attendance, Nicola went above and beyond to occupy them while we did photos. It was lovely. The Ottawa Wedding Chapel staff helpful and supportive. This is a wonderful venue for a wedding. It has character and a peacefulness as well. We would highly recommend.
Leonard & Alessandra
Nicola Wolters and the rest of the All Seasons staff were super supportive and enthusiastic about our special day. They were friendly, well prepared, and they spent much time not only on the ceremony, but also in completing the paperwork to ensure that our wedding certificate would be completed and submitted in a timely way.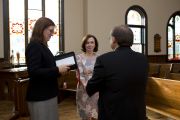 Katrina & Danny
Nicola Wolters was very professional and made our ceremony just the way we wanted it .
Pierre & Althea
We were extremely happy with Nicola's delivery of our wedding ceremony. She more than met our expectations. She was very warm and personable.
Melanie & Kyle
Nicola Wolters exceeded our expectations. Her immediate enthusiasm for our unique wedding idea gave us the support we needed to make it the best day. We felt extremely welcomed by the entire staff! Nicola insisted we drop by and meet her colleagues and expressed wanting very much to introduce us to everyone. It felt very good to be invited! We would mostly certainly provide to a referral to anyone wanting the best wedding experience! What a great way to start our marriage! [July, 2018]