Nathalie Rossy
Natalie was voted by her peers as the most popular wedding officiant in Montreal in the coveted annual Wedding Expert Awards 2015. She is fluently bilingual in French and English and a graduate in Human Resources from McGill University. She has spent over 23 years in the event planning industry. "The most rewarding part of being a Wedding Officiant is having the opportunity and pleasure to work so closely with couples during such a happy time in your lives. I am comfortable conducting all types of ceremonies. I will love working hard to fulfill your visions and dreams of your perfect day. You will find I'm a good listener and having this connection will allow you to express your needs and opinions openly and honestly, and make the planning enjoyable and effortless."
Request Nathalie Rossy
Areas served
Baie-D'Urfé, Cheneville-Lac Simon, Dollard des Ormeaux, Pierrefonds, Pointe-claire, Montebello, Roxboro, Senneville, St-Andre Avellin, St-Laurent, Vaudreuil, Dorval, Kirkland, Lachine, St-Lazare
Reviews
Mark and Eris
I wanted to thank Nathalie Rossy for officiating our ceremony. It went perfectly. She kept us calm and informed throughout, even making a couple witty jokes easing the whole ceremony. She was very pleasant and we are very satisifed! Thanks again Mark and Eris
Jennifer & Chris
The ceremony was magical. Nathalie (Rossy) was not only professional but gave off a caring aspect that made everyone comfortable. She was clear and articulate and I am extremely grateful that she was the one to marry us on our special day. Jennifer & Chris
Gina & Glenn
Nathalie (Rossy) is a wonderful wedding Officiant and a wonderful person. Any questions or concerns we had she was always there to guide us in the right direction. Nathalie spoke so well during our wedding ceremony. We enjoyed the options she gave us regarding the different types of ceremonies and we were so happy when she mentioned to incorporate the sand ceremony which everyone enjoyed very much. On behalf of myself, my new husband, and all our family she did an exceptional job. We were so happy that she was a part of our ceremony and that we choose her as our wedding Officiant. Our experience with Nathalie is simple to describe; she exceeded our expectations. We thank you Nathalie so very much. We would highly recommend you to any of our family and friends that are planning on getting married.
Nancy & Melissa
Nathalie (Rossy) is a very special person and Melissa and I were blessed to have her share in our Special Day. We contemplated for a while about having one of our friends officiate the wedding because we wanted a personal touch to our day. We had reservations about getting an Officiant online but I can tell you that we immediately fell in Love with Nathalie the minute we met her for our first meeting. She treated us with the utmost respect and care throughout the whole process and she is just amazing! We absolutely adore her! Nathalie really truly takes to heart every detail as if she was planning her own wedding and she is super organized! Our expectations are high and it is hard to trust that everything will be just as you imagine it to be on your day but Nathalie made it just that and even better!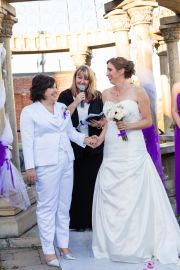 Marc and Rachel
Dear Nathalie (Rossy), We wanted to thank you for the great job you did at our wedding. From the moment we met for the first time until the end of our ceremony you were there to listen and guide us. Our high expectations of you were exceeded due to your professionalism, patience and understanding of our needs. Your calm presence and your smile helped make our ceremony truly memorable. Warm Regards, Marc and Rachel ~ married July 7th, 2013
Line et Lise
Super de belle cérémonie,on recommencerais n'importe quand, avec Nathalie (Rossy) tendre et intentionné, chaleureuse a écouter de nos besoins. Sans aucun doute je la recommanderais n'importe quand.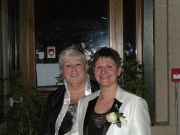 Melani & Syndia
Thank you so much for your services on our wedding day Nathalie (Rossy)! You performed the ceremony with such poise, class and professionalism. We truly could not have chosen a better Officiant for our special day. We're both very happy that the ceremony went smoothly (despite the noisy funeral party next to us!) and we are a happily married couple thanks you and All Seasons. Thanks again! You were wonderful.
Caroline et Roberto
Ceci est juste un petit mot pour vous dire que nous avons été très satisfaits avec vos services. Nathalie Rossy a été une célébrante merveilleuse et très professionnelle en cettte occasion si spéciale pour nous deux. Nous sommes très heureux d'avoir choisi Nathalie, elle a su nous mettre à l'aise et rendre cet évenement des plus agréables. Bravo a toute l'équipe et encore de bien belles années devant vous!!!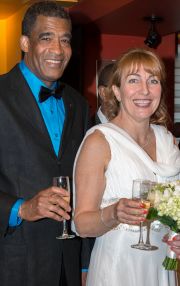 Jaylone and Jean-Philippe
Hello Nathalie (Rossy) It was very important for us to have a truly, perfectly bilingual officiant, which Nathalie is. We were very lucky that on top of that she is as easy-going and friendly as other couples mentioned in their testimonials. We are pleased to provide our own feedback that Nathalie was perfect in every way as our wedding Officiant. thanks!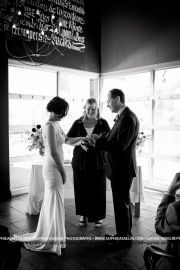 Michelle and Vincent
Hi Nathalie (Rossy), Vincent and I just wanted to take the time to thank you for the beautiful ceremony that you conducted for our wedding. It was very simple and yet extremely touching, emotional, and intimate. Even though we didn't know you prior to meeting a few months ago, you made it seem like we had known you for much longer. You made it so easy and calming (if that is even possible 30 seconds before you walk out to see your future husband). You have such a calming voice that it helped me to relax before walking down the aisle. Thank you for that. We are sending a couple of pictures to go along with this email. We hope you enjoy! Thank you again, Michelle and Vincent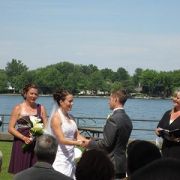 Jill & Gerard
We could not be happier with everything. Nathalie Rossy was professional, friendly, and warm. We felt completely at ease during a very important and potentially high-stress event. Thank you so much for your excellent service! Jill Saltzman and Gerard Betts
Jennifer & Paul
Nathalie, I never got a chance to thank you for the wonderful ceremony, the words for the sand ceremony were perfect and my family and friends said it was beautiful. I was crying when I waked down the aisle and you kind words to remind to breath were so helpful.
Ashley & Casey
Nathalie Rossy is an extremely kind and helpful individual. I am very pleased to have had the opportunity to have her officiate our marriage. She made sure that my husband and I were comfortable and at ease and did so with a smile.
Alison & Gary
I would like to take this time to express my deepest thanks to Nathalie Rossy and All Seasons for making our wedding so special. I was so impressed with the immediate response to our request for a date only 3 weeks later. The most important thing my husband and I wanted was a quiet but romantic way to be married, well actually the most important thing to be honest was for our gorgeous dogs to be included in the wedding. All Seasons allowed us to do this. We had 2 gorgeous groomsmen called Bronson and Chance, bow ties and ring pillow for them were provided by Nathalie Rossy. I couldnt believe she provided everything for us to make our day special. From the bottom of my heart I would like to say thank you so much for everything Nathalie, I never dreamed it would have been so perfect, but thanks to you it was. I have told everyone about All Seasons and Nathalie and I believe everyone is as surprised as I was something like this existed. Thank you so much Nathalie Rossy, I cannot tell you how much I appreciated meeting you and having such a wonderful officiant marry us. Also by the way, the dog was not on a leash but look where he chose to sit while Nathalie was doing our service. I believe he was being married also. Priceless.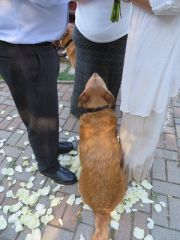 Francine & Keith
Dear All Seasons, We wanted to drop a line to express sincere gratitude to All Seasons, and primarily Nathalie Rossy. Nathalie was so amazing. Our ceremony was personal, intimate, and reflected perfectly our love & commitment. We were so happy when we met Nathalie. She seemed to be the perfect fit for us, and we knew it was meant to be when we found out we shared the same breed of rescue dogs! Thank you for being part of our special day and for giving us an experience we will cherish for our lifetime! Best regards, Francine & Keith
Shainna and Adam
Hi Nathalie (Rossy), Thank you so much for making our wedding day so special. You were absolutely wonderful and we all thought you did such an amazing job. Shainna & Adam Chateau Montebello
Elizabeth & Barron
Hello Nathalie, Hi Nat, thank you very much for everything! We very much the wedding, and the ceremony! It was exactly what we were looking for :) You are a very charismatic wedding official and we felt really comfortable with you. Thanks a lot again! :)) Elizabeth & Barron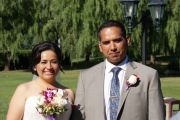 Courtney and Ryan
Hey Nathalie (Rossy)! Thank you so much for yesterday. We really loved the wedding ceremony and you did such a wonderful job! I wish you nothing but the best and I will recommend you if ever needed by anyone I know. You are amazing, thank you again! Courtney and Ryan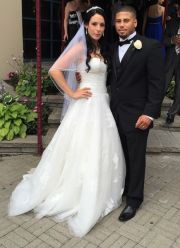 Niki and Lee
Hi Nathalie (Rossy) We wanted to thank you again for such a lovely wedding ceremony! We received so many compliments on how wonderful everything was. We didn't realize how incredibly nervous we would be standing up there, but your calming presence really put us at ease. Thanks again for making our wedding day so special. Niki and Lee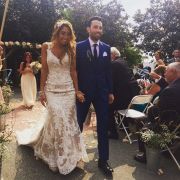 Carol & Marc
Nathalie (Rossy) Thank you so very much for making our special day extra special. You were so helpful and calm and helped us through everything so well! From start to finish everything was perfect thanks to you. There was a bond between us and we are so very lucky to have chosen you! Thank you for everything!
Ashley & Kyle
Nathalie Rossy was amazing and sooooooo sweet. Could not have asked for a better rep ;) Nathalie was beyond nice and very helpful she made sure everything ran smoothly.
Lili and Ziyad
Dear Nathalie, We would like to thank you for the great service that you provided for our wedding. Thank you for your professionalism throughout the whole planning process and at the ceremony. Sorry that the ceremony could not start on time and thank you for your patience.
Kimberly & Grant/ Jeffrey & Patrick
Nathalie (Rossy), it was our pleasure and honour to have you marry us for our double ceremony. I don't think anything could've been done better or more beautifully. Thank you so much for everything, and making everything so easy. It felt as if we were being married by a friend. You can you quote me (us) on all of this. We mean every word of it. Kimberly & Grant May 14th, 2016 Having breakfast in Mexico,thank you for the BEST WEDDING I've ever been to! :))) Jeffrey & Patrick
Katia and Sami
Dear Nathalie (Rossy), I really can't thank you enough for being with us today celebrating our wedding ceremony. You have been like a family member supporting us and being happy for us. Thank you as well for all the professional work you have done in the completion of all the legal docs and signatures. You made everything so easy! Thanks again, we really appreciate everything you have done. Katia and sami
Lea & Angelo
Hi Nathalie (Rossy) The vision for our day was completed the minute you graced everyone with your beautiful service. There was a feeling of calm between my husband and I that could have only happened because you made us feel loved. You made it feel personal and unique. Our wedding ceremony was by far the most memorable moment for us. We are lucky to have found you for our special day. Xo Lea & Angelo 06/18/2016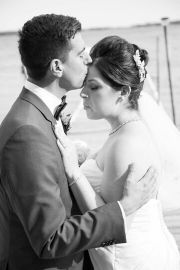 Cynthia & Brian
Nathalie was wonderful. She did all the paperwork which was a great relief from our minds when there is so much more we have to do ourselves. The ceremony was beautiful, just what we wanted. Nathalie read our reading we wanted so beautifully We had tears on our eyes. She made us feel so comfortable. She is such a great person. I am sure to tell everyone of my wonderful experience with Nathalie , thank you.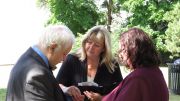 Denise & Patrick
Nathalie was an amazing officiant and a pleasure to work with. She was calming and made us feel very at ease on our wedding day. She easily incorporated a wine box/love letter ceremony into the wedding. We loved her and would highly recommend her without reservation.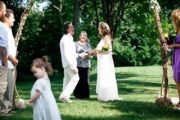 Stef & Ray
Thanks for doing such a good job marrying us! The ceremony went exactly like i thought it would. We will never forget that day. Believe me when i say we would never hesitate to recommend your services (read: we'll be talking about you all the time). Thanks again for making it so easy for us.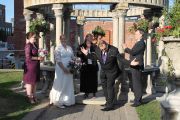 Kellie & Pierro
Nathalie (Rossy) did an amazing job officiating our wedding. She was very efficient and easy to contact whenever we needed something. She did a great job reading our ceremony, she read everything so beautifully. She was just amazing. There are no other words to describe her. She's so sweet and has such a warm heart. She even came to see me before the ceremony to see how I was feeling and gave me little tips. My husband and I absolutely loved her, I definitely recommend her services. Our friends and family didn't stop talking about her all night! Everyone was impressed. Thank you Nathalie ! You made our ceremony what we always dreamed of. Love Kellie & Pierro xox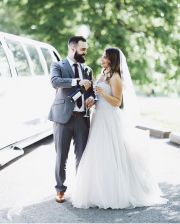 Farzana & Frank
Hi Nathalie (Rossy)! Thank you for your services and support throughout this entire process. Your kindness was so comforting, especially for Frank lol. Everyone had great comments to say about the ceremony. We also felt like we made a friend in the process. We picked the perfect person for the most important day of our lives! Thank you for everything! Farzana & Frank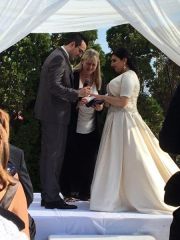 Tina & Chris
After some years of living together, we decided to 'officially' tie the knot. We opted for a small ceremony at home with our immediate family. After reviewing the bios on the All Seasons Weddings site, we chose Nathalie (Rossy) who immediately followed up by phone. After meeting with her, we knew we had made the right choice. Nathalie proved to be thoughtful, very knowledgeable and efficient. The paperwork was a breeze – all we had to do was provide our documents and she took care of the rest. Then she e-mailed us the text of the vows. The words were inspirational and meaningful – exactly what we were seeking. We didn't change a word. On the day of the wedding, she arrived about 10 minutes before the scheduled time with all the required documentation for us to sign, and with the marriage contract! We then proceeded with the ceremony, which was intimate, personal and memorable. Nathalie's warmth and enthusiasm was much appreciated by our family as well. Thank you, Nathalie, for making our special moment unforgettable.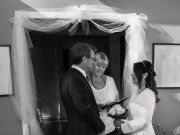 Amanda & Robert
Nathalie Rossy was absolutely phenomenal. Very sweet, professional and comforting. We loved working with Nathalie as it as really easy and she accommodated us well. We would highly recommend her to others! Already ready to answer our questions! Everything was easy and friendly! There is no doubt in our minds!! We are extremely happy with everything!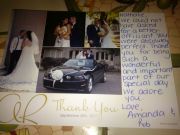 Courtney & Emily
From the very outset, Nathalie Rossy was a wonderful officiant. She worked with us each step of the way to make sure we filed documentation correctly and on time, gave us helpful suggestions for our ceremony and was quite happy to accommodate our requests. We had a lovely Skype conversation prior to meeting, and on the day she delivered a beautiful ceremony which felt quite heartfelt,making the day all the more memorable. Overall, then, she is a wonderful officiant and I highly recommend her to anyone who's considering working with her! All Seasons is a great service-- thank you for everything.
Jenny & Phil
Phil and I are from Niagara Ontario, and being married at the Chateau Montebello was amazing, but being so far from our venue also gave us an extra layer of things to think about. Having not had the opportunity to meet Natalie (Rossy) before the ceremony, but having had back and fourth emails with her, she was not only so reassuring to both of us on our special day, but so much so leading up to it. I remember Natalie emailed back one day saying "don't worry sweetie everything is under control!", these simple and kind words were just what I needed that day!! And she was right, things were under control!! Our ceremony was lovely, created by Natalie and with our own personal moments such as a special reading and writing our own vows. Natalie is warm, kind and has both a loving and grounding presence about her. She will no doubt make your day full of love as she did for us. Thank you Natalie for everything! Jenny & Phil Aug 11th, 2018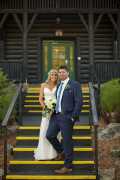 Steph & Jess
Nathalie Rossy was absolutely amazing from start to finish. Her kindness made my wife and I feel extremely comfortable and calm throughout the days leading up to and the day of the wedding. We were very nervous for our vows and she did a great job keeping us at ease and walking us through it. Thank you again Nathalie for a being a part of our special day! Steph & Jess Oct 2018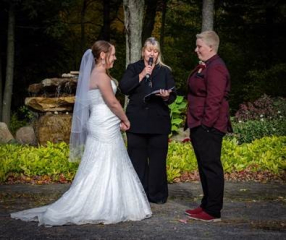 Sandra & Nat
Nathalie Rossy's warm and welcoming personality came through from the moment our guests arrived. We are so glad we took her advice to take in every moment during the service because it would go so fast. She was so genuine and sincere which made our ceremony perfect. We could not have asked for anything more magical. We can't thank you enough for everything Nathalie!!! Sandra and Nat Oct 2018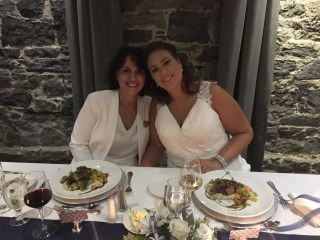 Mia, Martin & girls
Bonjour Nathalie (Rossy), Milles merci encore !!! Grace a toi tout ces deroule comme un charme ! Merci pour ton peofessionalisme, ta douceur, ta patience dans ce moment de grand stress ! You made our evening a very nice, formal, casual & friendly !! Exactly like imagined it !!! Thanks a million again ! Kinds regards Mia, Martin & girls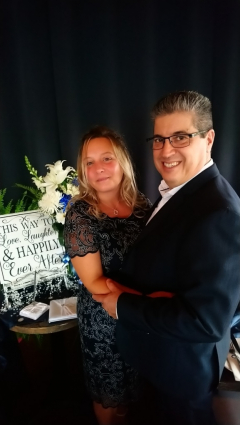 Paul & Monica
We were delighted with the ceremony conducted by Nathalie (Rossy). All through the process she was exceptionally professional and helped us every step of the way. Like most couples, we were both very nervous on the day. Nathalie put us at ease and he calm, professional and caring manner helped us really enjoy the moment. We couldn't have asked for a better person to conduct our wedding ceremony. Nathalie was one of the reasons our day was a massive success and we'd recommend her to anyone. Paul & Monica, August 2019
John & Sandra
Nathalie Rossy was really terrific! Nathalie put my mind at ease every time I had a panic moment with a million questions about the ceremony. She knows her stuff! Thank you for everything! John & Sandra September 2019
Nadia & Brad
Nathalie Rossy you were amazing. After our first phone meeting we knew we had chosen the right person to help us celebrate our wedding. Thank you so much for all your help throughout the entire process, you were extremely communicative, answered all our questions very quickly, and helped us to create the perfect ceremony. Not to mention how lovely a person you are, such a pleasure to speak to and deal with, always there for us. We received many compliments about how beautiful the ceremony was, thank you so much, you were a big part of that success. You did an amazing job and made our day so much more special; it was perfect. Nathalie, we are so happy to have met you, and will absolutely recommend you to anyone who wants a beautiful wedding. All our love! Nadia & Brad October 2019
April and Brandon
Nathalie Rossy was amazing !Thank you so much for preforming the ceremony for us! It was a wonderful experience. Thank you for helping us out a long the way we couldn't have done it without you! :) Thank you and all the best, April and Brandon October 2019