Miriam Bester
Miriam has had many years of pastoral work as a hospital chaplain. In addition, she is a dynamic workshop leader and public speaker on a range of spiritual practices. She is fluent in English and Hebrew. It's your special day and Miriam would be thrilled to turn your dream wedding ceremony into reality. She lives in North York but services a wide area. She understands the importance of balancing tradition with new rituals. Let her guide you through the best of both worlds, and help you create a wonderful wedding ceremony filled with energy, creativity, commitment and respect, to reflect the unique couple that you are.
Request Miriam Bester
Areas served
GTA, Vaughan, Richmond Hill, Thornhill, Markham, Aurora, Newmarket
Reviews
Qiuzao & Xiao
Just writing to let you know that we have had a great ceremony with Miriam Bester yesterday. She took some time beforehand to really understand our expectations and customized the whole process to make us comfortable. We really liked the service.
Lara and Steven
Miriam, Thank you so much for everything you did to make our ceremony memorable and special - it was truly perfect, and so many people in the receiving line commented to us on what a beautiful job you had done. Thank you again for the wonderful ceremony you wrote and delivered, you did such a beautiful job. We're looking forward to staying in touch! All the best.
Catherine and Arthur
Hi Miriam, Thank you for facilitating such a wonderful service!!!! We had such a wonderful time and couldn't think of anyone better to do it! You are the sweetest person and if I know anyone who is getting married and needs an officiant, your name is on the top of my list! All the best !!
Stephanie & Coby
Thank you Miriam!! The ceremony went absolutely beautifully, and the evening definitely exceeded our expectations. It was amazing to see how much fun everyone was having! We really appreciate the heart and attention you put into the ceremony and making sure it was such an incredible experience.
Ruth & Richard
Miriam Bester made our day truly special with her suggestions and our own contributions to the ceremony, it was done flawlessly. We couldn't have done this without her. We will recommend her to others in the future.
Devon & Robert
Thank you for everything last weekend. I can't tell you how many people came up to me acknowledging the incredible job you did. We greatly appreciate it. Take care.
Yueyue & Jeffrey
Miriam was very organized, always showed up on time, prepared things that we never considered and made great suggestions to bring a personal touch to our ceremony. She was warm and friendly. We would highly recommend Miriam to anyone looking for a officiant! August 2018
Yulia and Lior
We wanted to truly thank you for officiating in our wedding! It was beautiful and memorable. We will definitely leave a comment on the website. Thank you again for everything,
Stella and Arthur
We're so happy with everything that you did for us!! Thank you so much! September 8th, 2018
Arthur & Stella
For our special date, we choose Miriam Bester as our officiant and we are thrilled with all her services. The ceremony was thoughtful and well planned, taking into consideration our different faiths and finding a common denominator which we both could relate. Miriam was always available and quick to respond to all our questions, she made us feel secure and well cared for. We recommend her to anyone who would like an excellent and committed professional. She is a special person for your special day! Arthur & Stella Sept 8th, 2018
Sylvania & Michael
Miriam Bester was absolutely wonderful. My son told me on a Tuesday that he and his lovely lady were getting married that Friday, They decided to have the smallest possible wedding because their infant son was only two and a half months old and the bride is a very quiet private person who loves simplicity. So eight of us attended, including me, the bride and groom, the witnesses, one spouse, Miriam and the baby. They decided to hold it at home. I had heard Miriam Bester speak about her services and gave my son her card. They were confident and relaxed because of Miriam's listening skills and thoughtful suggestions. As a result of their serenity, the baby slept through the entire ceremony and was happy and sociable during the lunch that followed. They got all the sweet symbolic touches that mattered to them and none of the complexity a more traditional event could have entailed. Delighted with the beautiful new additions to our family. Harriet (Mother of the groom)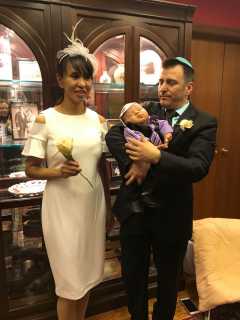 Sarina & Sean
Miriam Bester was an absolute joy to work with. Throughout the process, she was attentive and thoughtful and worked diligently with us to ensure that our ceremony reflected our values, backgrounds, and vision. We had a Jewish interfaith ceremony that was very family-centric, and Miriam helped us to create personalized touches throughout the ceremony to honour different family members. Many, many people told us they thought she did an incredible job with the ceremony and that they hadn't before experienced such a personalized event that truly reflected the married couple. Miriam also has a very calming presence and helped to assure us when we got nervous about different components of the wedding. Miriam went above and beyond to ensure our special day was exactly how we envisioned it. Thank you for everything! Sarina & Sean Dec 2018
Ian and Svetlana
Dear Miriam (Bester)! Thank you very much for being our officiant for our little bit unusual wedding ceremony! We are very pleased with your approach and style that was perfectly adjusted to our vision and ideas. We had small secular Jewish ceremony in the cozy A Yiddishe Mame restaurant and you created the exact atmosphere that we were looking for. Every time we will be thinking of the moment we became a family, we will think about how graciously you brought us through that emotional moment. From the bottom of our hearts, we want to recommend you to any couple who wants to create a beautiful and unforgettable moment. Thank you for everything! Ian and Svetlana April 2019
Carly and Eitan
"Miriam, thank you so much for everything! Your guidance and support, the suggestions and encouragement, was so appreciated throughout the entire process. We are so happy with how the ceremony turned out. It was beautiful and felt so personal and 'Us'! Once again thank you so very very much for everything..." [June 2019]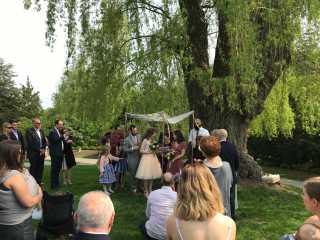 Alex & Jessica
Miriam Bester was the best .We are so happy we had you as our officiant. Thank you so very much it was beautiful!! Alex & Jessica June 2019
Eric and Allie
Thank you Miriam Bester! We were thrilled with the process and the outcome. Our wedding was absolutely perfect. It was a pleasure to have you be a part of our day, and thank you for the support along the way.
David & Maria
What a great decision we made by having Mrs. Bester as our wedding officiant. She is a sweet, delightful and charismatic woman with a lot of experience in conducting ceremonies. She came well prepared and it was extremely easy to communicate with her. She provides ideas and suggestions so the ceremony is as special as one can imagine. We highly recommend her and her work. Thanks Miriam! David & Maria July 2019
Katelyn and Andrew
Hi Miriam, I have to say that we got nonstop compliments about you after the ceremony! Everyone thought you did a very heartfelt job and were very moved by the ceremony. We feel very fortunate you were willing to drive all the way to Toronto to marry us. Thank you again!
Shelley and Maurice
Dear Miriam, I wanted to thank you for doing such a beautiful job officiating and guiding our very personal wedding ceremony. The ceremony and everything about the day was perfect and could not have been better. Your warm, wise and lovely words and presence grounded everything and helped make this a smooth joyful and meaningful event in our lives. All the best to you.